13 Popular African Foods You Cannot Miss In Each Region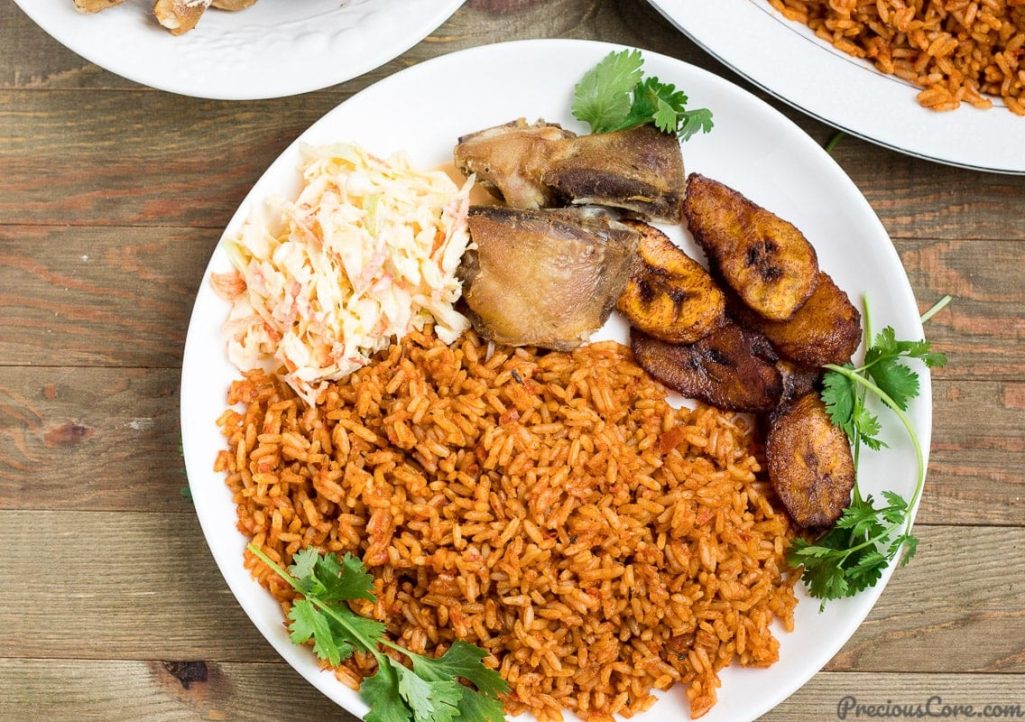 Africa is a continent with numerous tourist attractions. However, what makes many tourists come back after their first visit is the mouthwatering African foods. One bite usually sets off an unquenchable taste for spicy food. Every year millions of tourists visit various African countries to enjoy the fantastic climate and culinary diversity. African is blessed with diverse cuisines and you'll be spoilt for choice. Every region in Africa has a unique cuisine that they are known for. Also, African food is popular due to the heavy use of local spices, vegetables, fruits, and grains. Without much ado, below are 13 of the most popular African foods.
Is African food spicy?
Every region in Africa has a spicy delicacy that will leave you gasping for air. While chilies and hot pepper are the most common hot spices, there are other local favorites. They include ginger, cumin, cinnamon, coriander seeds, curry, garlic, and sesame seeds. Therefore, make sure you know your allergies and ask properly for the ingredients. It is always good to eat only what your body can tolerate.
ALSO READ: 15 Delicious African Recipes You Should Try This Easter
What is the most eaten food in Africa?
The most popular African food will depend on your location—different countries have their staples. For example, if you go to West Africa, you'll find that the most eaten food is Jollof rice. However, in Kenya, you'll discover nyama and irio as the most consumed food and so forth. But, if you are asking about the food class that is consumed the most, your answer is cereal.
What is the role of food in African culture?
African foods play a vital role in connecting people from various regions. In fact, food has become the identity of certain tribes. Therefore, many African people use food as a way of preserving their cultural identity. It is not surprising that African mothers hand the art of cooking to their daughters. Inasmuch as the tradition is fading, women remain the chief custodian of food culture in most communities. Others have carried this culture with them to different parts of the world.
Also, in most African cultures, one of the ways of telling a visitor that they are accepted is by offering them food. In the same fate, when a visitor rejects served food, it is a sign that they are holding grudges against the host. This explains why sharing food is an important feature practice in most African societies—especially rural communities.
13 of the Most Popular African Foods
Inasmuch as we have 13 different types of food on this list, it is possible that you may not find some of them, depending on the part of the continent you visit. In other words, the popularity of the foods varies. Nevertheless, irrespective of the region you visit, you will definitely find one or two foods from our list.
#1. Jollof Rice (Nigeria)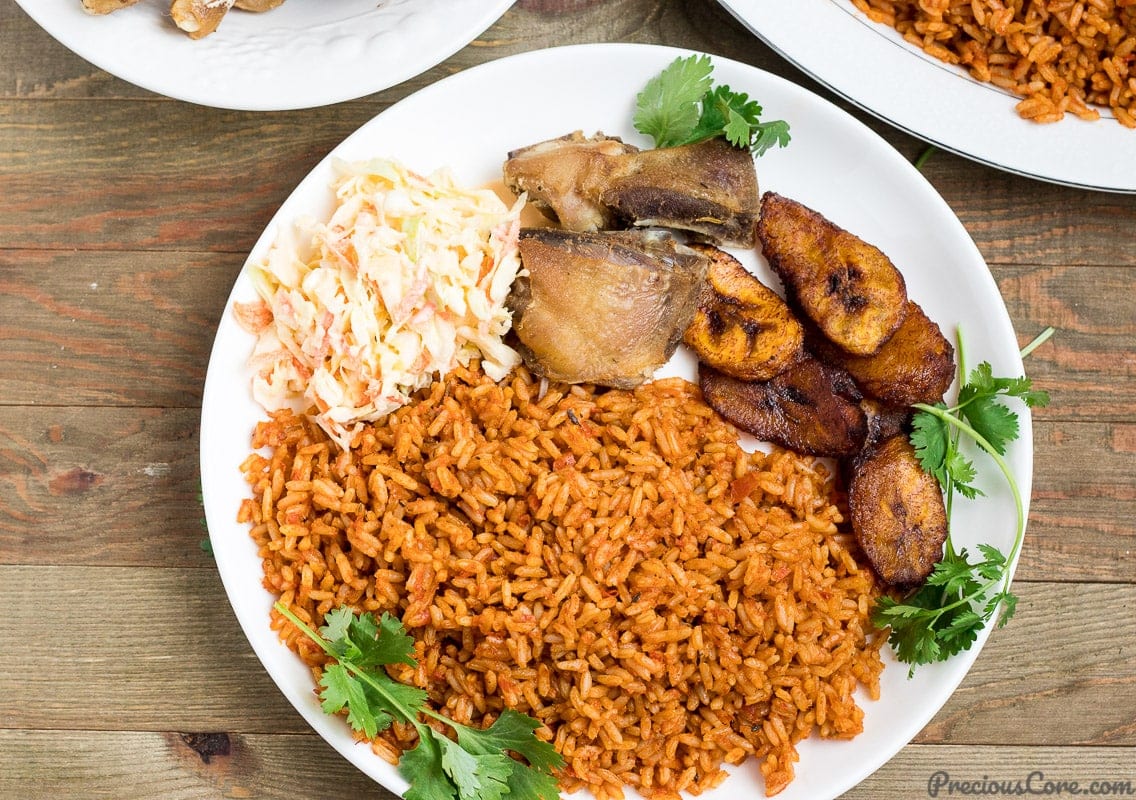 The first on our list is Jollof rice from West Africa. Once you visit Nigeria, you shouldn't leave the country without having a taste of this delicious meal. This is one of the delicacies that now enjoys patronage from all over the world. Jollof is rice prepared in a pot with tomato sauce and served with either fish or meat (chicken or beef). Today, Jollof rice has become the signature dish at festive gatherings and parties. In some cases, you will get Jollof rice with egusi soup. There is still a tug of war between Nigeria and Ghana on who makes the tastier Jollof rice.
Soweto chicken chakalaka with West African jollof rice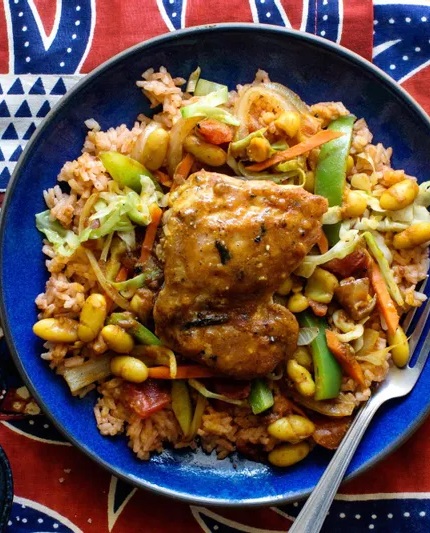 Chakalaka is as fun to make as it is to say. This gluten-free South African stew stars turmeric- and ginger-infused chicken thighs over fluffy rice. Get Recipe Here
ALSO READ: 13 Popular African Foods You Cannot Miss In Each Region
#2. Chicken Muamba (Angola)
There is a popular saying that, "When you go to Rome, behave like Romans". Likewise, when you visit Luanda, do like Angolans. In this case, you will have to taste chicken Muamba, one of Angola's unique cuisines. You cook chicken Muamba using spices, palm oil, garlic, okra, and chillis. It is often accompanied by fufu, igali, or fungi. This is one of the African foods that get really spicy.
Muamba Chicken (Muamba De Galinha)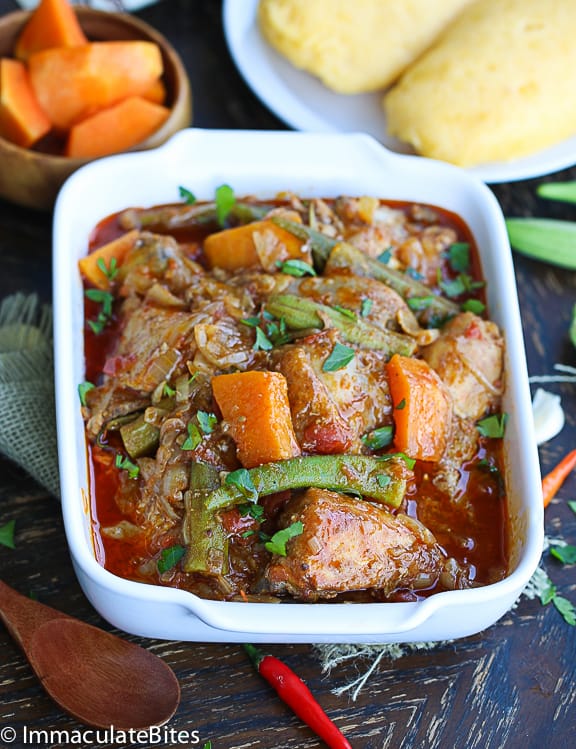 Muamba Chicken aka Muamba de Galinha – An aromatic Angolan Chicken Stew , flavored with garlic , chilli , vegetables and cooked in palm oil. Lip-smacking good and filling weeknight meal! Get Recipe Here
ALSO READ: 15 Recipes That Will Have Your Kids Fall In Love With African Cuisine
#3. Nyama na irio (Kenya)
Ask ten Kenyans about their favorite food and at least 8 will say Nyama na irio. Nyama na Irio is a typical Kikuyu staple food. The dish has spread throughout the country, and become a favorite for many Kenyans. Irio is a combination of mashed up potatoes, beans, peas, onion, corn. It is served with "Nyama", which is roasted meat marinated in spices. You will find this kind of African food at weddings or traditional celebrations.
Kenyan Steak and Irio (Nyama Na Irio)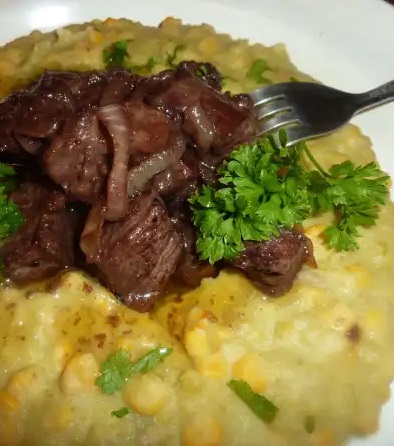 Traditional Kenyan nyama na irio is a simple dish made with potatoes, corn, and green peas. It must be soaked before cooking, and green peas can be substituted for red kidney beans. Get Recipe Here
#4. Koshari (Egypt)
Are you planning to explore the land of pharaohs and pyramids? After all the touring, reward your taste buds with Koshari, one of the country's culinary treasures. The food is more of a staple for Egyptian families. It comprises rice, lentils, chickpeas, garlic, macaroni, spicy tomato sauce, and fried onions. For a recipe as popular as Koshari, expect to encounter some variations. One thing that you should know is that it is a highly nutritious dish.
Egyptian Koshari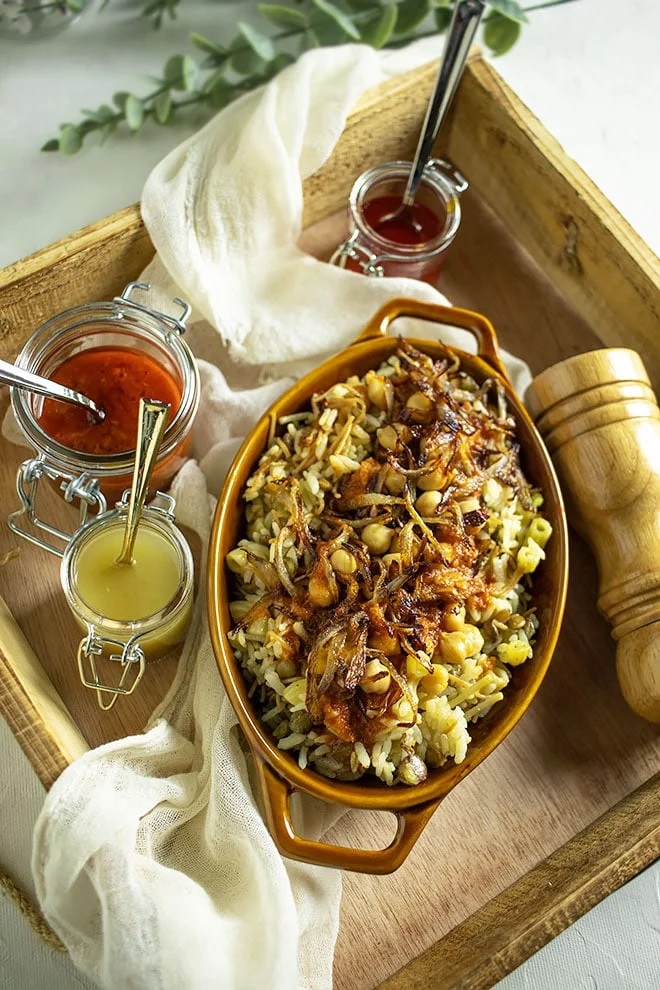 Koshari is made of rice mixed with pasta and green lentils, topped with fried onions, and served with tomato sauce along with cumin and chili sauce; finally, it is garnished with chickpeas.  Get Recipe Here
#5. Pastilla (Morocco)
Moroccan dishes have earned themselves global recognition over the decades. However, Moroccan tagine Pastilla is not your ordinary dish. You will not find it in regular cookbooks. Pastilla is a pie that consists of shredded chicken covered in thick egg sauce and natural spices. Hardly will you find a major celebration in Morocco that doesn't serve this meal. The absence of it makes the party incomplete.
Chicken Pastilla (Moroccan Skillet Chicken Pie)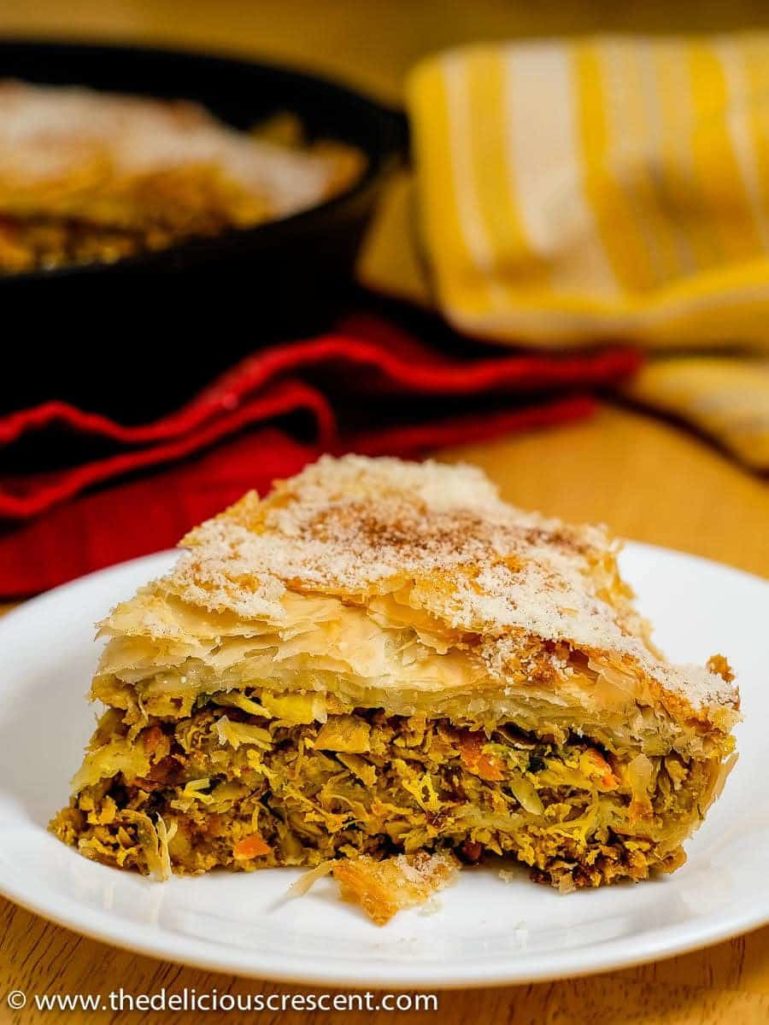 One serving of this pastilla has a substantial amount of high-quality protein and a good dose of healthy fats from the olive oil. So you can have it with some green salad for your lunch. It could be part of the dinner menu with a light entree and of course any party menu too. Get Recipe Here
#6. Koki Bean cake (Cameroon)
Koki, also known as bean cake, is a delightful appetizer found in Central Africa, Cameroon. This is a must-have dish if you happen to visit this region. The main component is cowpeas. The peas are boiled and mashed, then wrapped in banana leaves and steamed. Koki gets its bright red color from red palm oil, chili, and palm nut sauce. If you have had a taste before, share your experience in the comment box below.
Koki Corn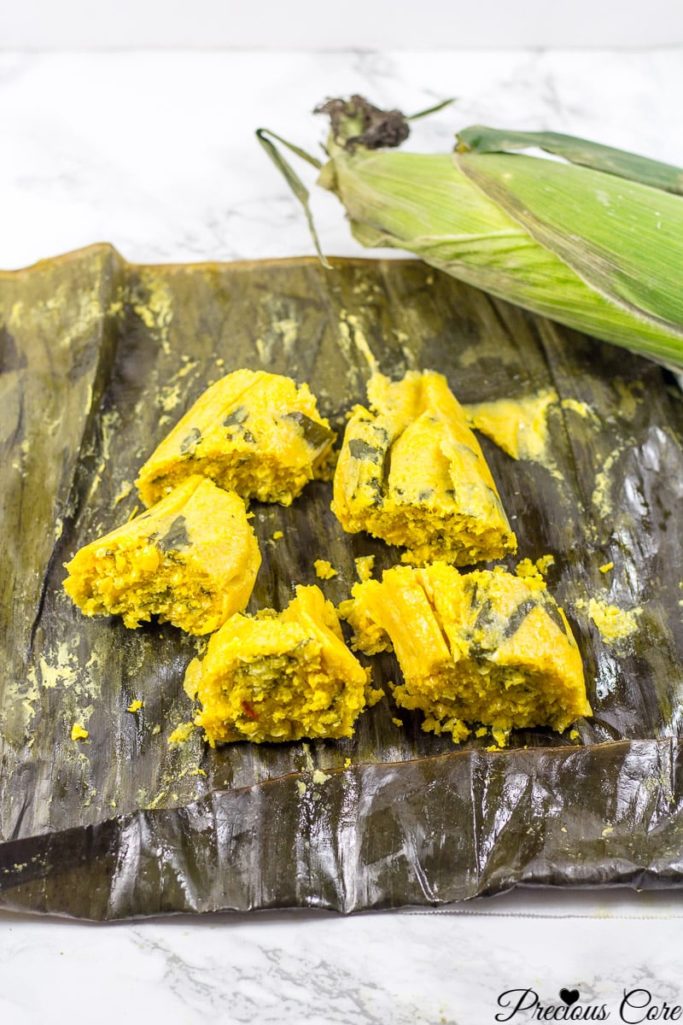 Koki Beans – moist, tasty pudding-like steamed treat made with coarsely grounded black-eyed peas and some spinach. Great as a meal on its own or with boiled plantains! Get Recipe Here
ALSO READ: 5 Efo Riro Recipe Variations You Need To Try
#7. Couscous Royale (Tunisia)
Couscous is a popular African food enjoyed in the North African region. The dish consists of steamed semolina. Ask for couscous Royale with sliced lamb infusion if you want your mouth to explode with sweetness. Also, you can ask for other accompaniments such as Saffron and spiced chicken. This combo will give you an unforgettable dining experience.
Moroccan Vegetable Couscous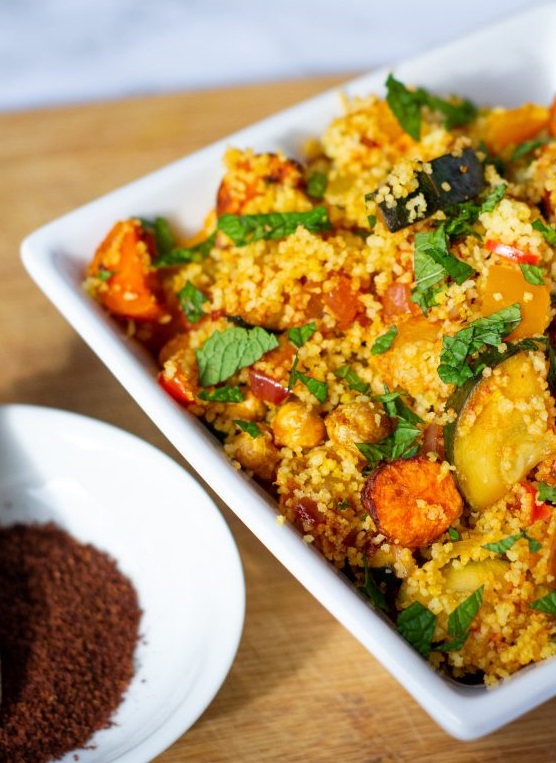 So many unique and wonderful flavors and textures packed into this Moroccan side dish!-Moroccan Vegetable Couscous Get Recipe Here
#8. Bunny Chow (South Africa)
We still don't know how South Africa's most famous African food got its name. However, what is certain is that Bunny Chow is one of the countries most sacred street foods. Bunny chow is a hollowed-out quarter loaf filled with meat and vegetable curries. The meat and vegetable curries were brought to South Africa in the 19th century by Indians. Besides, you can get to enjoy these delicious street foods in all major cities across the countries.
Yotam Ottolenghi's Durban Bunny Chow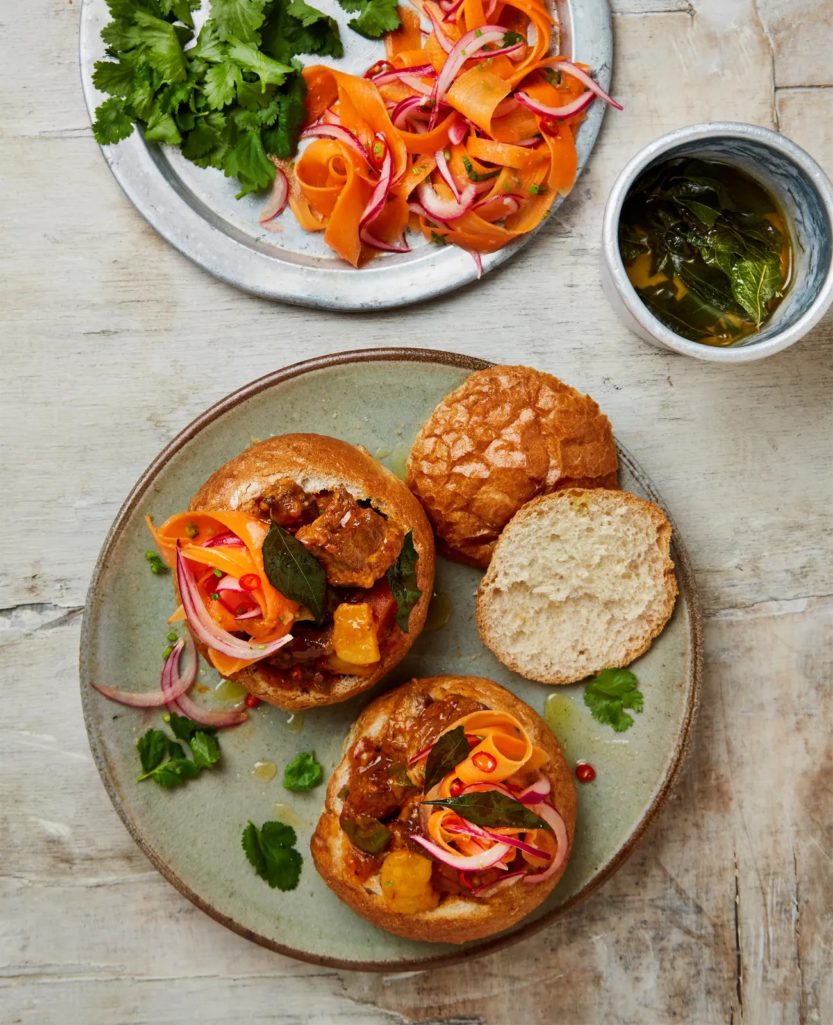 Bunny chow is traditionally made with mutton and served in hollowed-out bread. Get Recipe Here
ALSO READ: 4th Of July Grills To Spice Up The Weekend
#9. Kapenta with Sadza (Zimbabwe)
One of Zimbabwe's culinary highlights is crisp-fried kapenta with Sadza. Kapenta comprises two species of freshwater fish from Lake Tanganyika. Like many African foods, Kapenta comes side-by-side with a bowl of delicious maize porridge known as Sadza. You can get Kapenta either in fresh or dried form. Additionally, you can stew it with onions, tomatoes, and groundnut powder. It's served with fresh greens. The traditional way to eat kapenta is to take Sadza and roll it on the fish using your hands.
Dried Matemba (Kapenta) Stew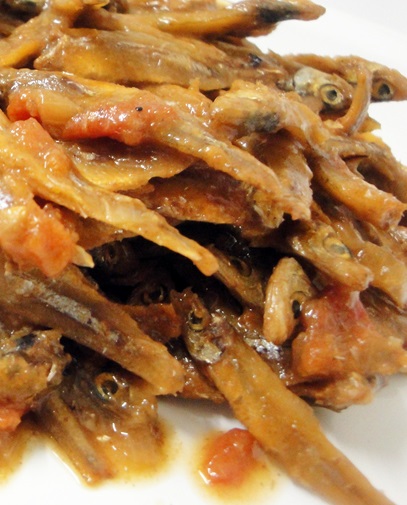 A lot of Zimbabwean families eat this, be it once in a long while, every week or once in a month or two! But you cannot deny it being part of our cuisine here. This is really a basic kapenta stew recipe and is pretty easy to do. Let's get into it. Get Recipe Here
#10. Pilau (Tanzania/Kenya)
One of Tanzania's popular dishes is the pilau. This African food draws its influence from the Indian rice dish. However, the use of various spices during preparation is what makes the dish special. The pilau rice is cooked using spices such as cloves, cinnamon, pepper, cardamom, garlic, and ginger. Also, you can add fish, meat, eggs, or chicken to the dish. The meal is almost exclusive for special ceremonies or celebrations.
Chicken Pilau (East African Pilau with Chicken)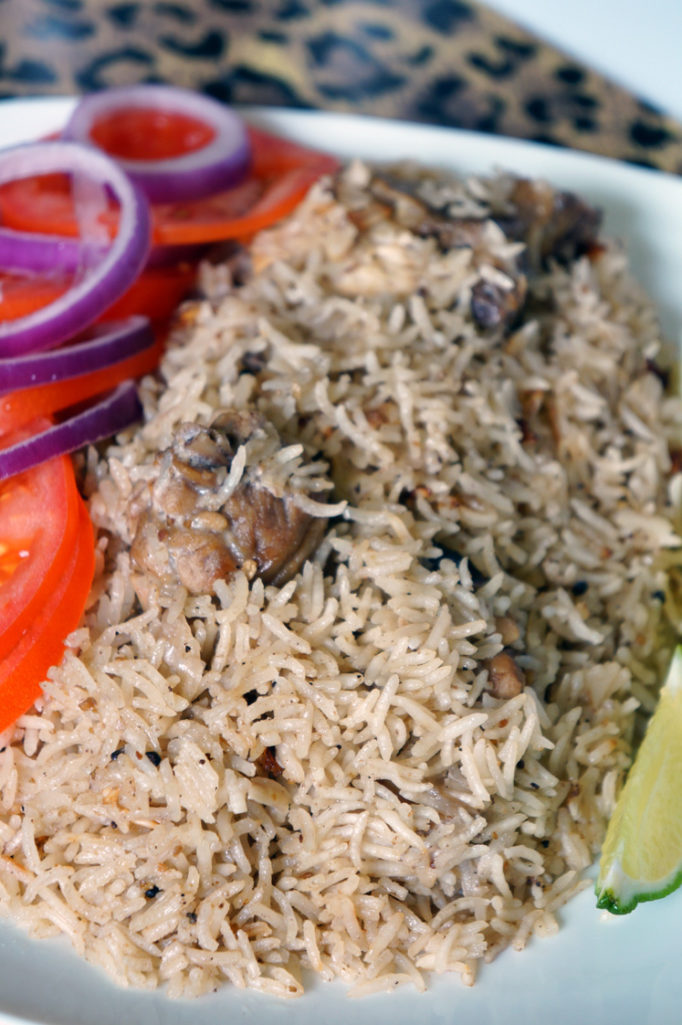 Featuring a delicious East African pilau made with chicken, this Kenyan Chicken Pilau recipe is an elevated chicken and Kenyan Pilau dish that is very easy to make! Get Recipe Here
ALSO READ: 6 Variations Of The Delicious South African Samp Recipe
#11. Matoke (Uganda)
Uganda is a great tourist destination for wildlife enthusiasts. This is due to the epic natural destinations, beautiful restaurants, and the delicious Uganda cuisine matoke. A visit to Uganda isn't complete without a bite of this delicacy. Matoke is made from mashing cooked green and unripe bananas. It's served with peanuts, meat stew, or vegetables. Interestingly, this doesn't come as a surprise considering the fact that Uganda is one of the top suppliers of bananas to European markets.
Matoke With Beans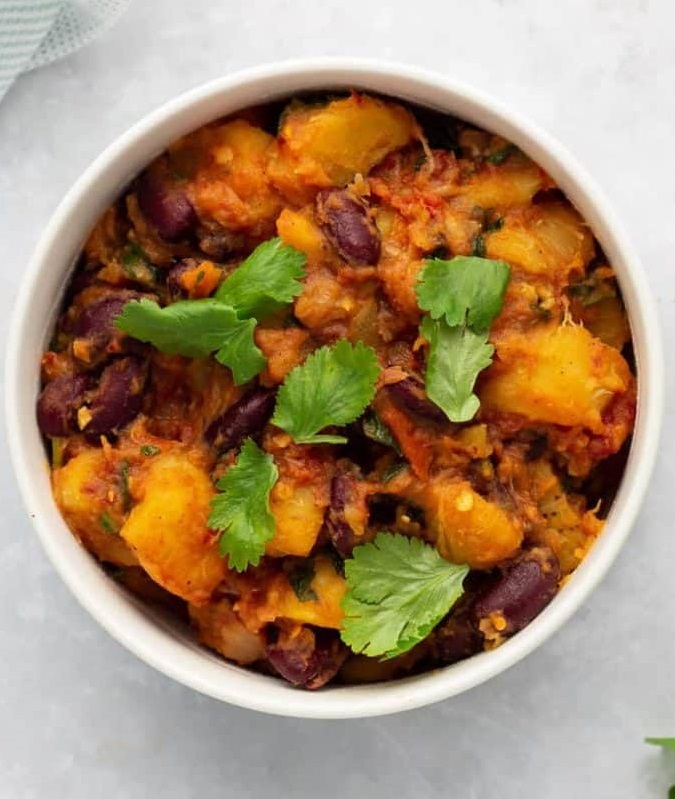 Matoke, known in English as East African Highland banana is a staple around East Africa, particularly Uganda and Tanzania. The meal prepared from unripe, green matoke is also called "matoke" Get Recipe Here
#12. Cassava leaf and rice (Liberia)
When Liberians are not eating Jollof rice, they are churning it down with cassava leaves. Cassava leaf soup with rice is a popular food in Liberia. To prepare the meal you boil rice separately. Then, pick cassava leaves, clean the leaves, cook, and pound them with fish, meat, water, or coconut milk. The end product is rich and oddly inviting. Share your thoughts on this meal in the comment box below.
Liberian Red Oil Cassava Leaves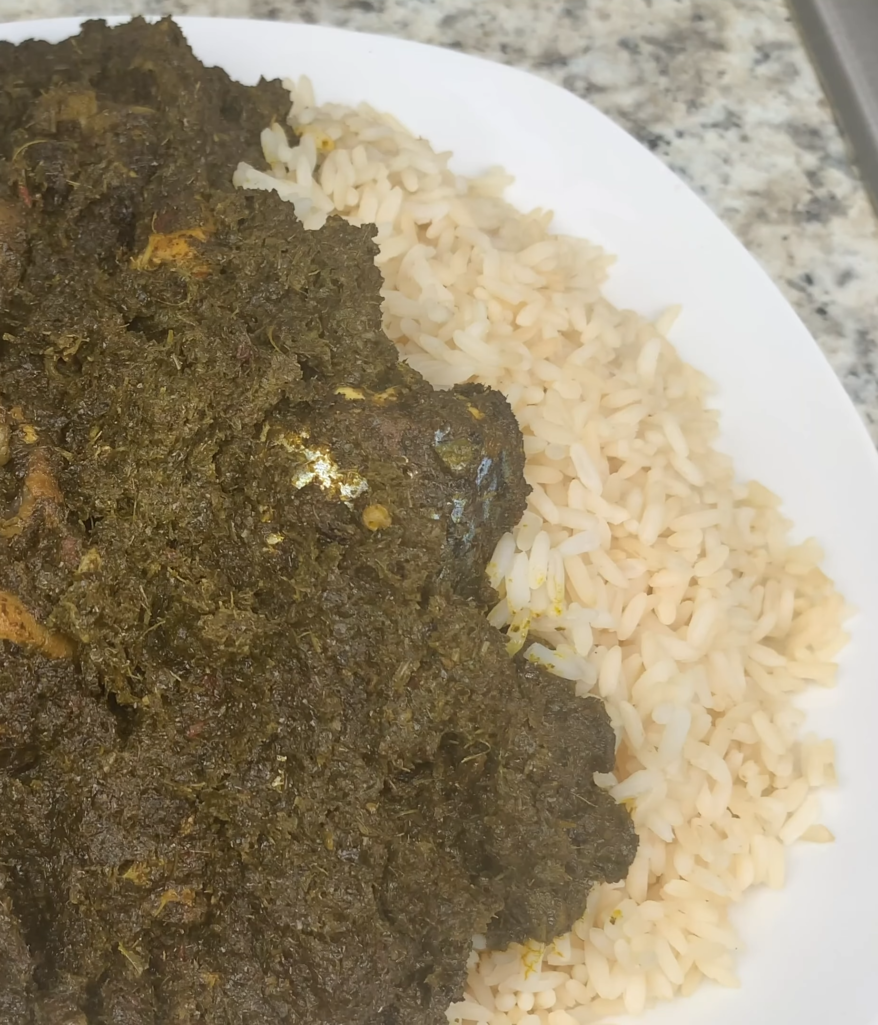 Do you want to try this recipe? Get Recipe Here
#13. Injera (Ethiopia)
One of the famous African foods in Ethiopia is the sour flat dough known as Injera. The bread comes in two versions, darker and lighter versions, depending on the ingredients. Vegetable sauces, meat, and beans are poured on top of the sour bread. Arguably, it is one of the richest African foods you will taste on the continent.
Easy Spongy Injera
Injera – Quick and easy spongy, crepe-like flatbread that's slightly sour, slightly sweet, and utterly addictive. Get Recipe Here
Conclusion
Africa has 54 countries and all of them have their unique cuisines. While we can't exhaust all of them, the above are some of the most common African foods in different regions. So, whether you are heading to the north, south, east, or west, you have something to savor. Check through our recipe page for cooking directions for some of the foods. Hopefully, you will be able to cook them from the comfort of your home. Have you tried any of these foods? Tell us your thoughts in the comment section below.