15 African Foods Suitable For Diabetic Patients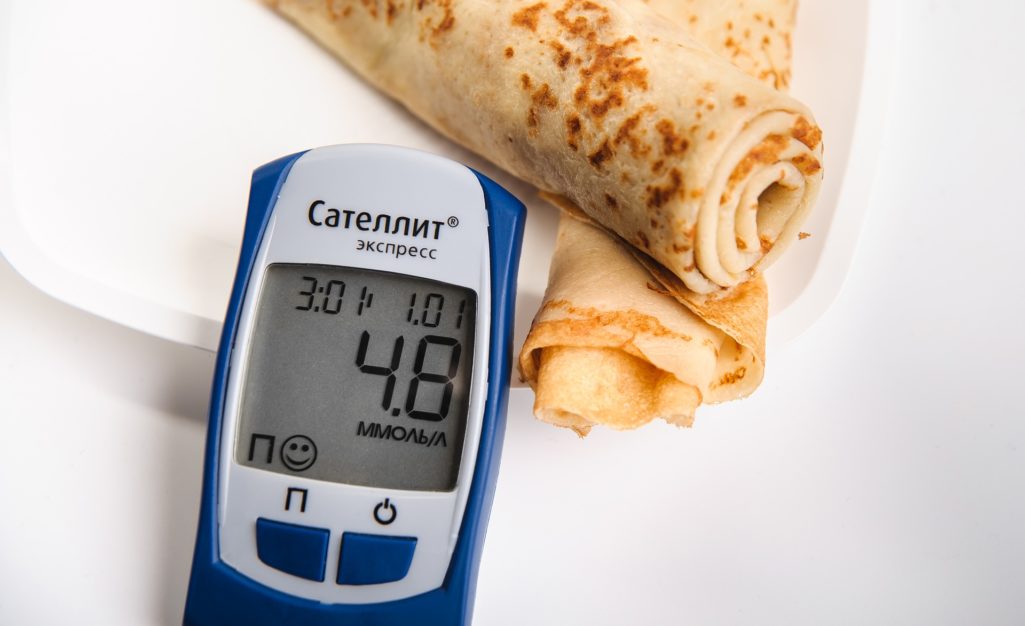 For the United Nations, November is a busy month. It has designated several observances for the month. November 9th to 19th is the international week of science. The week after is for antibiotics awareness. World Diabetes Day is included in the week of science for diabetic patients.
In Africa, it is hard to place a finger on the exact diabetes prevalence number. Subsaharan Africa has the most undiagnosed cases in the world, with an estimate of 312,000 deaths in 2017. There are more than 15 million people living with diabetes on the continent, with the number of cases projected to rise over the next decade.
When is the World Diabetes Day?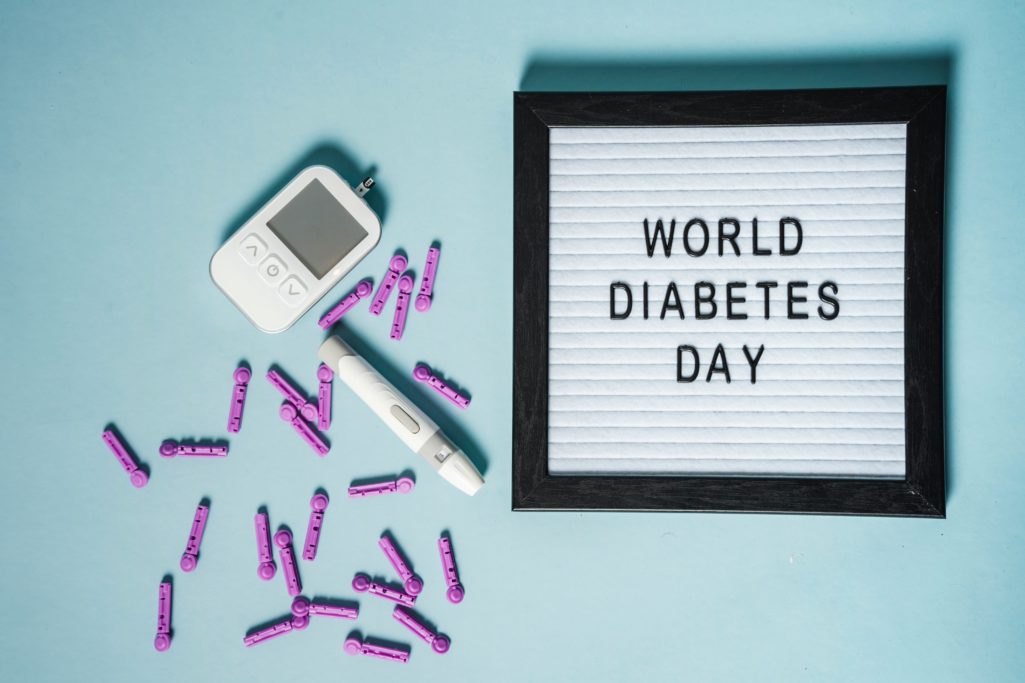 Every November 14th is World Diabetes Day, a special commemoration day that brings together a community of more than 500 million people suffering from diabetes. The theme for this year's celebration is "Access to Diabetes Care." It aims to rally everyone to work for a better future where adequate diabetes care is accessible to all.
ALSO READ: 10 Ogbono Soup Recipes That Will Get You Drooling Over African Soup
The statistics are grim. According to the UN, every five seconds, someone develops diabetes. In every 30 seconds, someone somewhere has to amputate a leg due to diabetes. For every 10 adults, one is living with diabetes. And harrowingly, in every 10 seconds, a life is lost to this disease. That is higher mortality than COVID-19.
In 1991, the International Diabetes Federation (IDF), in collaboration with the World Health Organization (WHO) launched World Diabetes Day. This was necessary to create awareness of how to effectively manage the disease. Since then, it has been sensitizing the world on the social and economic impacts of healthy living, particularly pertaining to diabetes.
The Significance of this Year's Theme
The theme of this year's WDD is access to diabetes care. The disease has been around since prehistoric times. However, therapeutic insulin saw its debut in 1921—exactly a century ago. Ever since, this insulin refined over the years has saved countless lives.
There have been dozens of breakthroughs in the medical approaches towards diabetes over the past century—from insulin production to administration. The problem is that today, there is insufficient access to diabetes care, and the poorest are the hardest hit. This year's theme highlights the need to make insulin affordable and accessible.
Causes of Diabetes
There are three types of diabetes, each with its different causes:
#1. Type 1 diabetes
#2. Type 2 diabetes
#3. Gestational diabetes
ALSO READ: 25 Delicious African Food Recipes To Try This Month
Causes of Type 1 Diabetes
Type 1 diabetes, also known as prediabetes, is quite hard to crack. Despite massive research that has been undertaken in this area, its exact causes remain unclear. The little that is known is that after viral or bacterial infections, the immune system may overreact and attach the islets of Langerhans, which produce insulin.
When these cells are killed, you remain with little or no insulin. This leads to a buildup of sugar in the bloodstream, causing a host of symptoms consistent with diabetes. There is a common misconception that weight plays a role in type 1 diabetes when actually it does not. Instead, a combination of genetic and environmental factors contributes to the conditions that lead to prediabetes.
Causes of Type 2 Diabetes
Type 2 diabetes comes from insulin resistance, which sometimes advance from type 1 diabetes. Here, the insulin finds resistance in getting into muscle tissues and cells. When this happens, sugar concentrates in the bloodstream instead of being transported to the cells and tissue systems.
Genetic and environmental factors lead to type 2 diabetes. There is a strong link between being obese and developing this type of diabetes.
ALSO READ: Ever Cooked West African Egusi Soup Recipes? Here Are 10 Delicious Variations To Choose From
Causes of Gestational Diabetes
During pregnancy, there is a non-chronic form of diabetes that often occurs because of hormones produced in the placenta. These hormones interfere with the functioning of insulin, leading to a buildup of sugar in the blood. Although the pancreas adjusts its insulin production bandwidth during pregnancy for most mothers, sometimes it may lead to problems for others.
The silver lining is that diabetes is manageable. When properly and carefully managed, diabetes does not lead to more serious problems.
Food Groups To Avoid When Living with Diabetes
Uncontrolled diabetes can lead to serious health conditions. For instance, it can cause kidney problems, heart disease, and blindness. For extremely serious cases, nerve damage that leads to gangrene can develop, leading to infections and loss of limbs.
Controlling diabetes entails eating healthy and avoiding unhealthy food. Here are some of the foods to avoid. Basically, foods that increase inflammation are a no-no. So, sugars and trans-fats are the main culprits. Here are the foods you should keep away from.
ALSO READ: World Vegetarian Day: Here Are 10 African Vegan Food Recipes That Nobody Told You Before
#1. Sugary beverages like soda and sweetened iced tea. If they contain fructose, they are quite unhealthy for excessive consumption too.
#2. Trans-fats like peanut butter and potato crisps which are jam-packed with calories.
#3. Minimize consuming white bread, pasta, and rice.
#4. Yogurt, especially those with fruit flavorings.
#5. Breakfast cereals especially with high carbohydrate content.
#6. Flavored coffee.
#7. Packaged snacks.
#8. Fruit juice. Flavored juices are usually full of processed sugar.
#9. French fries.
Other ways of Preventing and Managing Diabetes
Besides a stringent diet-watching regime, you can keep diabetes or its adverse effects at bay by doing one or more of the following.
#1. Losing Weight
According to the American Diabetes Association, patients with prediabetes who lose their weight by around 7% can cut their risk of progressing into type 2 diabetes by around 60 percent. When aiming to lose weight, you should set a goal based on your expectations and talk to your doctor about the short-term and the long-term goals so that you can have a realistic result.
#2. Exercising
Exercise has always been touted as a magic bullet in the fight against diabetes—and it is understandably so. Exercising has a host of benefits including;
It helps you lose weight.
Exercising helps you get better sensitivity to insulin, which in turn helps lower blood sugar levels.
By being physically active, you gain many other benefits, like faster healing.
There are two types of exercise you can choose to beat the effects of diabetes.
ALSO READ: 15 Recipes That Will Have Your Kids Fall In Love With African Cuisine
#1. Aerobic exercises.
These exercises help you break long, monotonous tasks into shorter ones with intervals for breaks. Aerobic exercises include walking and light jogging.
#2. Resistance exercises
Resistance exercises help when you are trying to build strength. These include jumping jacks and weightlifting.
Excellent African foods for Diabetic Patients
Thankfully, Africa has a long list of diverse cuisines and most of them are low in trans-fat and carbohydrates. Here are excellent African foods that are both nourishing and healthy for everyone, including people living with diabetes. These foods are packed with natural fiber, vitamins, proteins, and healthy carbohydrates.
#1. Ukwa Breadfruit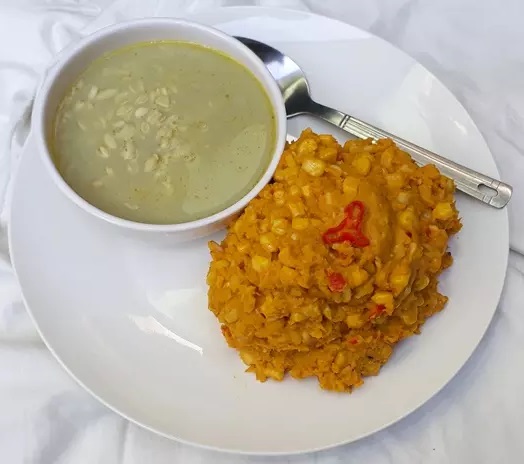 Breadfruit species are rampant in the world and grows in different parts of the world bearing different names, having different shapes and different sizes. This recipe is for African breadfruit, a popular species in Nigeria that serves as foods to Igbo People.
Ukwa is a very popular food in the eastern part of Nigeria, the people of Igbo are very familiar with the two recipes that I would be talking about below.
Ukwa could be cooked with potash and just eaten like that or it could also be separated from the water for just the seeds to be mashed with some ingredients and thereafter served with the plain cooked ukwa. Get Recipe Here
#2. African Okro Soup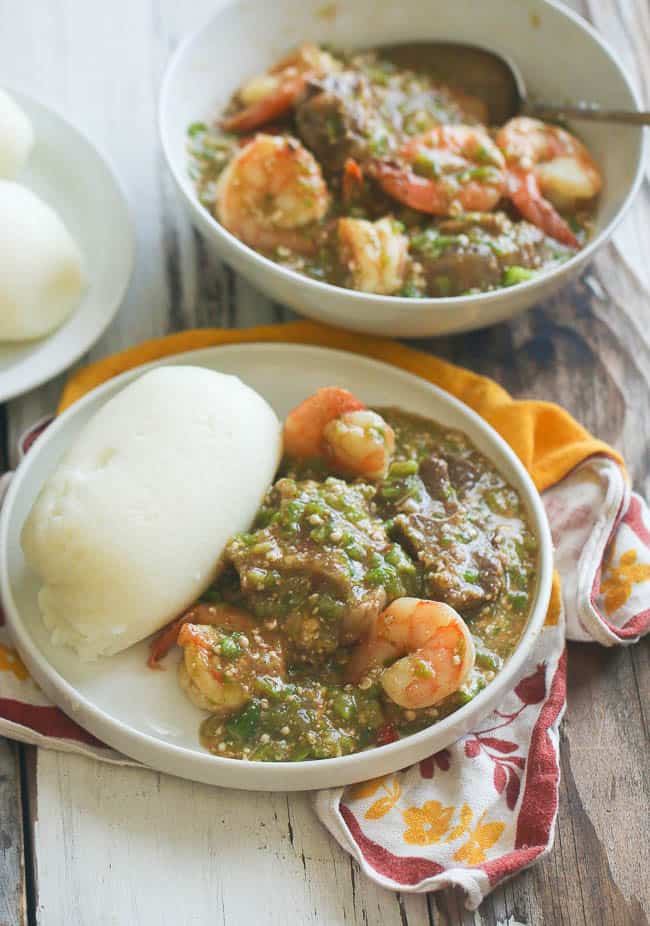 For the health-conscious, okra is a rich source of dietary fiber, minerals, and vitamins, and a low-calorie vegetable. Known in most West African Countries as Okro, and the French-speaking countries as gumbo. While in the U.S it is referred to as okra. So okra and okra are pretty much the same things. Get Recipe Here
#3. Gomen (Ethiopian Collard Greens)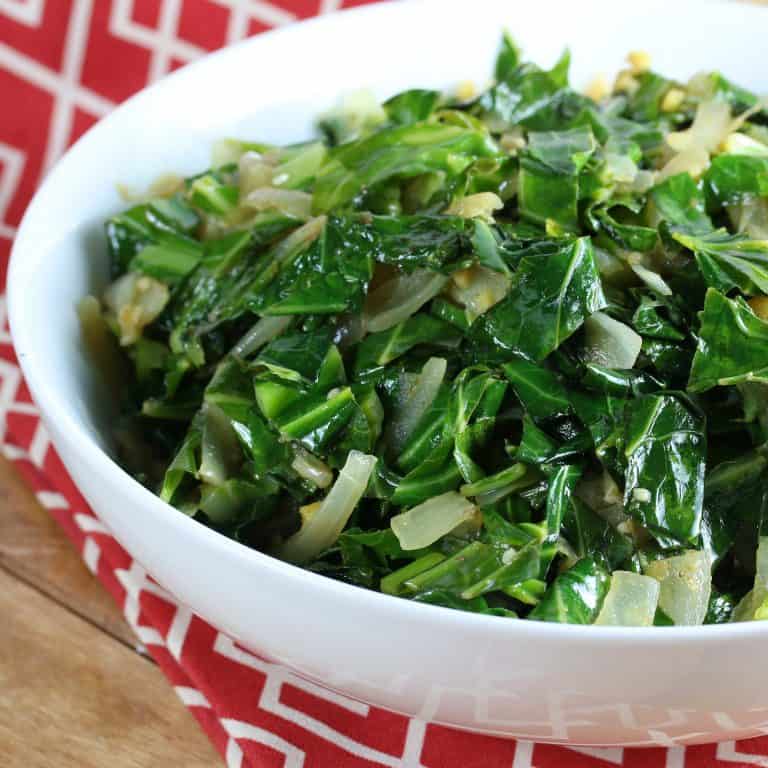 If you're looking for an authentic Ethiopian veggie side dish to serve with your Ethiopian entree, Gomen (aka Ye'abesha Gomen) is among the most popular and delicious. Get Recipe Here
#4. Sukuma Wiki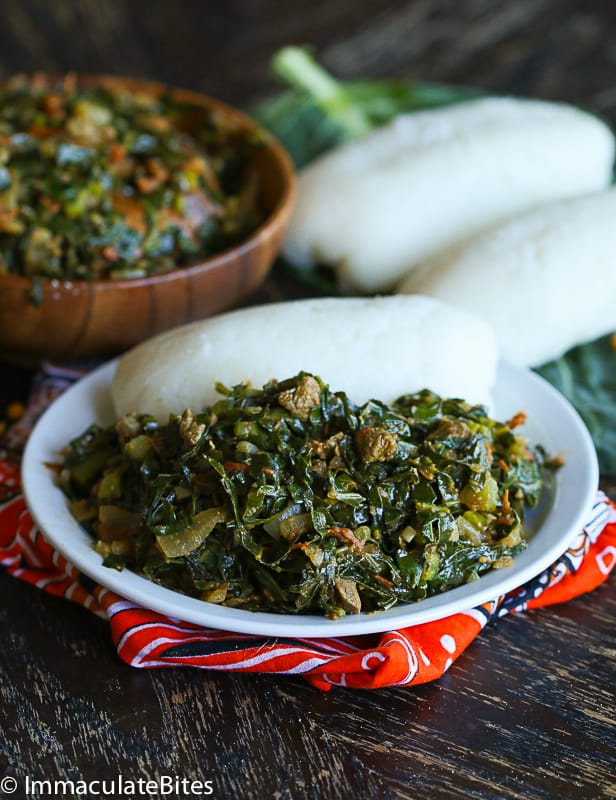 Sukuma wiki is a very rustic African dish, enjoyed in many parts of East African countries like Kenya, Tanzania- just to name a few. It is a Swahili phrase meaning, "to stretch the week" especially when paired Ugali (cornmeal fufu). Get Recipe Here
#5. Edikaikong (Edikang Ikong Soup)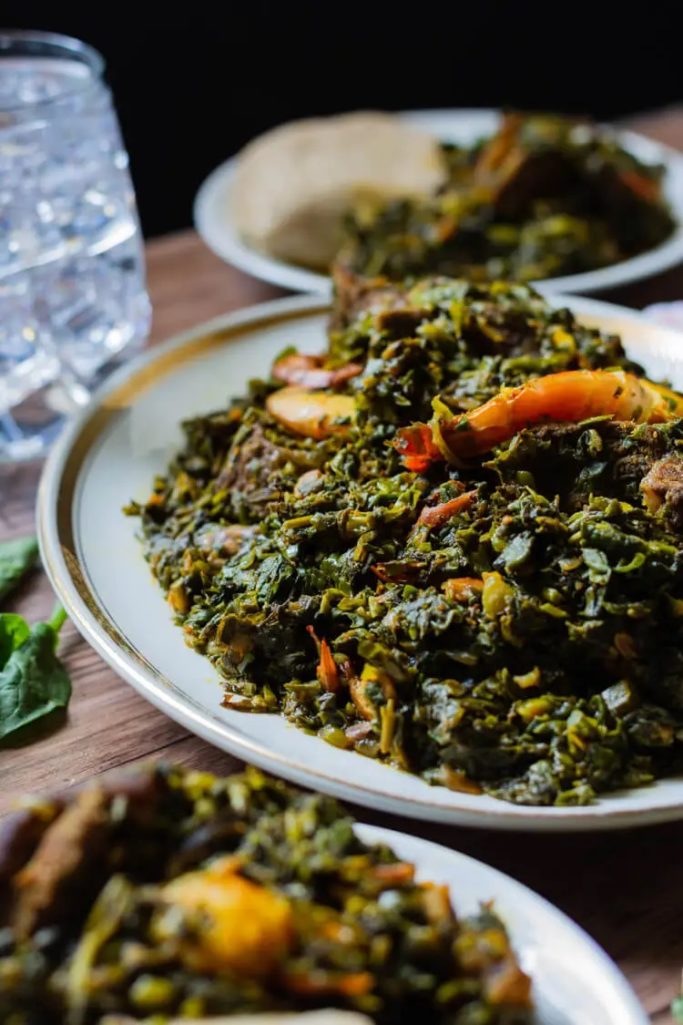 Edikang Ikong Soup is a highly nutritious, delicious and savory vegetable soup natively prepared using 'ugwu' (the native name for fluted pumpkin leaves) and Malabar spinach (locally called water leaf in Nigeria). Get Recipe Here
#6. Fish In Banana Leaf (Liboke De Poisson)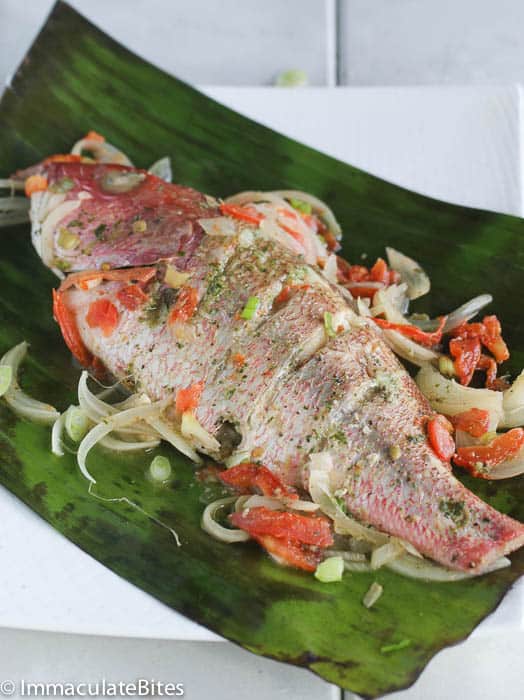 Here is a dish that would make prepping for fish exceptionally easy and fish-eating, tantalizingly tasty. Get Recipe Here
#7. Kachumbari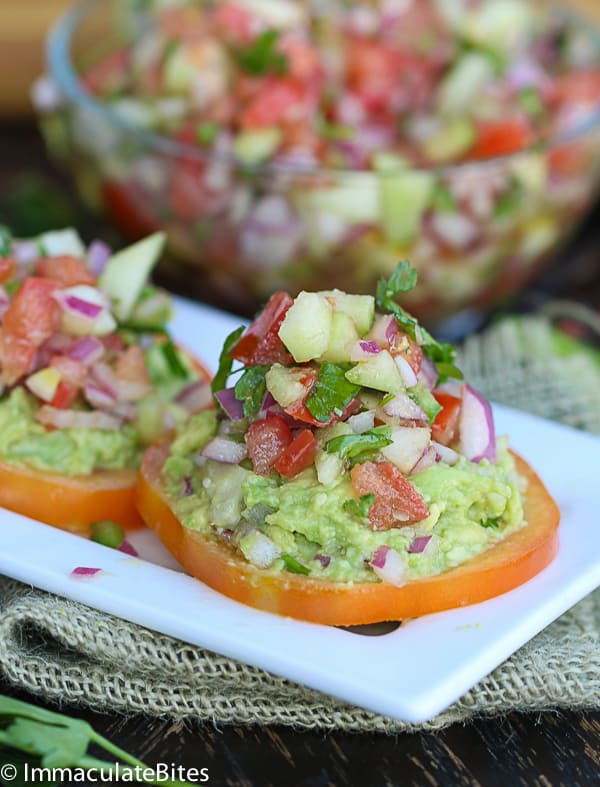 Kachumbari is an East African, spicy, simple and flavorful, delightful onion and tomato Salad enjoyed especially in Kenya and Tanzania.  Get Recipe Here
#8. African breadfruit pottage Ukwa etelu ete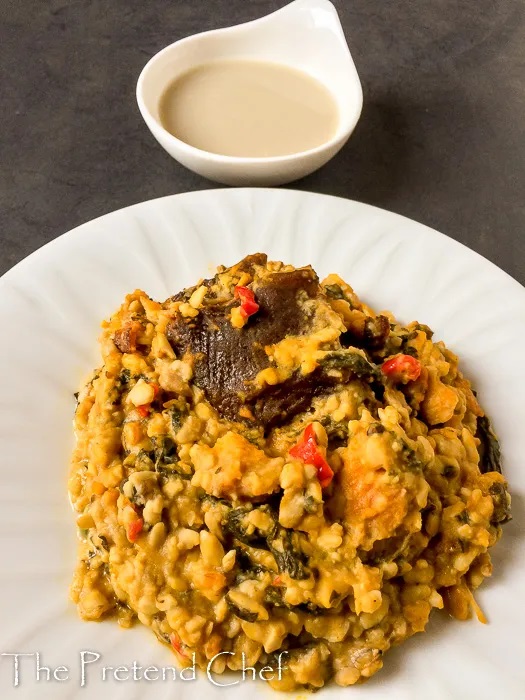 Breadfruit pottage is the paramount breadfruit dish. It is made with the heavy arsenals of Igbo cuisine. African breadfruit or Ukwa pod comes from the large ukwa tree. The heavy Ukwa pod falls to the ground and is processed to get the delicious ukwa seeds. Get Recipe Here
#9. Moroccan Fish Tagine Recipe with Chermoula and Vegetables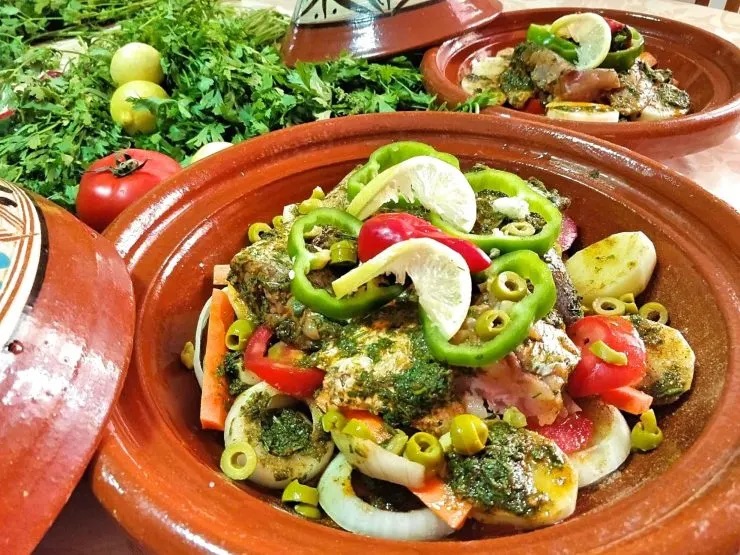 A classic Moroccan tagine of chermoula-marinated fish and veggies. Preserved lemon, olives, and Moroccan spices add additional flavor. Get Recipe Here
#10. Ogbono Soup with Bitter Leaf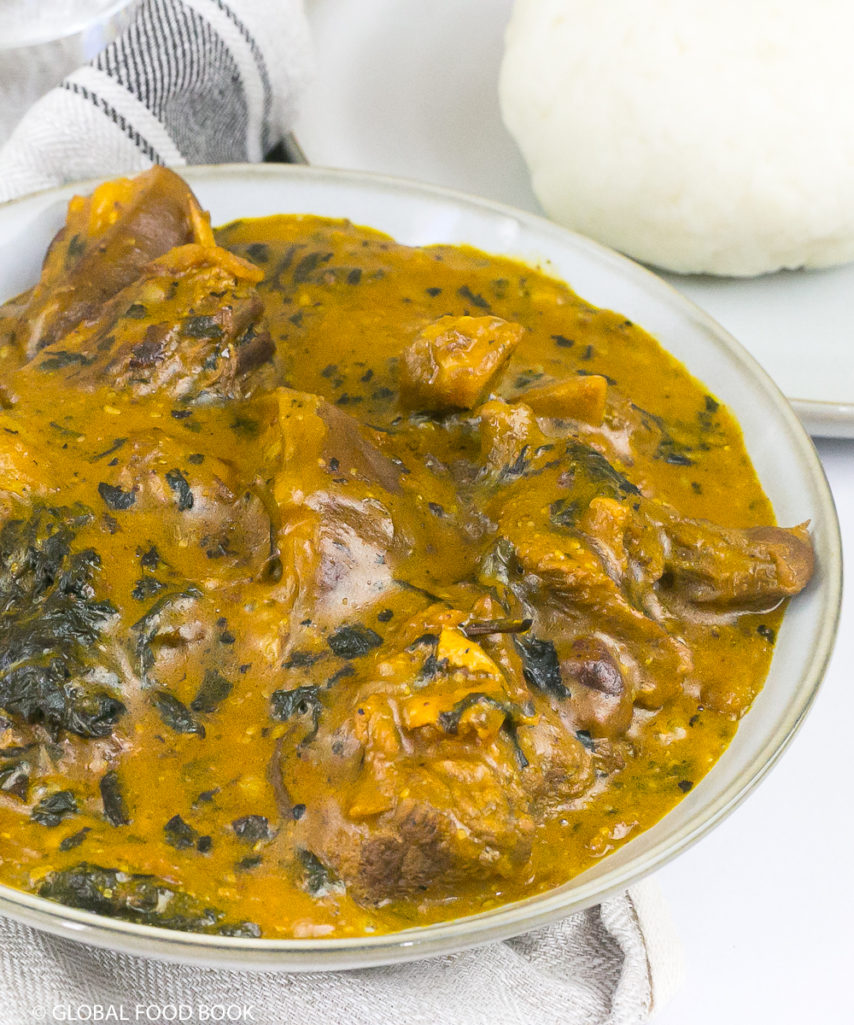 This ogbono soup with bitter leaves is pretty easy to cook, tasty, aromatic, flavourful, and above all filled with assorted meats and fish to appease your taste bud. The soup can be served with either pounded yam, eba, poundo, fufu etc. Get Recipe Here
#11. Unripe Plantain Porridge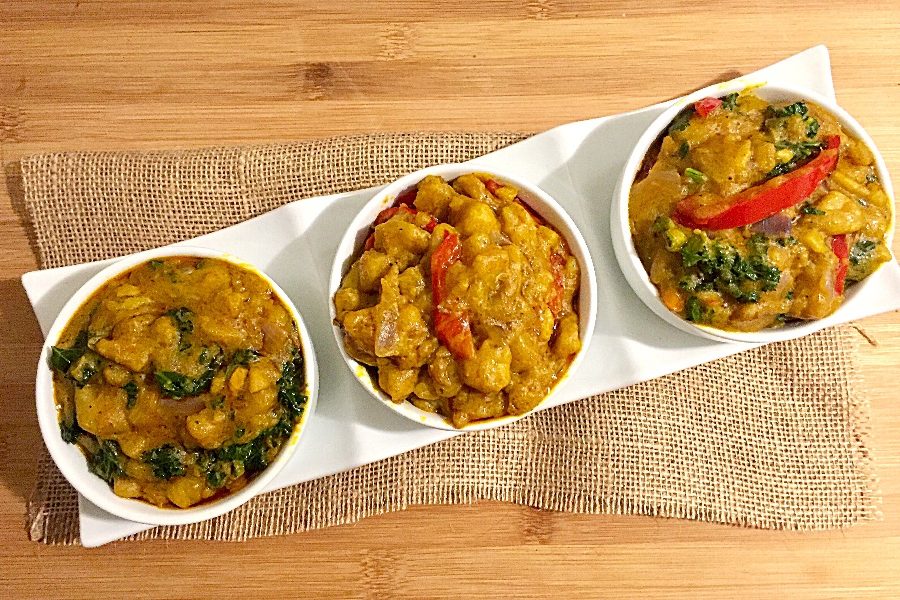 Unripe Plantain Porridge is one of those meals that can really be boring if you don't cook it 'intentionally' By intentionally I mean you have to set out to make it delicious. Growing up, this dish was rarely made in my home. Get Recipe Here
#12. Sukuma Wiki (Kenyan Braised Collard Greens and Ground Beef)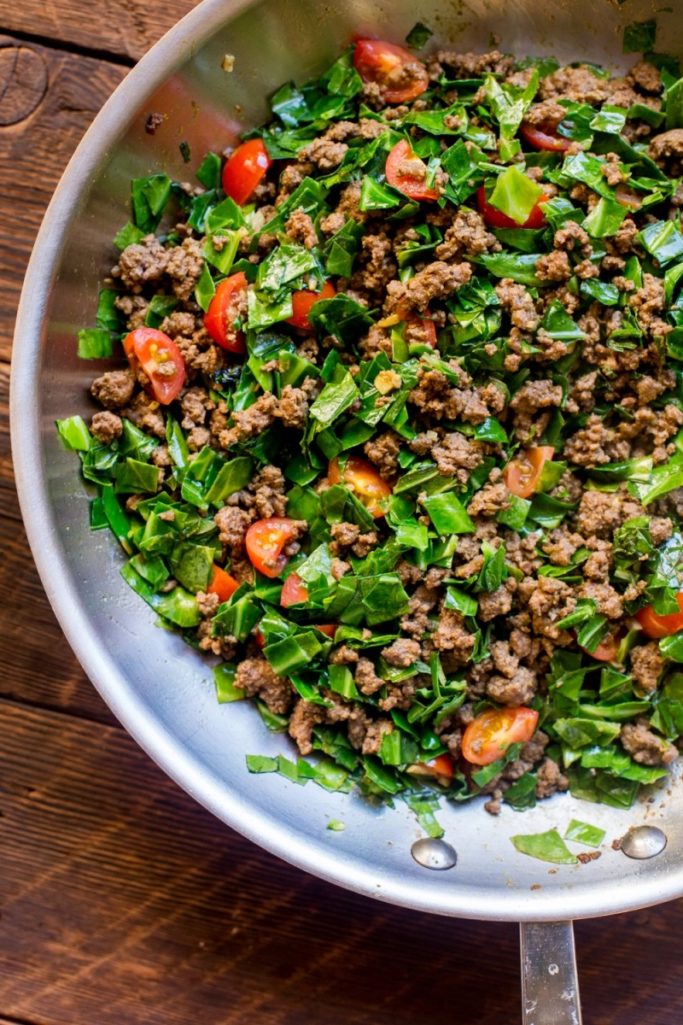 In the culinary world, Sukuma Wiki is a common name for a Kenyan dish of braised collard greens, usually prepared with ground meat, tomatoes, and onions. Turns out that this dish is dead easy to make, both in terms of time/preparation and ingredients. Get Recipe Here
#13. Whole Baked Sea Bass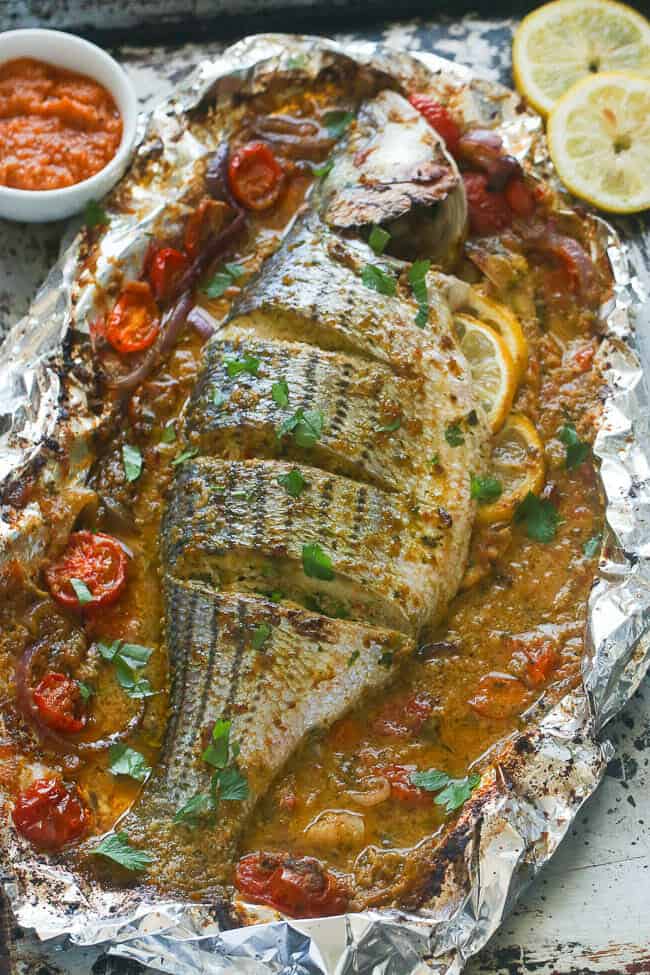 Whole Baked Sea Bass fish marinated in a simple yet flavorful mixture of lemon, tomato, garlic, herbs, and other spices. It's simple, easy, healthy, and incredibly flavorful! Get Recipe Here
#14. Okro Soup (African Okra Soup)
This loaded okro soup is a staple in West Africa, including Nigeria, Ghana, and Cameroon. Okra soup is deliciously satisfying, nutritious, and is loaded with proteins and healthy fat. Get Recipe Here
#15. Unripe Plantain Porridge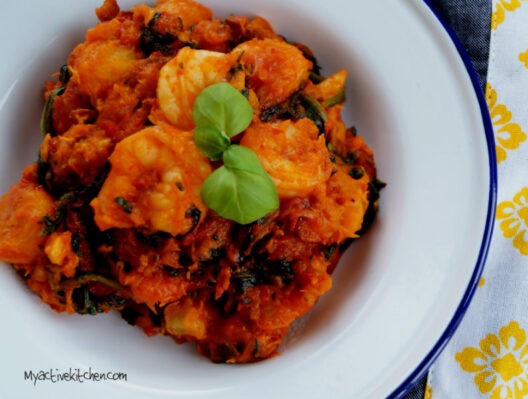 Unripe plantain porridge is a delicious one-pot plantain recipe, very easy to make, and super tasty. A great alternative to Asaro (yam porridge) Get Recipe Here
Conclusion
While there is no definite cure for diabetes, eating healthy is key to living with and managing the problem. The food you eat, while they contain less refined sugars compared to unhealthy fast foods, does not necessarily have to be bland. Rather, you can enjoy delicious dishes and keep fit at the same time. If you have been suffering from diabetes, let us know how you have been managing the condition.