6 Abacha (African Salad) Variations You Should Try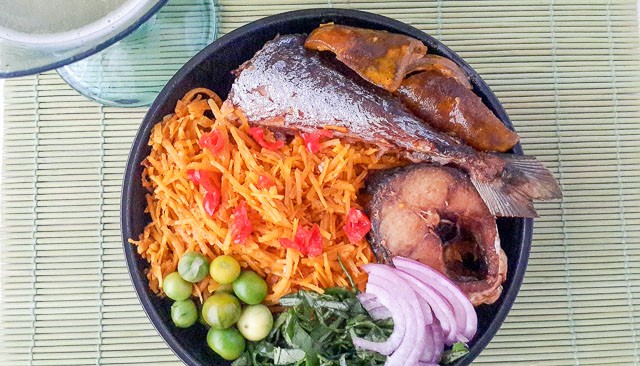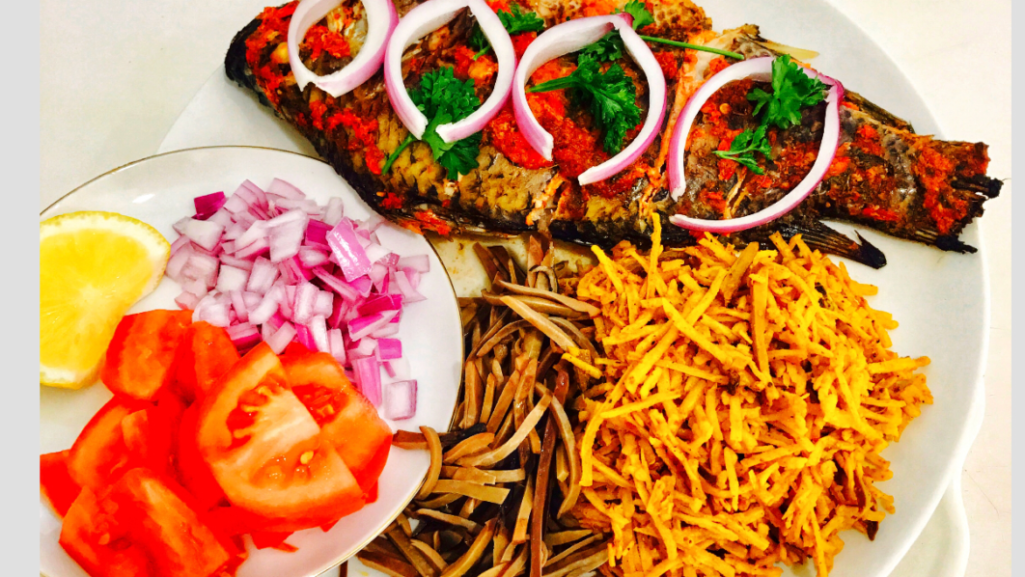 To date, salad is an elite dish that often makes an appearance only on special occasions. Africans have their own type of salad which enjoys the same privilege. However, it is nothing like the English salad that most of us are used to. Like English salad, the majority of the ingredients of African salad are raw. These include vegetables, pepper, onions, and so on. Sometimes it also includes fruits. At African Vibes, we are all about twisting and turning up the norms. Come with us on this journey to discover exciting African salad variations.
How popular is the African salad?
The African salad is also known as Abacha. Although native to West Africa, it is a favorite dish in different parts of the continent. Abacha originated from the Igbo tribe in southeastern, Nigeria. It is made by boiling cassava tubers, slicing, soaking overnight in cold water, washing, and drying them thoroughly in the sun. This lengthy process creates the base of this tasty food.
ALSO READ 12 African salad variations from all African regions.
The preparation process is quite simple. If you have access to fresh cassava tubers, the first step is to boil the tubers for twenty minutes. Next, peel off the outer brown layer. Cut it into small bits before slicing it and soaking it in water for about 18 hours. After soaking, thoroughly wash the cassava and place it in the sun to dry completely. Store the dried cassava in a container, ready for the preparation of the African salad. However, if you don't have the time to prepare your cassava grates, you can get already-prepared and dried grates from the local market.
What is Abacha called in English?
In English, Abacha is known as tapioca. Tapioca is a starch that is extracted from cassava roots. This species is native to Brazil but traveled through entire southern America. While it is called African salad, it is predominantly consumed in Nigeria.
Fun fact: cassava was carried by Portuguese and Spanish explorers during their expeditions. That is how cassava came to find its way into Africa. The Portuguese introduced the cassava to Nigeria. In eastern Nigeria, you will find it cultivated by the Igbos. They use it to make this wonderful dish, the African salad.
Is Abacha healthy?
Abacha is a healthy food, especially because of the accompanying ingredients. Of course, before eating or serving your family a particular meal, you have to ensure that it is healthy. The health benefits are what make us try out different meals and diets. Very few foods can boast of Abacha's level of nutrition. You can enjoy Abacha with potash. This is a type of salt that is good and healthy for pregnant women and growing kids. However, since its base is from cassava, you have to watch your consumption because of the high carbohydrate content.
ALSO READ: 6 Variations Of The Delicious South African Samp Recipe
What is the side effect of the African salad?
Firstly, it is very easy to get cholera from contaminated Abacha because of the handy preparation process. This is especially true if you are doing it yourself. You need to wash the cassava thoroughly to avoid contamination of any sort. Contamination due to unhygienic handling during preparation can lead to stomach upsets and vomiting. Secondly, Abacha is high in calories. Foods with that many calories may lead to excessive weight gain. Therefore, it is advisable to watch your intake while counting calories for those struggling with weight.
Also, it may shock you to know that some species of cassava have high cyanide content (cryogenic glycosides). Cyanide is a neurotoxin with potentially adverse effects. Thankfully, proper preparation—particularly fermentation—can help to eliminate cyanide. This is because cassava contains an enzyme called linamarase that can degrade cyanide. Therefore, it is important to make sure you are buying properly processed tapioca for your Abacha. The poisoning only occurs when you eat cassava that has not been washed and dried properly.
6 Abacha (African Salad) Variations You Should Try
#1. Abacha Ncha, African Salad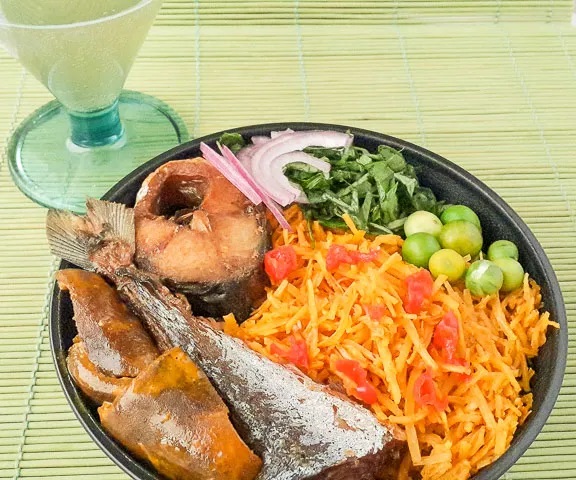 The dish Abacha, an African salad, derives its name from the unprepared ingredient which is sold wet or dehydrated (dry) already processed. Get Recipe Here
#2. Stir-Fried Abacha – African Salad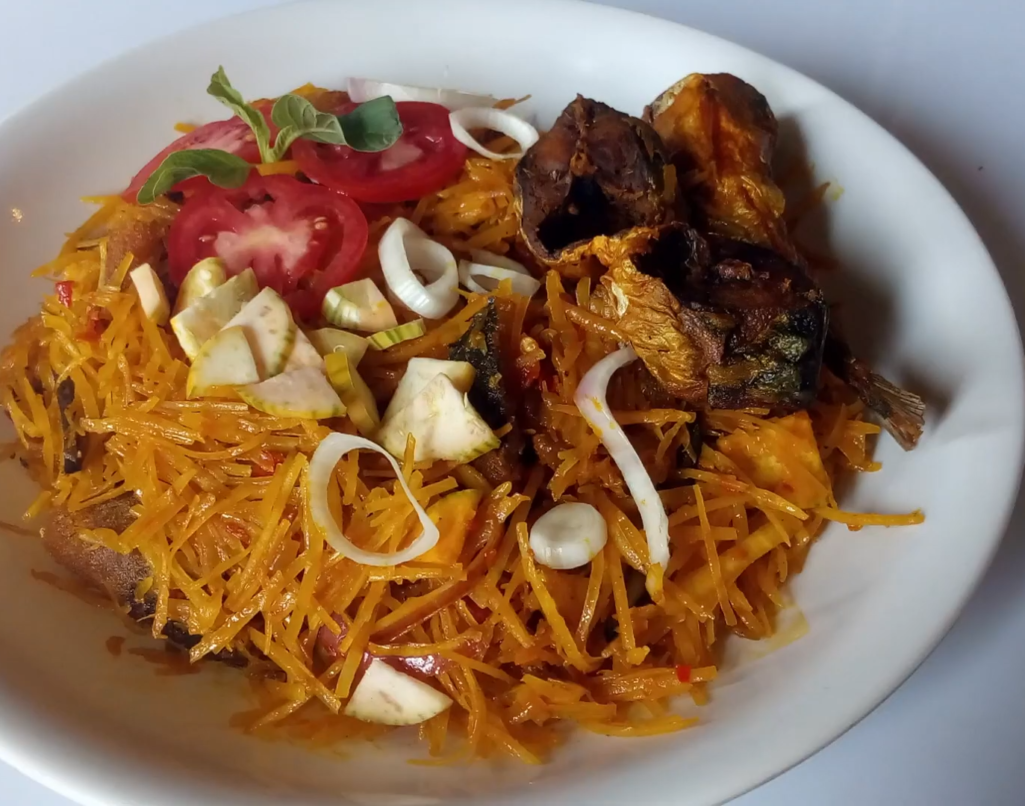 This Abacha is made using fresh Cassava tubers. It is a popular native recipe of the Igbo people both in and out of Nigeria. Get Recipe Here
ALSO READ: 7 Heart Warming African Breakfast Ideas For Mother's Day
#3. Delicious African Salad Abacha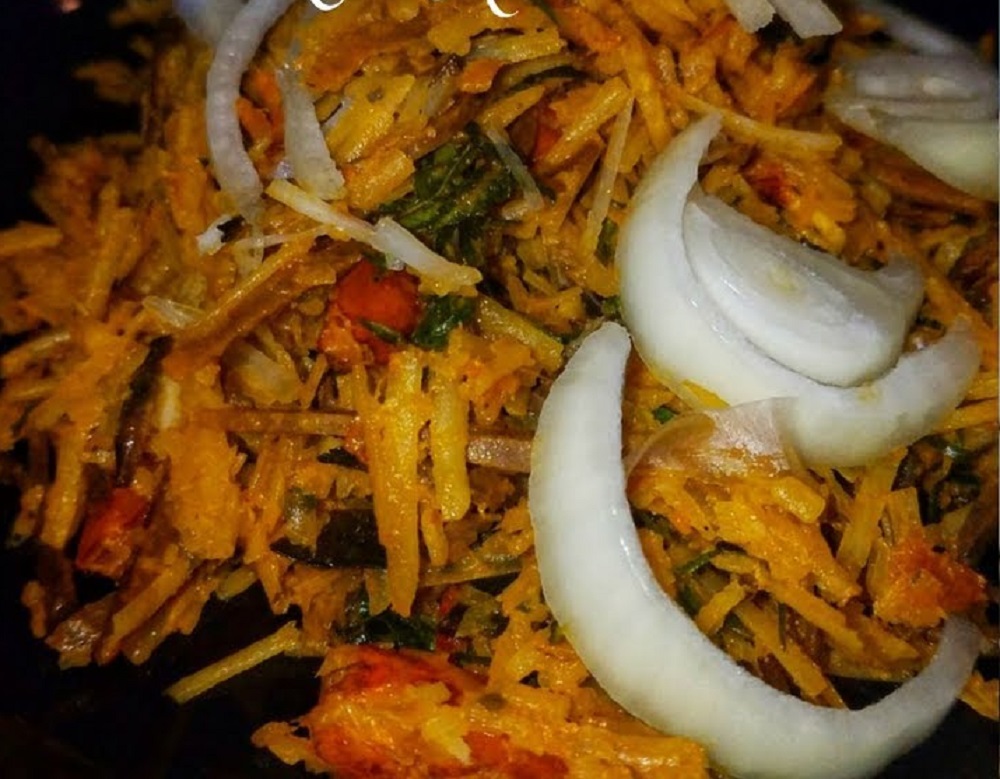 This is a spicy and delicious salad, perfect for any time of the day. Enjoy with some fish, garden egg, and greens. Get Recipe Here
#4. Prepare Nigerian Abacha (African Salad)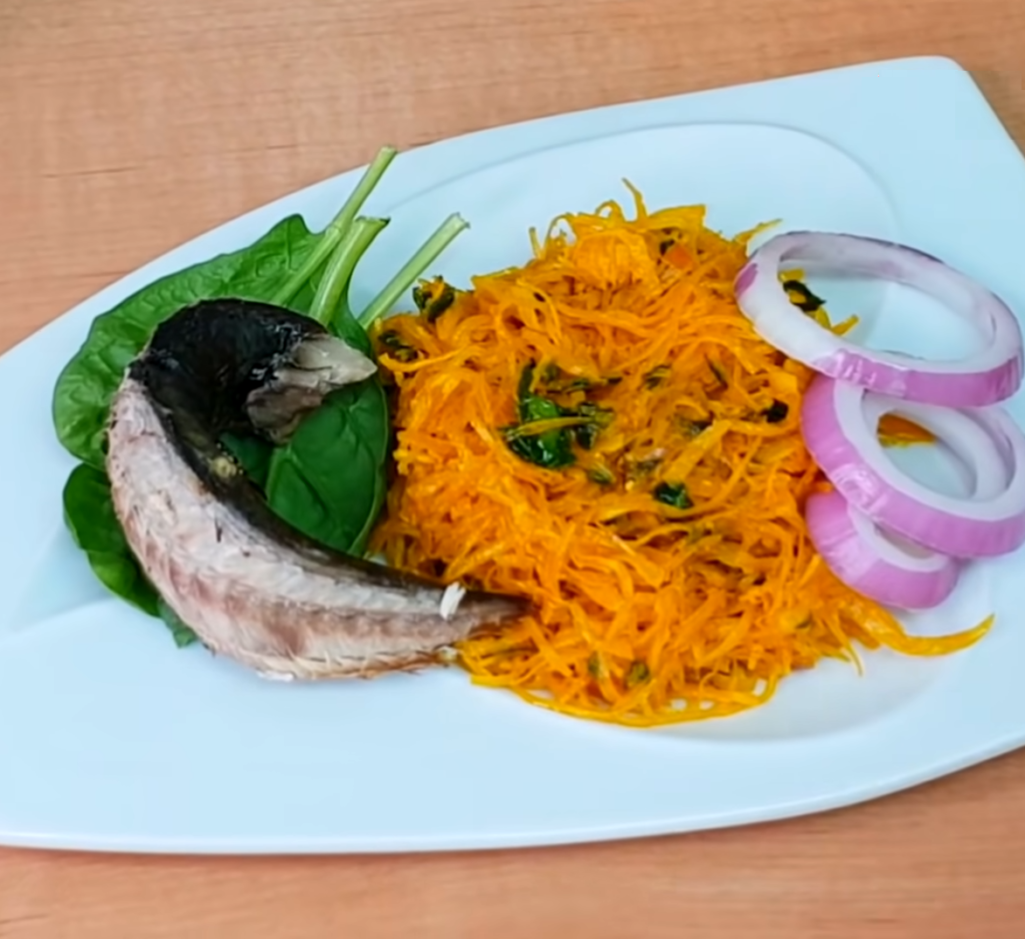 This version of African Salad Abacha is very easy to make. It's an Igbo recipe that requires lots of ingredients, however, with only 5 ingredients we can make it so delicious that you and your loved ones will enjoy in minutes.  It is basically prepared with cassava. Get Recipe Here
#5. Quick and Easy African Salad Abacha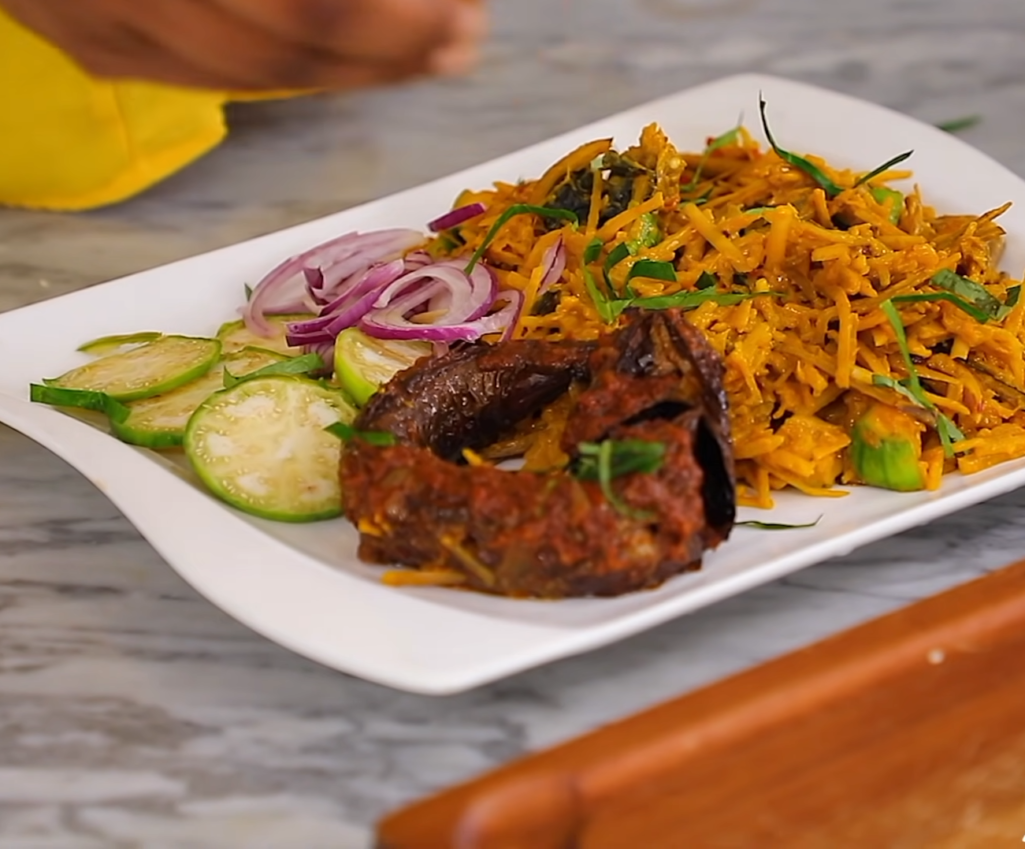 Abacha is  the delicacy of the people of Enugu  – a welcome dish called Abacha (African Salad). Abacha is basically dried shredded cassava mixed with palm oil and other condiments. Get Recipe Here
#6. African Salad – Abacha Ncha and Ugba/Ukpaka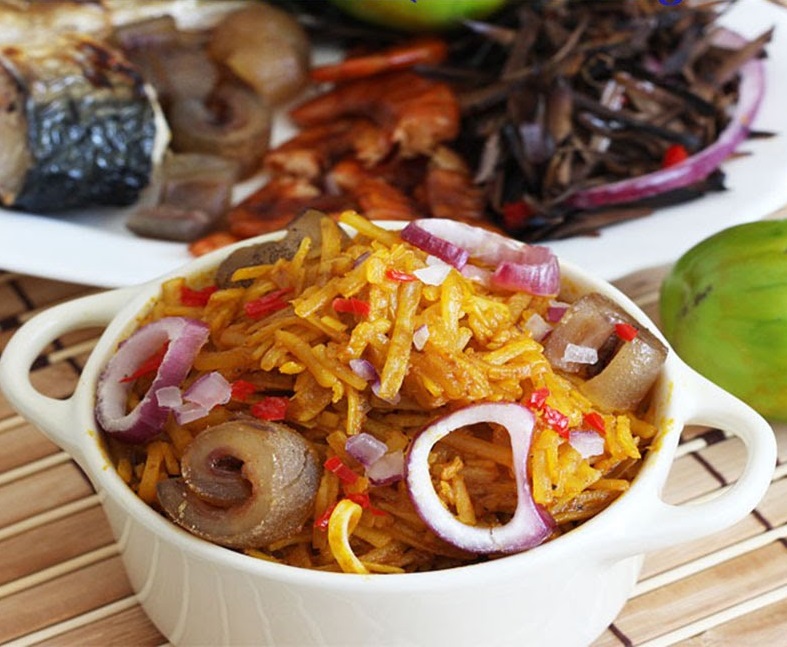 This dish is so yummy and that you can add a variety of tasty garnishes, to suit your palate. Get Recipe Here
Conclusion
It is funny how cassava is now more widely consumed in Africa than in the place it originated from. Each ethnic community has a special way that they cook it. The African salad contains some vital micronutrients such as sodium, calcium, potassium, and iron. In itself, Abacha is a wholesome meal. However, it is advisable to eat it with other foods for a healthier balance.
Abacha is a great serving in the Eastern part of Nigeria during coronations, marriages, and festivals. Igbos love Abacha as a delicacy during these ceremonies. Interestingly, many of the consumers of this elite meal are oblivious of its health benefits. Due to the high fiber content of cassava, it is good for digestive health.
ALSO READ: How to make stir-fried Abacha
If you are native to West Africa and have not had a chance to eat Abacha, you are missing out on a lifetime of delicious and healthy food. Abacha is relatively easy to prepare and the ingredients are not expensive. As Africans, we are lucky to have delicious delicacies that enable us to live long and strong. With these variations, you can keep your serving fresh and leave your family guessing. Have you tried African salad (Abacha) before? How would you describe it in one word? Leave your comment below.