Top 25 Delicious African Weeknight Dinners that will take 30 minutes or less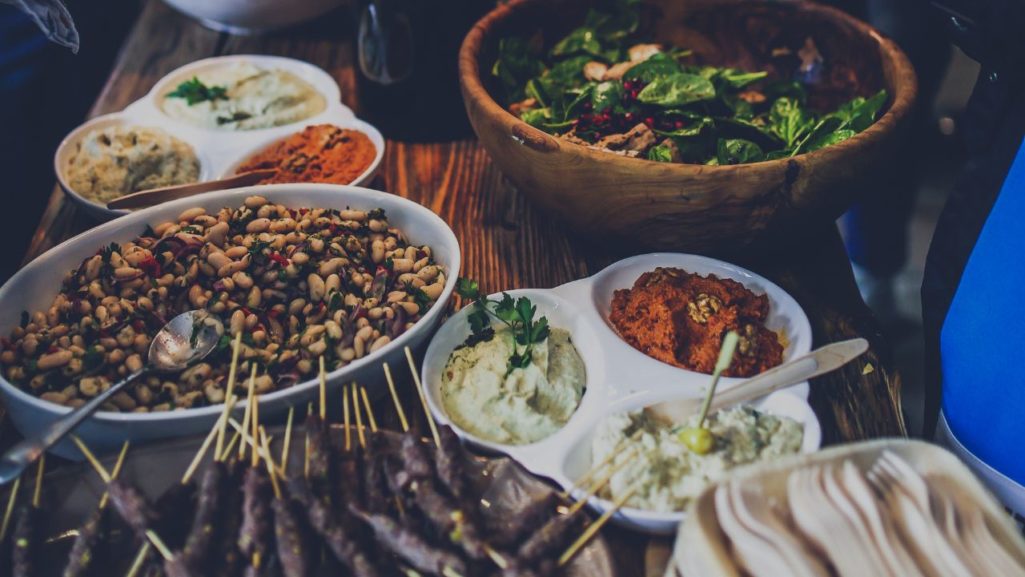 Whether you're feeding a family, entertaining dinner guests, or eating by yourself on a busy night, it can be tough to cook something fast and delicious with African flavor. It's not always easy to find recipes that you can whip up in 30 minutes or less.  Dinners are always a challenge but not when you have these delicious, healthy and fast African favourites!
You don't need hours to make a great African meal. Check out these 25 delicious African weeknight dinners that will take 30 minutes or less!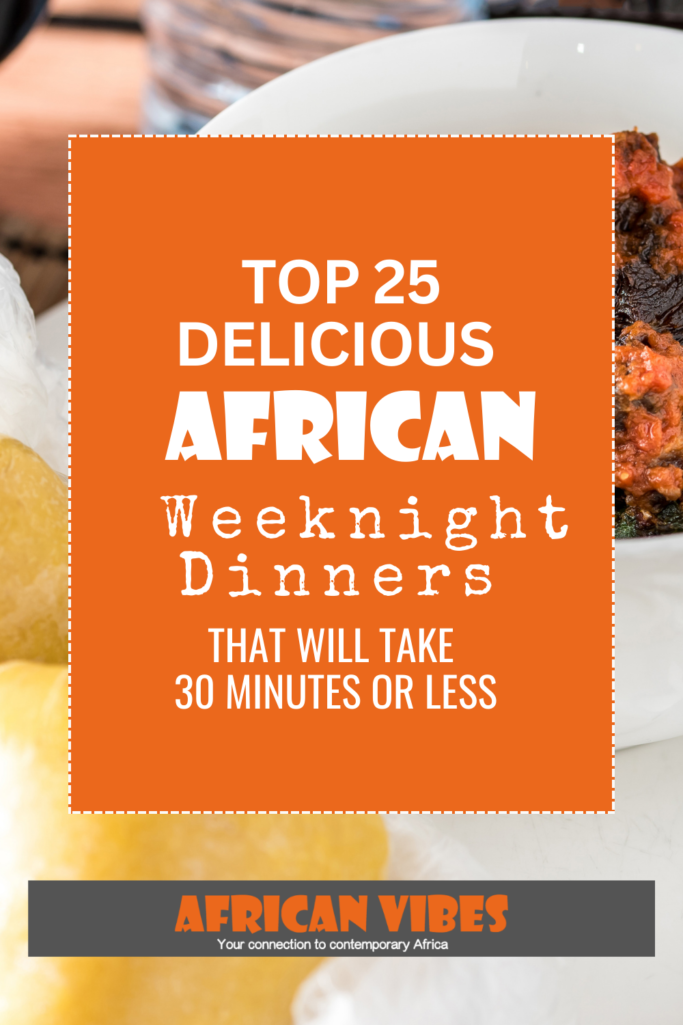 25 African weeknight dinners that will take 30 minutes or less
#1. Vegan Efo Riro (Nigerian Spinach Stew)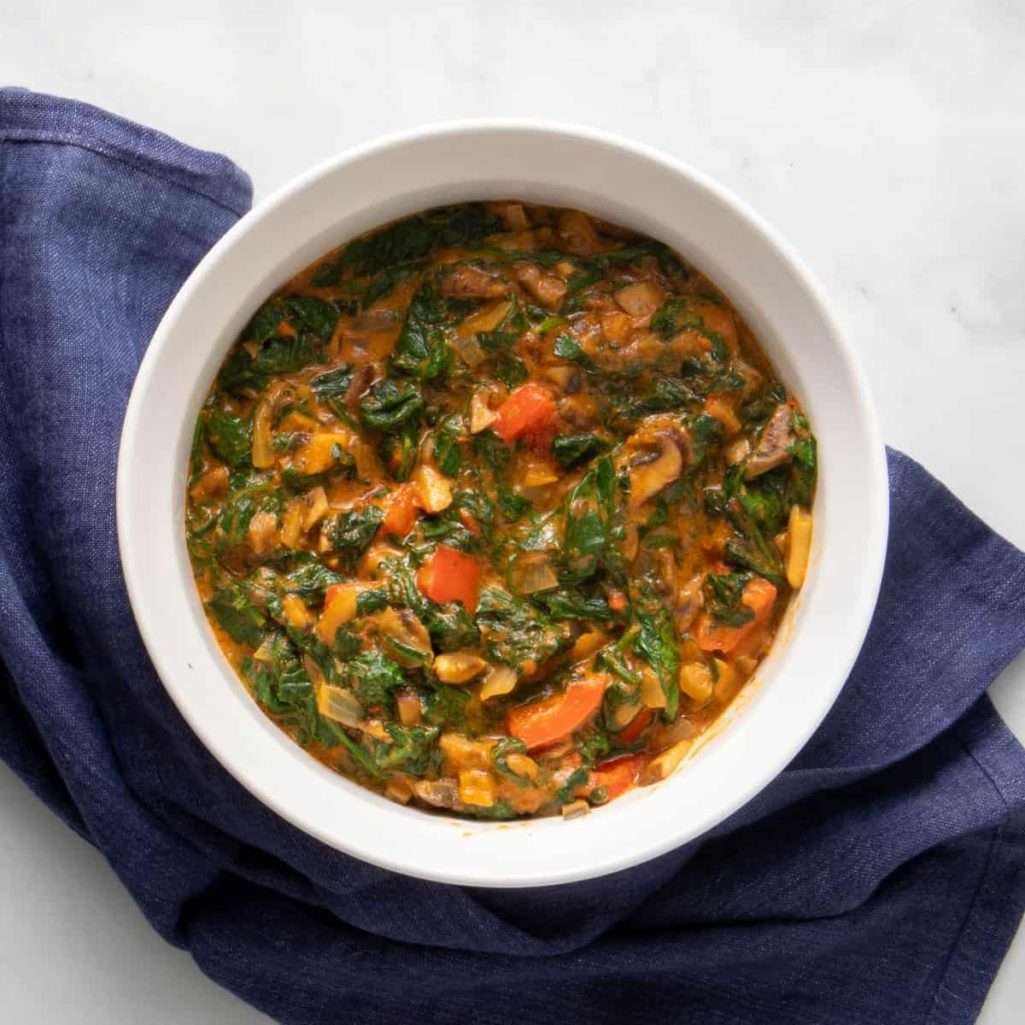 If you're looking for a hearty, yet healthy African stew, look no further than vegan efo riro! This Nigerian spinach stew is packed with flavor, yet light on calories. Get the recipe here.
#2. Galey iyo Qumbo (Somali Corn in Coconut Sauce)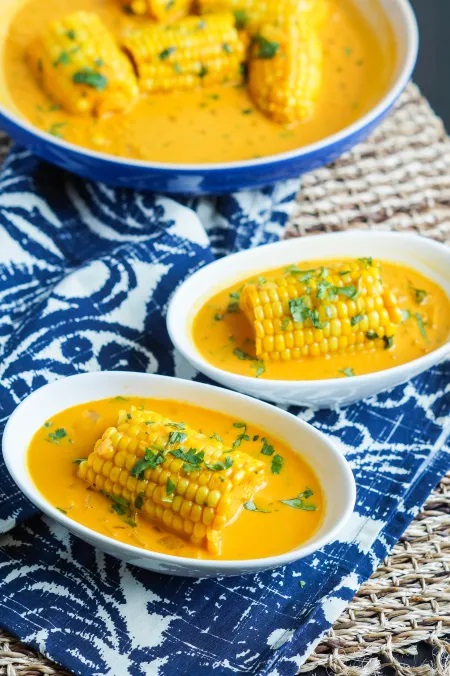 Galey iyo qumbo is a Somali dish made with corn in coconut sauce. Another quick and easy meal that can be made in less than 30 minutes. Pieces of corn on the cob are simmered in a spiced coconut sauce for a quick and delicious summer side.This dish is perfect for those nights when you need a quick and easy meal that is also healthy and flavorful. Get the reicipe here.
#3 African Okra Soup with Kombo – Swala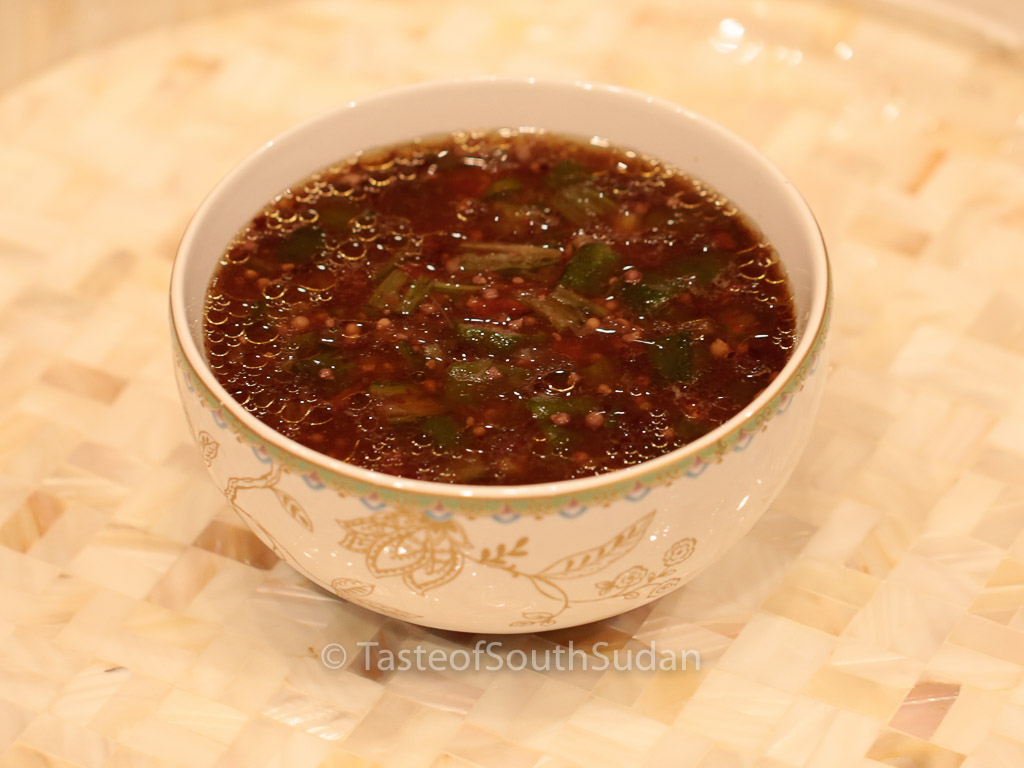 A vegan, low calorie soup free of gluten. A specialty of the Kakwa tribe from Yei, South Sudan. Get the recipe here.
ALSO READ: 13 Popular African Foods You Cannot Miss In Each Region
#4. Nigerian Eba (How to Make Eba)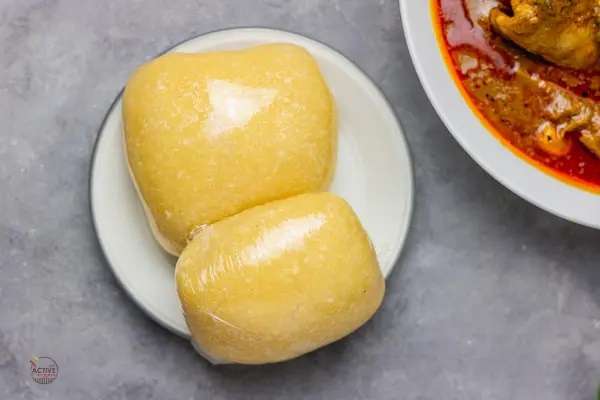 If you haven't had eba before, you're in for a treat! Eba is a Nigerian dish made from cassava flour and water. It's traditionally served with a meat or vegetable stew, but can also be enjoyed on its own. Get the recipe here.
#5. Efo Riro with West African Pepper Sauce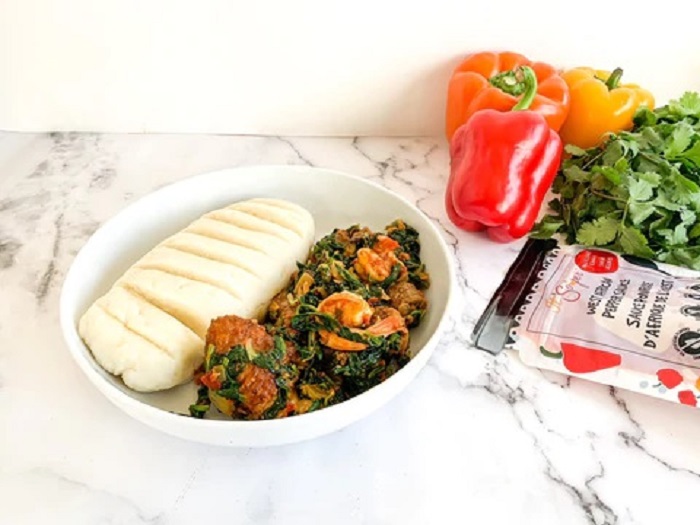 Efo riro is a Nigerian dish made with spinach and other greens. The greens are simmered in a tomato and pepper sauce, and then served with rice. Get the recipe here.
#6. Cabbage Fufu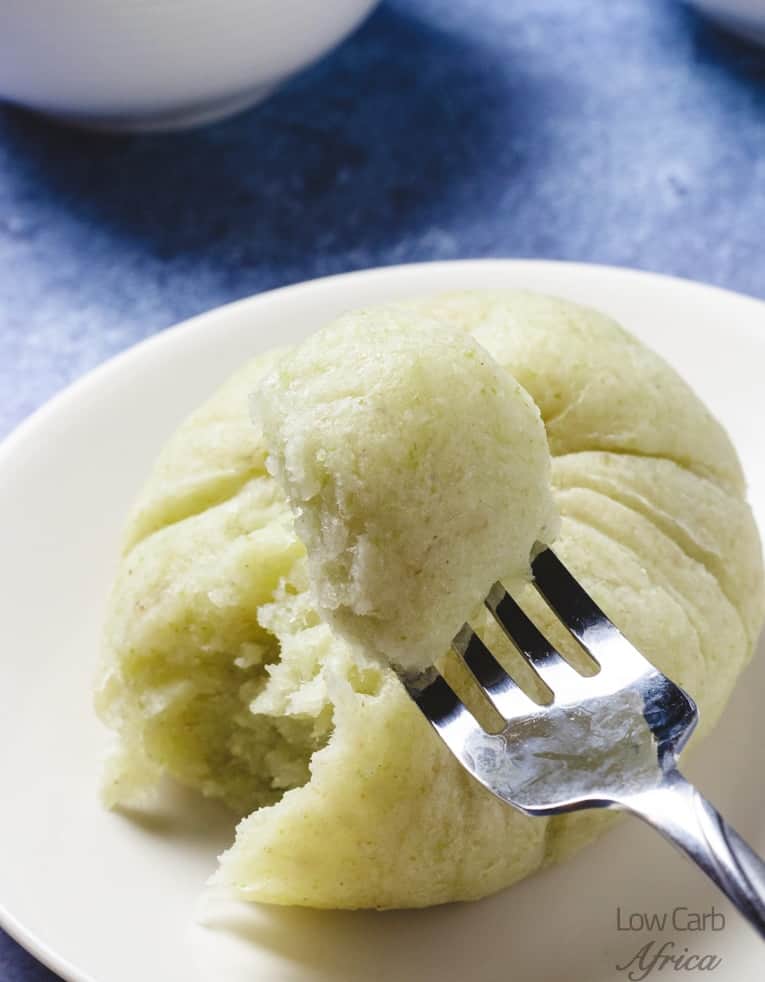 If you grew up eating African food, chances are you remember having fufu at least once. Fufu is a starchy dish that's typically made with cassava or yams, and it's often served with stew or soup. Cabbage fufu is a variation of the dish that's made with cabbage instead of cassava or yams. Get the recipe here.
#7. Kalembula-Zambian Food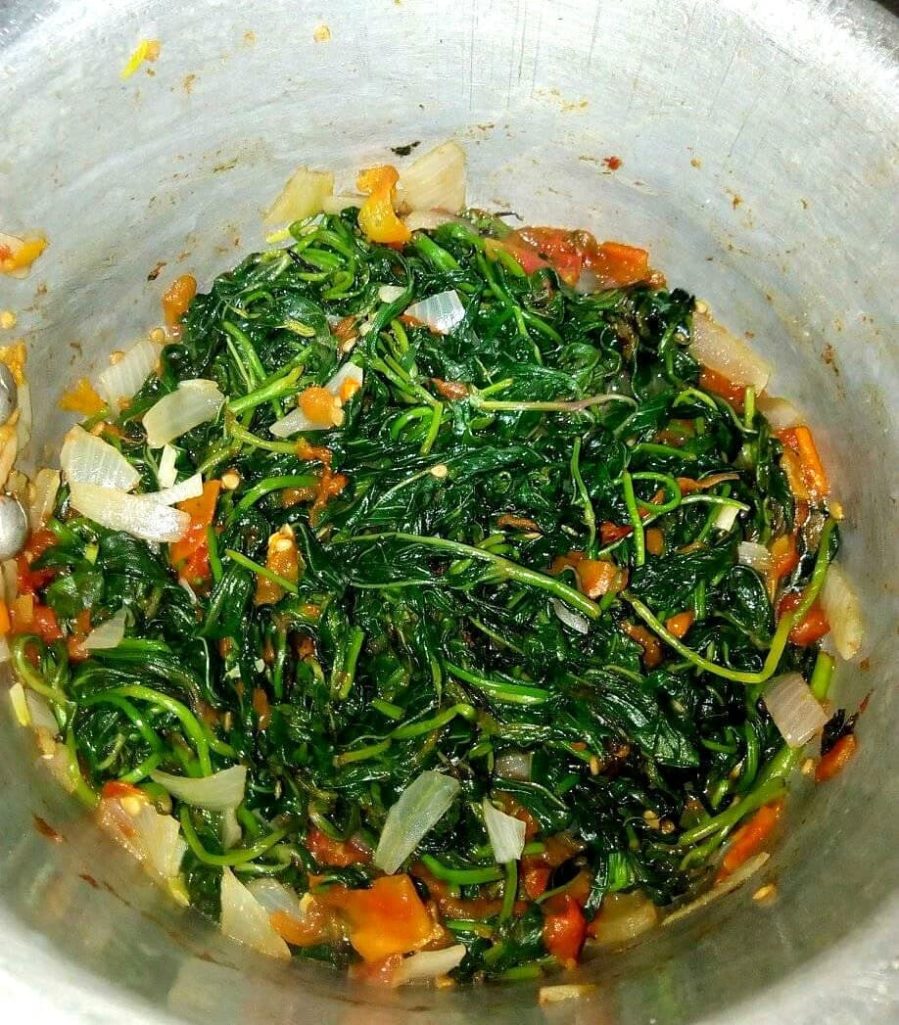 Kalembula is the other term of sweet potato leaves. It is a Zambian Vegetable and goes well with nshima (pap) and a protein dish such as beef, fish or kapenta. Highly palatable and easy to cook, which doesn't take up much time. Get the recipe here.
#8. Plantain Fufu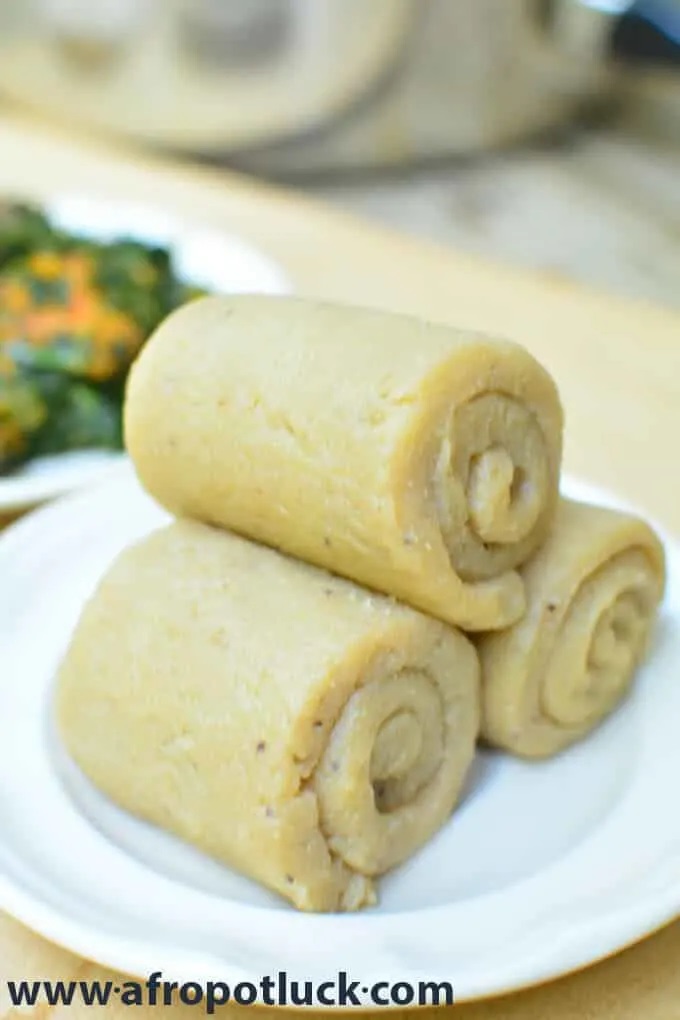 Plantain fufu is a popular African dish made with green plantains, water, and salt. It's usually served with a stew or soup, and it's a popular choice for weeknight dinners. Get the recipe here.
#9. Sudan Ful Madames (Fava Bean Stew)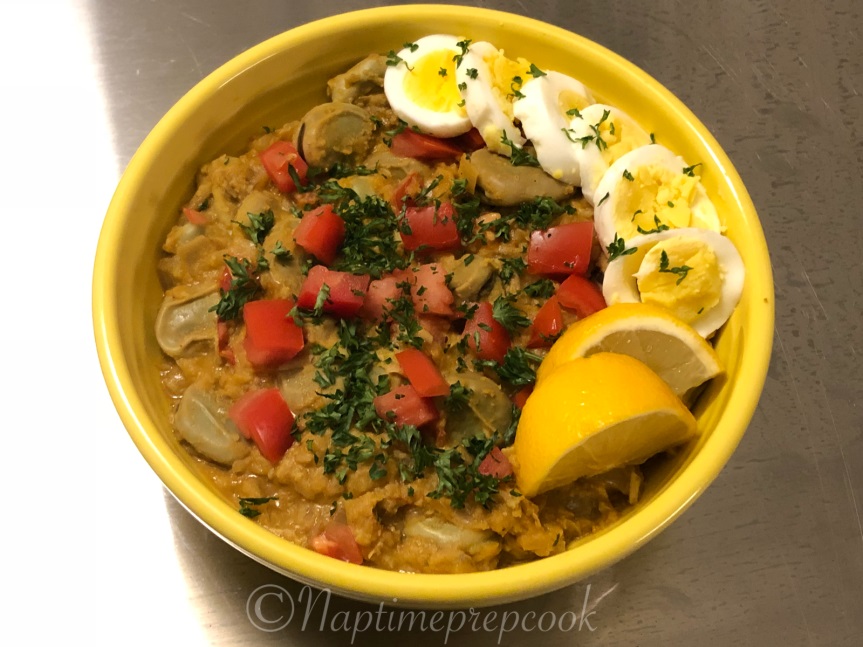 Sudan Ful Madames is a dish made from fava beans. A quick bean stew that is considered as the National dish of Sudan and served for breakfast. It's a hearty meal meant to keep you full all day while fasting for Ramadan. Get the recipe here.
ALSO READ: 25 African Recipes to Try This Holiday Season
#10. Slow Cooker Egyptian Lentils And Rice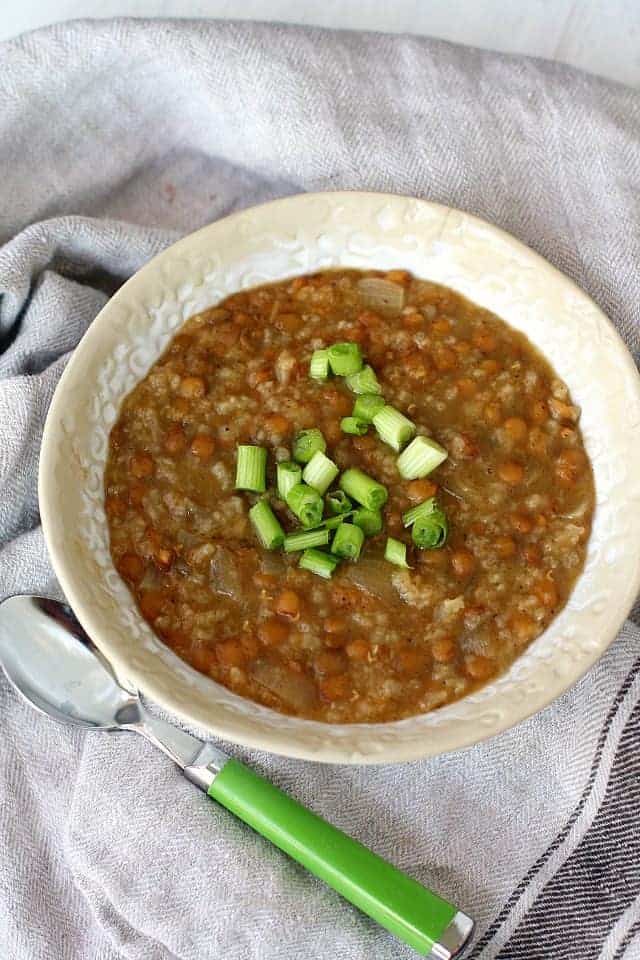 Lentils and rice are a classic Egyptian dish that can be made in a slow cooker. This version is hearty and filling, and can be easily tailored to your liking. Get the recipe here.
#11. Homemade Egyptian Hawawshi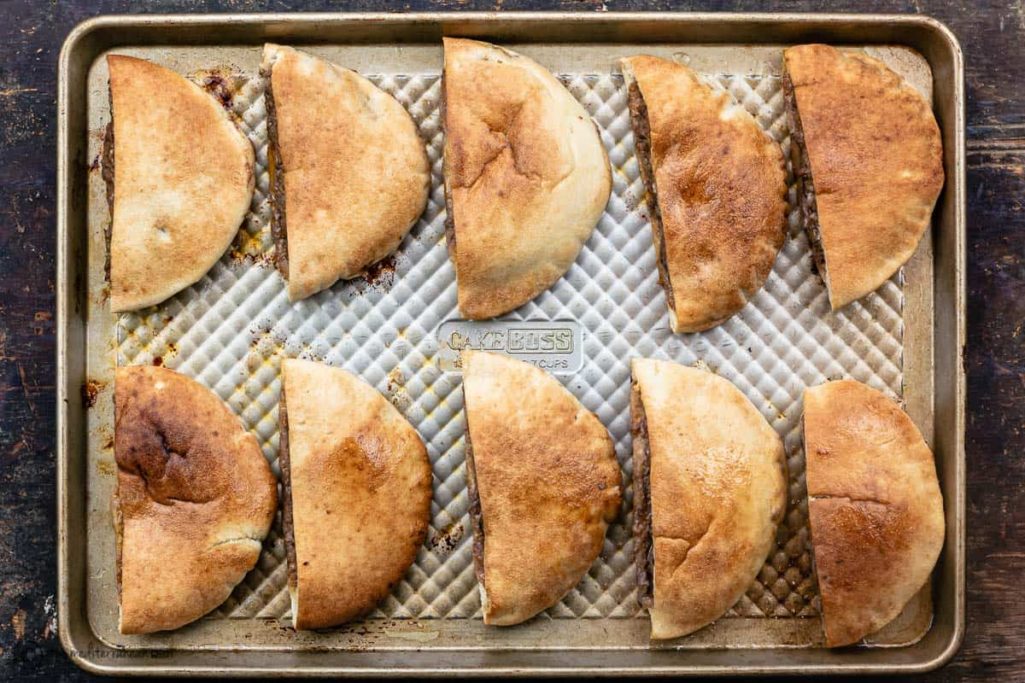 Hawawshi is a popular Egyptian dish made of ground meat and spices, typically stuffed into pita bread. This homemade dish is a great way to add some excitement to your weeknight dinners.  Get the recipe here.
#12. Ful medamas – North African fava beans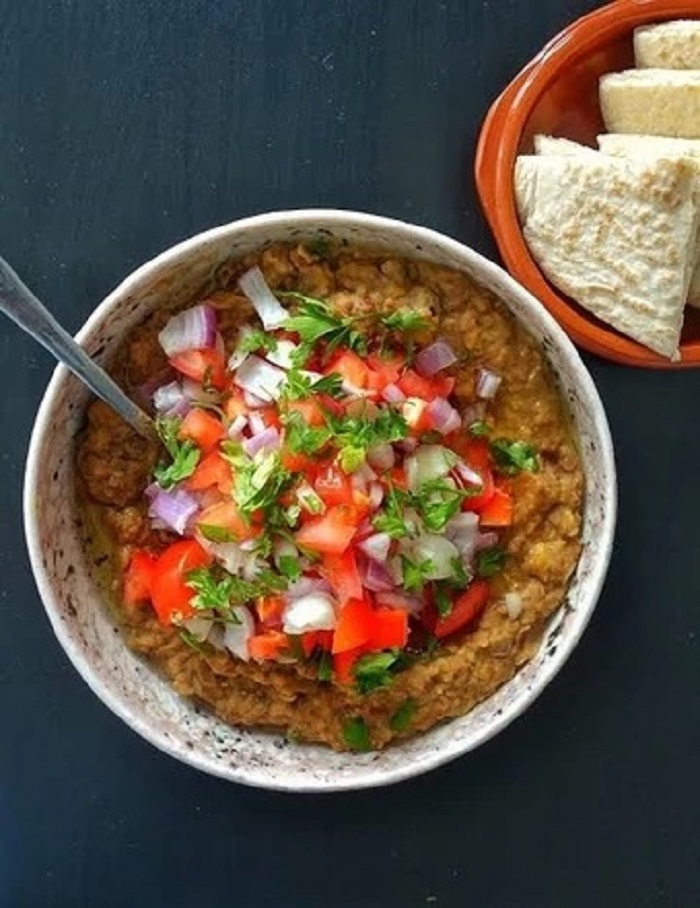 Ful medamas is a classic North African dish made with fava beans. It is usually served with a side of rice or bread, and can be topped with a variety of sauces and spices. Get the recipe here.
ALSO READ: 24 Easy Meals You Can Make With Goat Meat
#13. South African Yellow Rice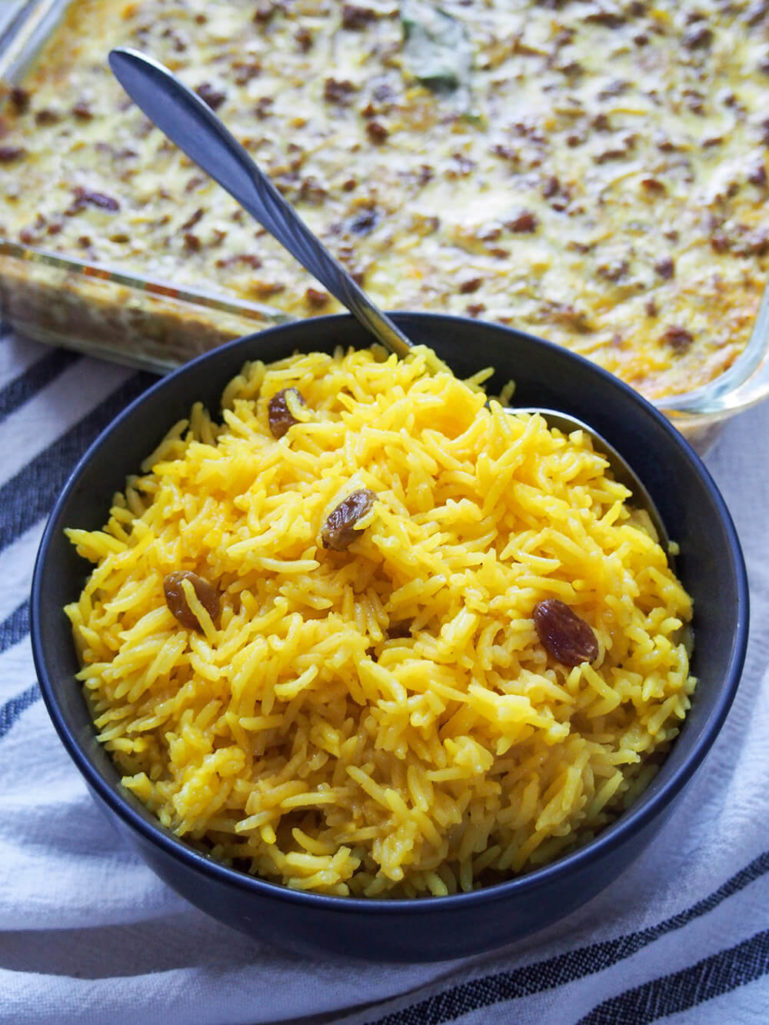 Yellow rice is usually made with turmeric, giving it a vibrant golden color. It is often served with chicken or beef, and can be accompanied by a variety of vegetables. This dish is not only perfect for a weeknight dinner, but also makes an excellent side dish for any occasion. Get the recipe here.
#14. Speedy Moroccan Rice Salad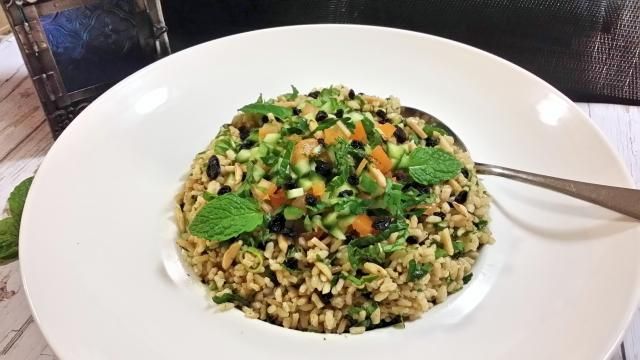 This salad is made with brown rice, tomatoes, onions, green peppers, and a variety of spices. It's a hearty and filling dish that will leave you feeling satisfied. And because it's so easy to make, you'll have plenty of time to enjoy your evening. Get the recipe here.
#15. Caakiri (Couscous Pudding)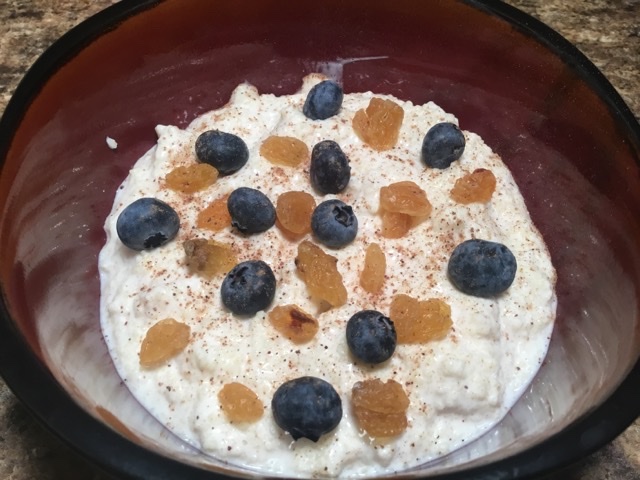 Caakiri is a dense and sweet pudding made from couscous, milk, and sugar. It's heavy on the dairy, but the sweetness is well balanced. The pudding can be served plain or with fruit. Get the recipe here.
#16. West African Tsire Koftas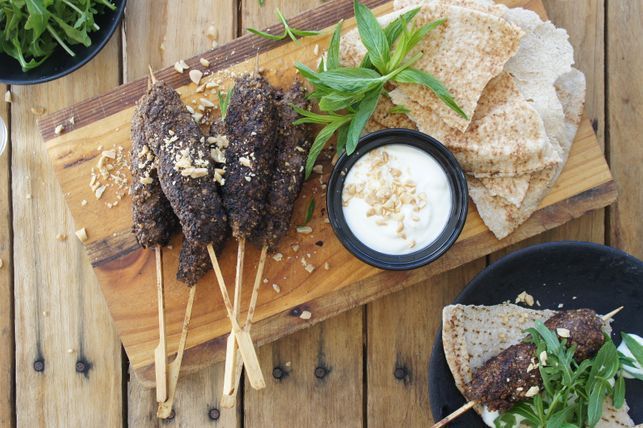 West African Tsire Koftas- These koftas are made with a mix of spices, ground peanuts and minced lamb that is then grilled or barbecued to perfection. They are perfect for a quick and easy weeknight dinner that is packed with flavor. Get the recipe here.
#17. Atakilt Wat By The Wanderlust Kitchen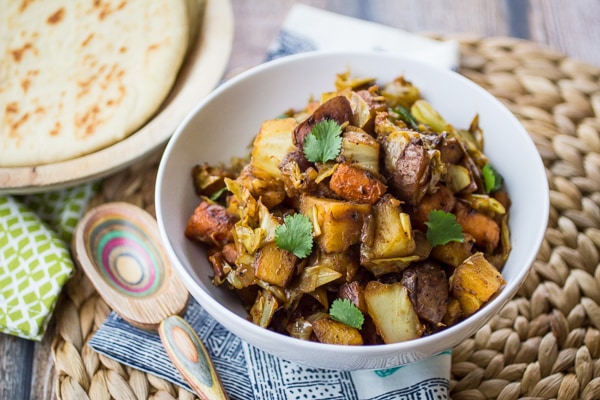 A simple dish made with potatoes, carrots, and green beans, but the flavorful spices make it anything but ordinary. Plus, it's vegan and gluten-free, so everyone can enjoy it! Get the recipe here.
ALSO READ: 6 Mouth Watering Nigerian MoiMoi Recipe Variations
#18. Stewed Spinach (African Style)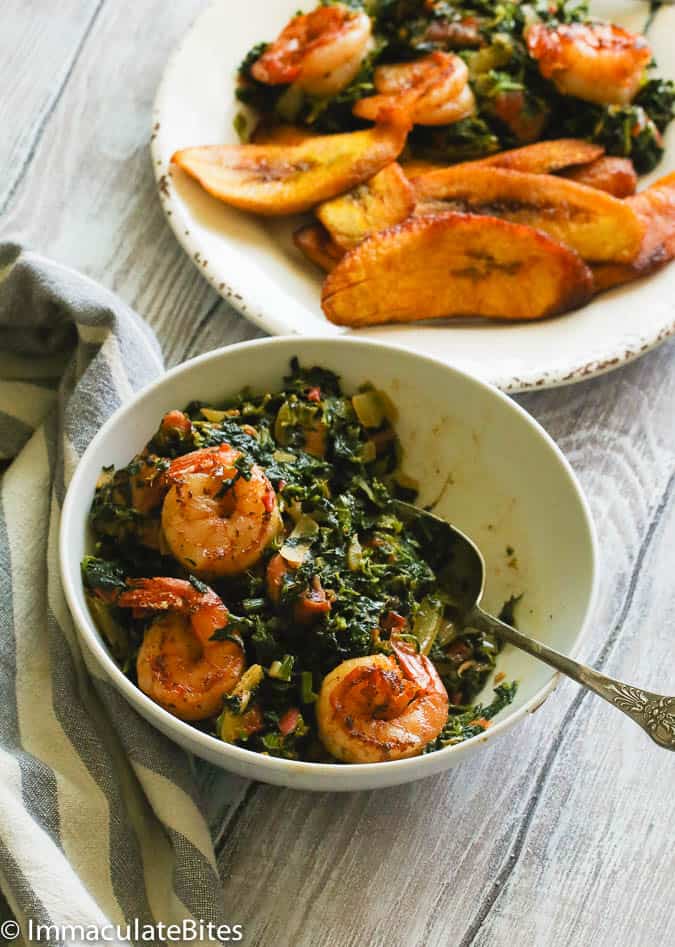 Stewed spinach is a super simple way to enjoy spinach African style. All you need is a can of spinach, some onion, garlic, and a little oil. Get the recipe here.
19#. North African Tuna and Rice Salad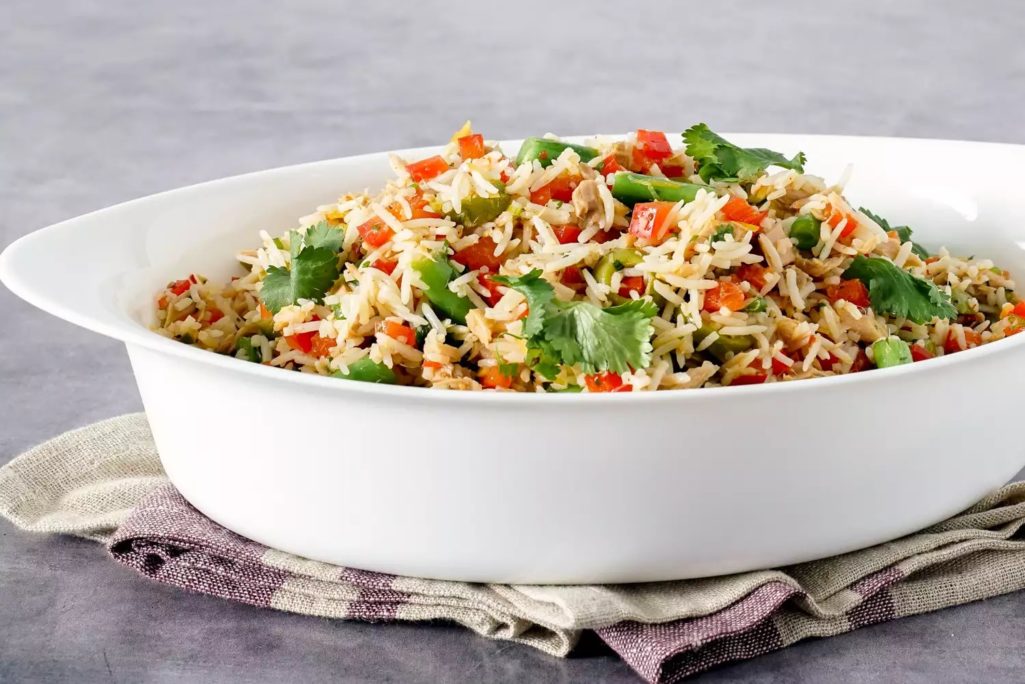 Tuna is a fish that is commonly used in North African salads, sandwiches, and pastries. Tuna is a good source of protein and omega-3 fatty acids. A North African tuna and rice salad is a healthy, flavorful, and easy to make dish that can be enjoyed as a light meal or side dish. Get the recipe here.
#20. Unripe Plantain Porridge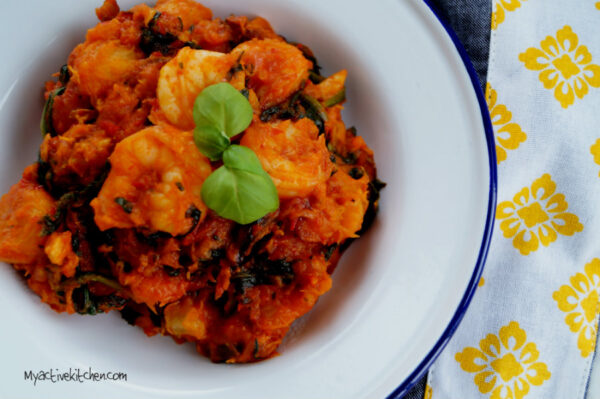 The unripe plantains are boiled until they are soft and then mashed with a fork or potato masher. To this, fresh basil, smoked mackerel, and a pointed red pepper are added. The combination of these ingredients gives the porridge a unique flavor that is both sweet and savory. Get the reicipe here.
#21. Sukuma Wiki By Immaculate Bites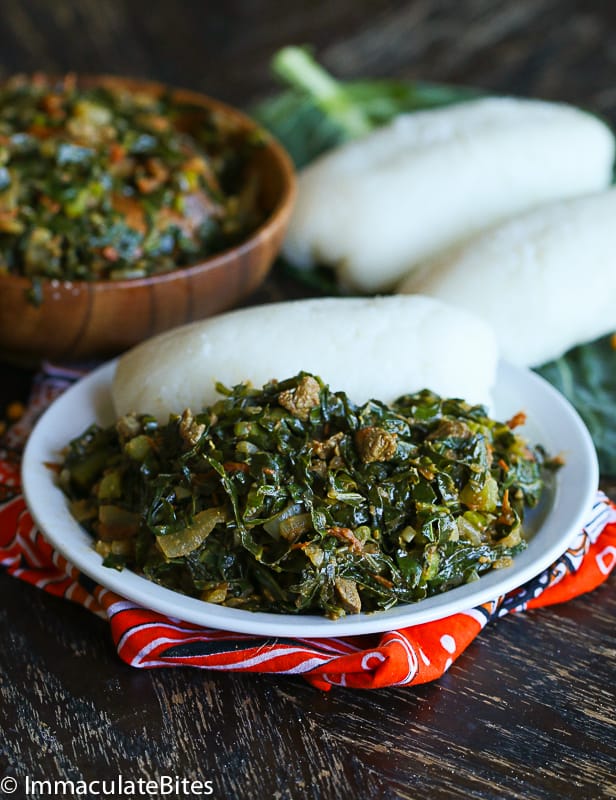 Sukuma wiki is a healthy and economical dish made with collard greens, full of flavor and spice. Collard greens are a good source of vitamins A, C, and K, as well as fiber. They can be braised, sauteed, or steamed. This recipe for sukuma wiki is vegan, but feel free to use whatever type of greens you like. Get the recipe here.
#22. Shuku Shuku (Coconut Balls)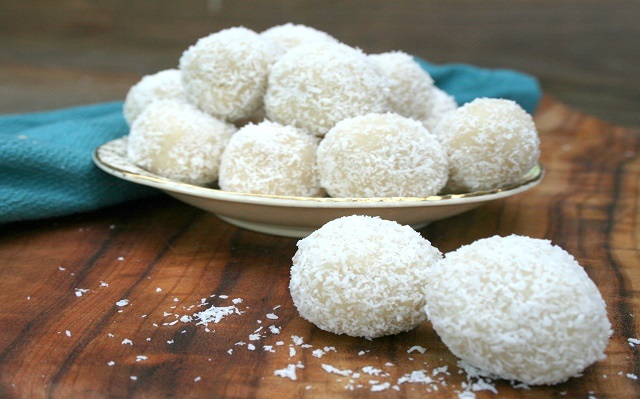 Coconut balls are a delicious and easy African snack that can be made in just a few minutes. All you need is some shredded coconut, sugar, and water. Simply mix the ingredients together, form into balls, and enjoy! Get the recipe here.
ALSO READ: 9 Unconventional Jollof Rice recipes for World Jollof Rice Day
#23. Ethiopian Pumpkin Stew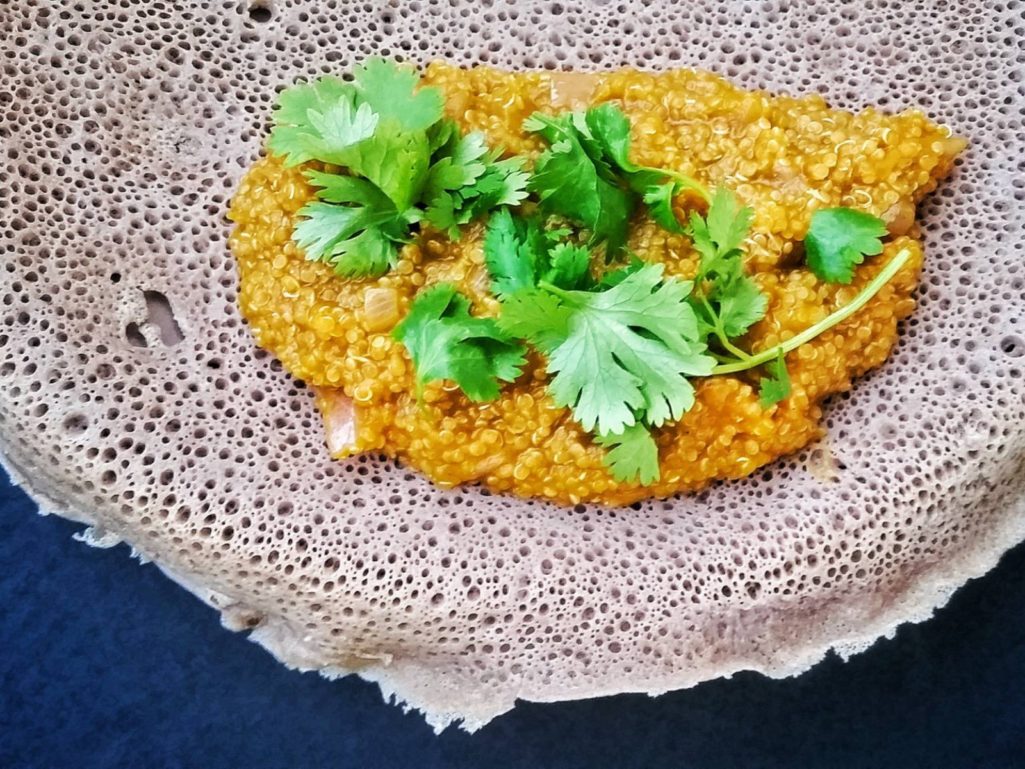 This Ethiopian-inspired pumpkin stew is easy to make and packed with flavor. Quinoa takes the place of rice in this dish, making it a hearty and nutritious meal. Serve with warm pita bread or naan for dipping. Get the recipe here.
#24. African Spiced Carrot Millet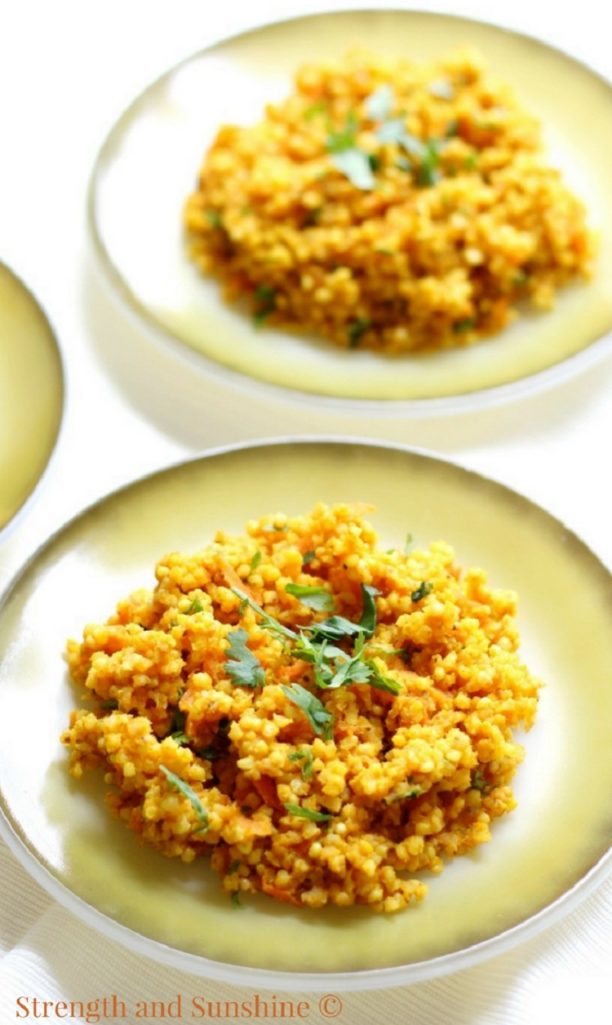 One of our favorites is this African spiced carrot millet dish. It's not only gluten-free and vegan, but it's also top 8 allergy-free. This healthy and flavorful dish is made with millet, a nutrient-rich grain that's high in fiber and protein. The carrots are spiced with a blend of African spices, including cumin, paprika, and ginger. Get the recipe here.
ALSO READ: Ever Cooked West African Egusi Soup Recipes? Here Are 10 Delicious Variations To Choose From
#25. Vegan African Peanut Stew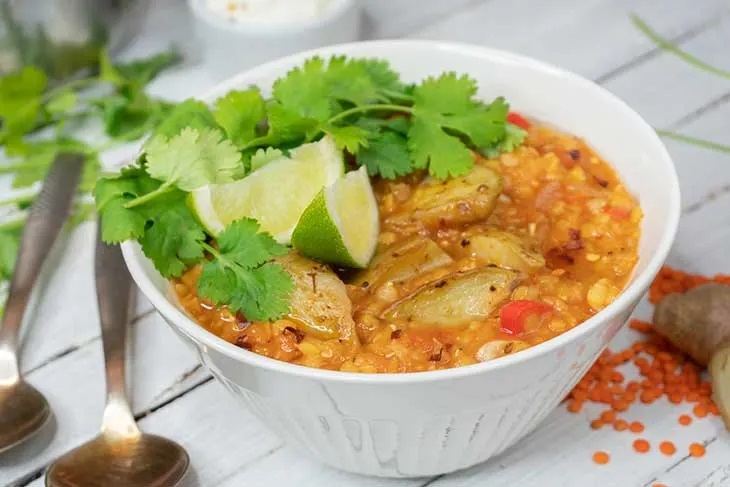 Whether you follow a vegan diet or are simply looking for some meatless Monday inspiration, this African peanut stew is the perfect weeknight meal. Get the recipe here.
Conclusion
We hope you enjoyed our roundup of African weeknight dinners that take 30 minutes or less. From healthy and hearty stews to quick and easy rice and beans, there's something on this list for everyone. Whether you're looking for a new dinner idea or just want to add some variety to your weeknight routine, we hope these recipes give you some inspiration. Choose one (or more!) of these delicious dishes the next time you need a hassle-free dinner option, and enjoy!