Edikaikong (Edikang Ikong Soup) By Yummy Medley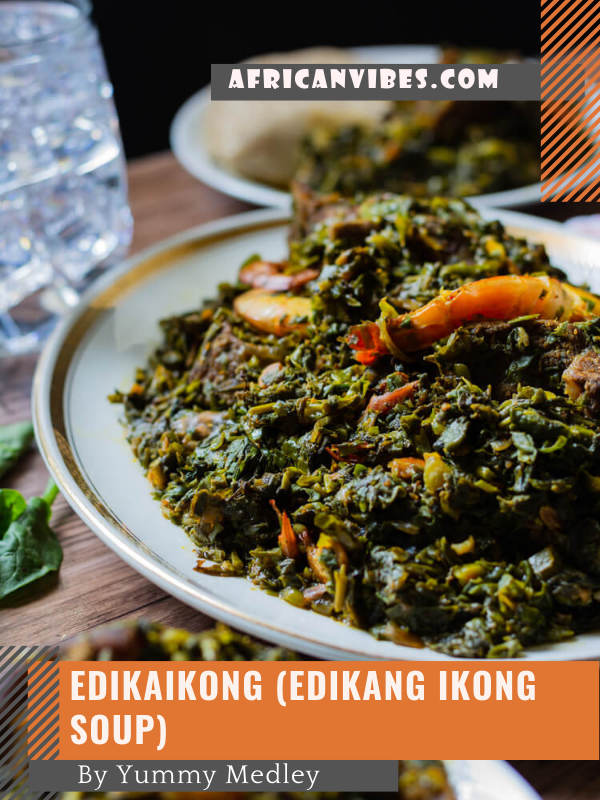 [cooked-sharing]
Edikang Ikong Soup is a highly nutritious, delicious and savory vegetable soup natively prepared using 'ugwu' (the native name for fluted pumpkin leaves) and Malabar spinach (locally called water leaf in Nigeria).
Like most soups from these coastal regions, this dish comes loaded with various seafood delicacies (periwinkles being a regular staple) and "obstacles" (Nigerian slang for the preponderance of assorted meat cuts Nigerians love to feature in their soups) elevating this soup to a Nutritious adventure into the green, coastal depths of Cross Rivers culture.
Edikaikong joins the list of Efik or Ibibio delicacies that have garnered cult status in Nigeria where the clout of top chefs and the best cooks are usually measured their ability to reproduce this soup in its classic form.  
Amusingly, it is also no surprise in local settings for aspiring bachelorettes to have their 'wife material' status confirmed once they know how to make this recipe, elevating them from girlfriend to "ultimate wifey" within a single taste!
Edikaikong (Edikang Ikong Soup) By Yummy Medley

2 lb Malabar Spinach
2 lb Pumpkin leaves
3 lb Goat meat
1/2 cup Cooked shelled Apple snails
1 lb Smoked Shrimp
1/2 cup Palm oil
2 Red onions
2 Scotch bonnet peppers
4 tbsp Ground smoked dried shrimp
3 tsp Chicken bouillon
Salt to taste