5 Famous Jollof Rice: The Hidden Gem of West African Cuisine You Need to Try Today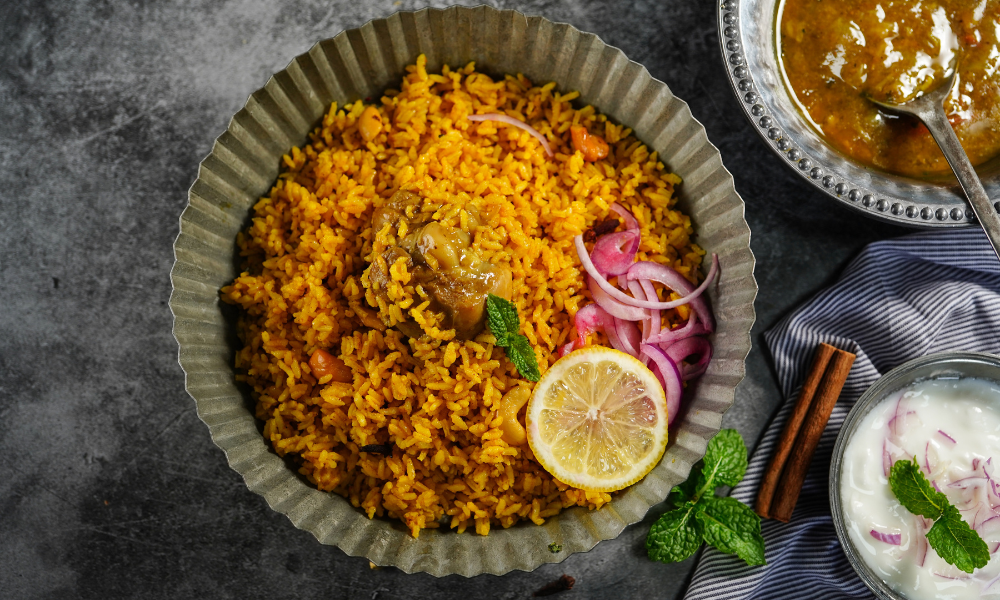 What does Jollof mean? Jollof is a term that's most commonly associated with a delicious West African dish called the famous Jollof Rice. The name "Jollof" actually comes from the Wolof people, an ethnic group primarily found in Senegal, The Gambia, and Mauritania. The dish itself is believed to have originated from the Senegambia region, which is now part of modern-day Senegal and The Gambia.
Jollof Rice is a one-pot dish consisting of perfectly cooked rice, a rich tomato sauce, and a variety of aromatic spices such as onions, garlic, thyme, and bay leaves. Across West African countries, including Nigeria, Ghana, Sierra Leone, and Liberia, each version of the dish showcases its unique local ingredients, resulting in distinct variations of the classic recipe.
The dish has gained quite a following beyond West Africa, and it's not uncommon to find Jollof Rice at African restaurants and parties around the world. It's a delicious, hearty meal that brings people together and sparks friendly rivalries over which country's Jollof is the best. No matter which version you try, though, you're in for a treat!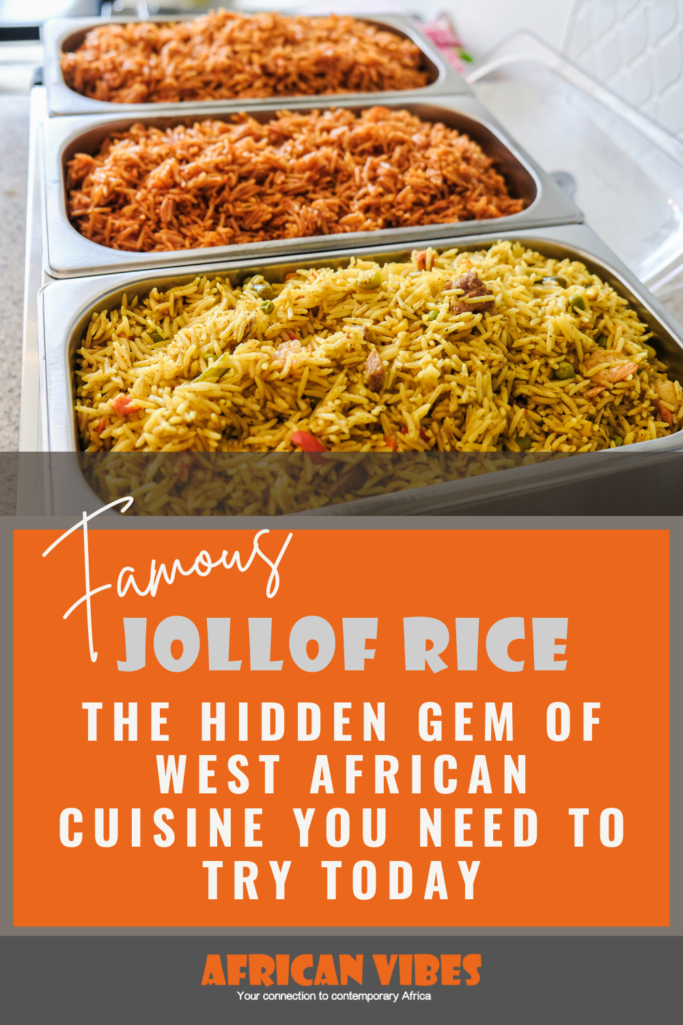 Does Liberia have the best Jollof Rice?
This one-pot, flavorful dish is a popular staple in many West African countries, including Liberia, Nigeria, Ghana, Senegal, and Sierra Leone. It's typically made with rice, tomatoes, onions, and various spices, with optional ingredients like vegetables, meats, and fish.
Now, when it comes to the best Jollof rice, it's essential to note that it's a matter of personal preference and regional pride. Each country has its unique spin on the dish, and people often passionately defend their country's version as the best.
Liberian Jollof rice stands out for its distinct blend of spices and flavors. It often incorporates ingredients like smoked fish or chicken, and sometimes even a local smoked sausage called Kpelle. It's also known for its reddish-orange color, which comes from the palm oil used in the preparation.
While many people in Liberia and those who have tried it might say that their Jollof rice is the best. It's essential to keep in mind that tastes can be subjective.
What might be considered the best Jollof rice for one person might not be for another. Instead of focusing on which country has the best Jollof rice, it might be more enjoyable to explore the different variations and appreciate the culinary diversity that each nation brings to this delightful dish.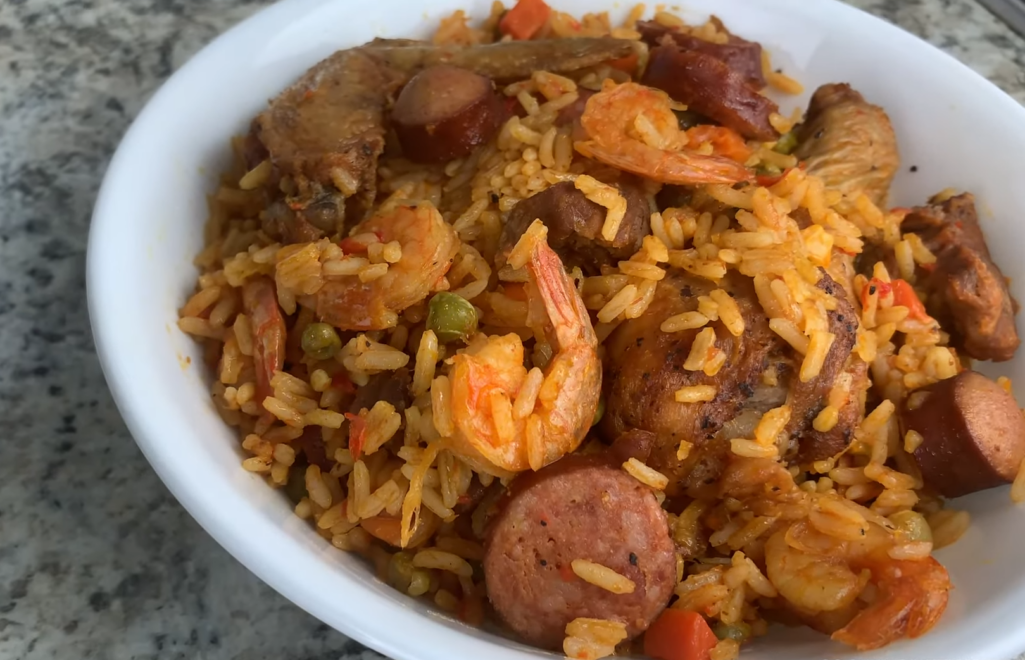 ALSO READ: 13 Popular African Foods You Cannot Miss In Each Region
Which Country prepares the best Famous Jollof Rice?
Determining which country prepares the best Jollof rice is a matter of personal preference, as everyone's taste buds and cultural experiences are different. Here's a brief overview of some of the variations from different countries:
Nigerian Famous Jollof Rice: A Flavorful Sensation
Nigerian Jollof Rice, a dish of West African origin, is celebrated for its intricately spiced and fragrant flavors, utilizing long-grain parboiled rice as its base ingredient. In addition to this, the dish is replete with a melange of savory seasonings, including succulent tomatoes, pungent onions, tangy scallions, and piquant bell peppers, all of which come together in perfect harmony to create a culinary masterpiece. Get the recipe here
Ghanaian Famous Jollof Rice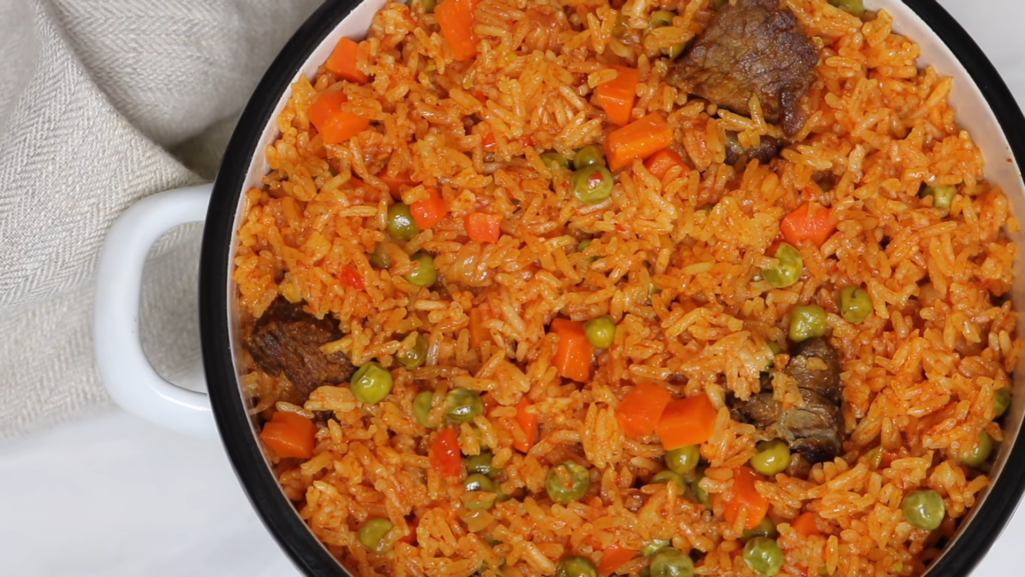 The Ghanaian rendition of famous Jollof rice is characterized by the use of aromatic basmati rice, making it distinct from its Nigerian counterpart. This version of the dish tends to be milder in terms of spiciness. Additionally, it boasts a smoky essence, commonly achieved by incorporating smoked or dried fish into the recipe. Get the recipe here.
ALSO READ: 4th Of July Grills To Spice Up The Weekend
Senegalese Famous Jollof Rice: An Enigmatic Culinary Delight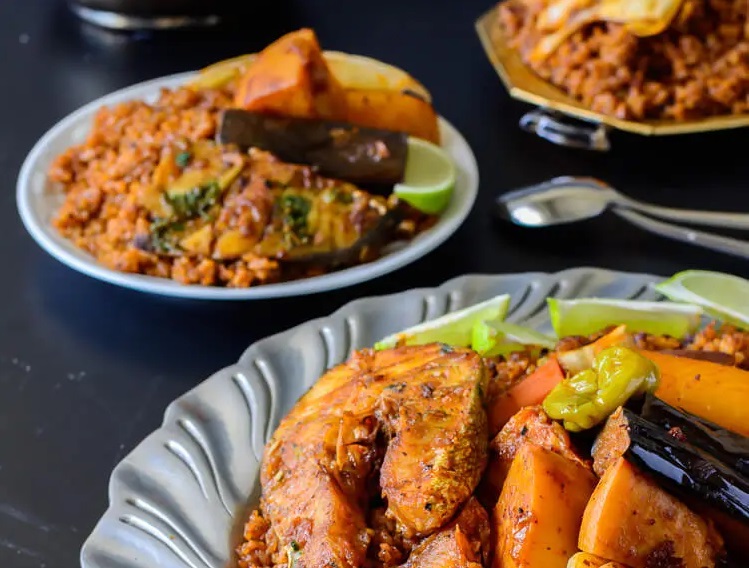 Frequently denoted as "Thieboudienne" or "Ceebu Jën," the Senegalese Famous Jollof rice is deemed by connoisseurs to be the genesis of this cherished culinary concoction. Ordinarily crafted with petie-grain rice, an assortment of vegetables, and piscine or fleshly protein, this dish boasts a signature tang of tomato melded with tamarind. Get the recipe here.
Benachin: Gambian Jollof Rice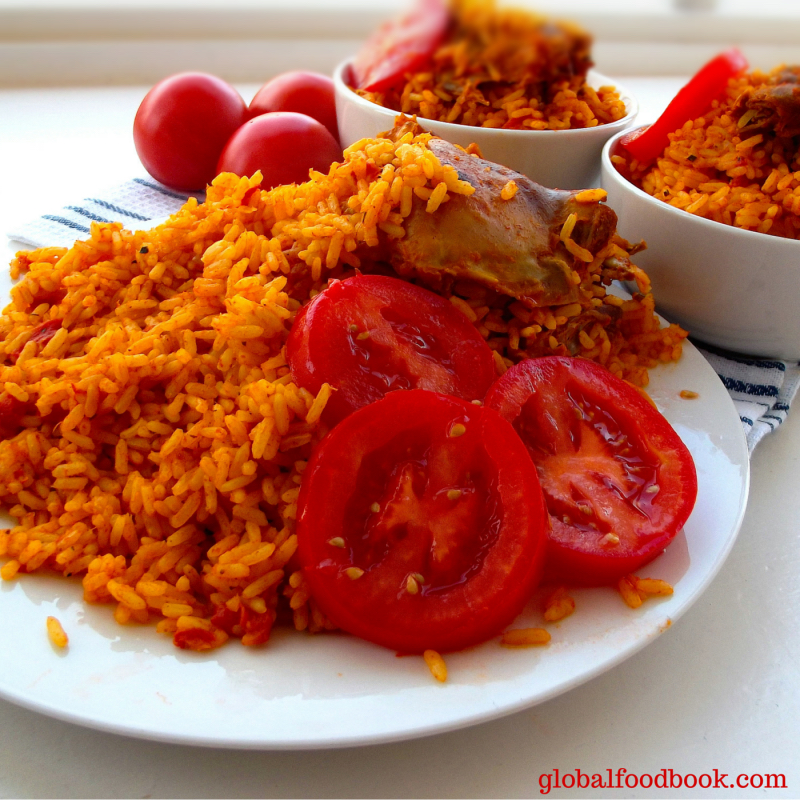 Benachin, also known as Gambian Jollof Rice, is a popular one-pot rice dish native to the West African country of The Gambia. This delicious meal has its roots in the Wolof tribe, and the name "Benachin" originates from the Wolof words "bene" (one) and "chin" (cooking pot), emphasizing its one-pot cooking method.
Similar to other West African Jollof Rice recipes, Gambian Benachin is characterized by its unique blend of flavors and ingredients, making it a mouthwatering staple in the region. Get the recipe here.
ALSO READ: Ever Cooked West African Egusi Soup Recipes? Here Are 10 Delicious Variations To Choose From
Liberian Famous Jollof Rice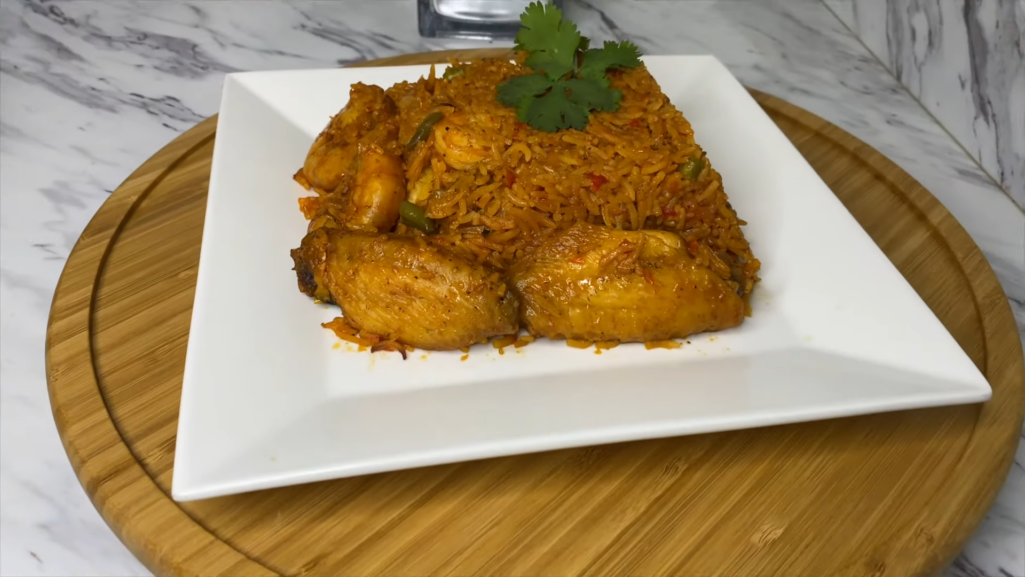 Liberian Jollof Rice is a renowned West African dish originating from Liberia. It is a one-pot meal that is both flavorful and satisfying, consisting of rice, vegetables, and a choice of proteins such as chicken, beef, or fish. Famous Jollof Rice is a staple dish in numerous West African nations,. with each country offering its unique variation. The Liberian rendition is distinguished by its distinctive taste and utilization of local ingredients. Get the recipe here.
While it's tempting to search for the definitive "best" Jollof rice, the beauty of this dish lies in its regional diversity and the personal connections people have to their own country's version. So, rather than declaring one country's famous Jollof rice as the ultimate winner, why not explore and enjoy the different flavors and styles that each nation brings to the table? The journey of discovering and appreciating these variations can be just as rewarding as finding a favorite.
What is the secret ingredient in Jollof rice?
It's always exciting to talk about the "secret ingredients" that can elevate a dish like Jollof rice to new heights. While there isn't a single secret ingredient universally acknowledged for making the perfect Jollof rice, there are a few ingredients and techniques that can make a significant impact on the flavor and texture of the dish.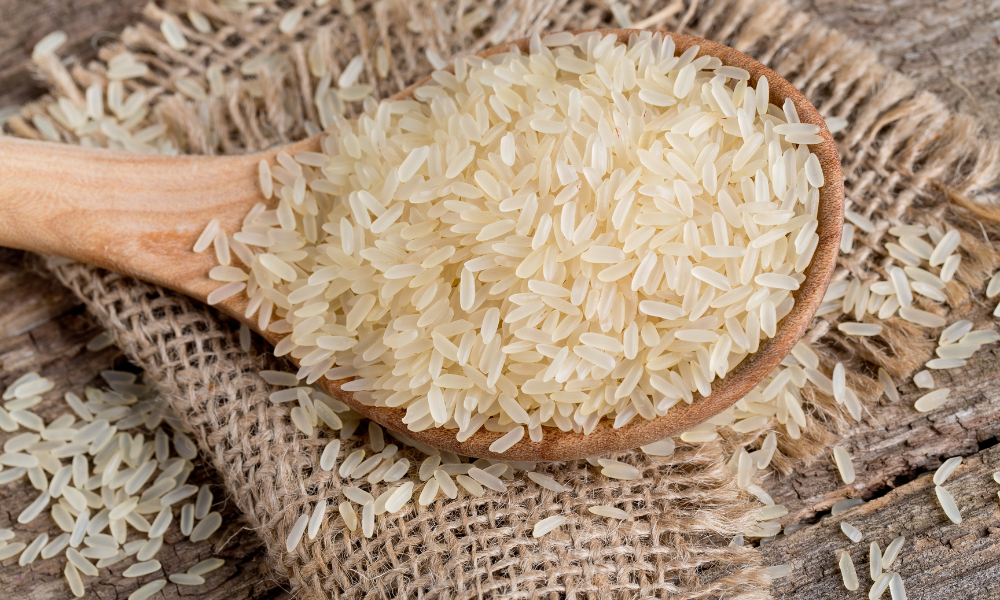 Using parboiled rice, especially for Nigerian famous Jollof rice, helps the rice grains cook evenly without becoming too sticky or mushy. The grains remain separate and firm, which is a desirable texture for Jollof rice.
ALSO READ: 6 Mouth Watering Nigerian MoiMoi Recipe Variations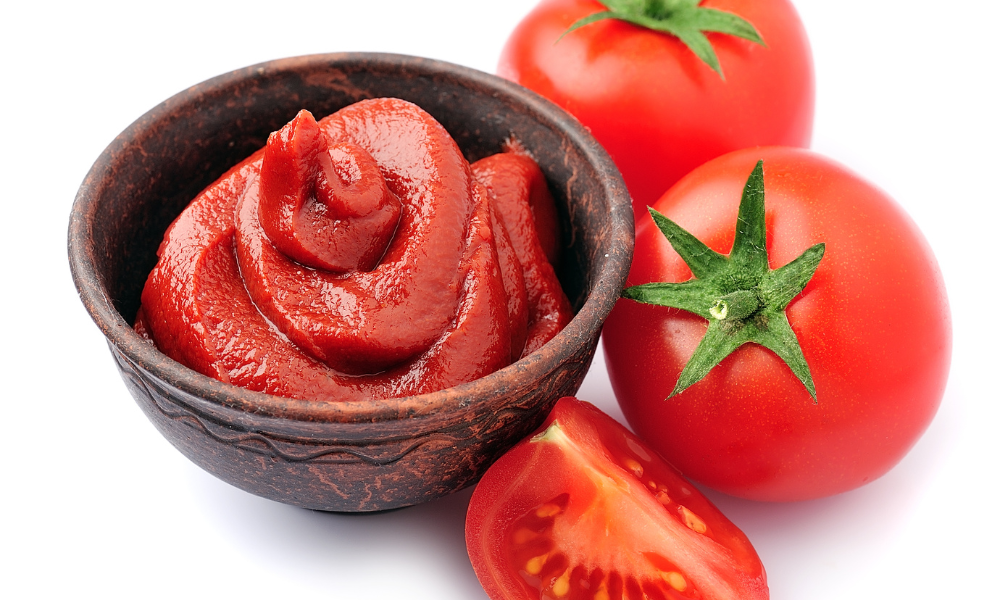 The use of tomato paste in addition to fresh tomatoes creates a rich, concentrated flavor base for the dish. Make sure to fry the tomato paste well to remove the raw taste and deepen the flavor.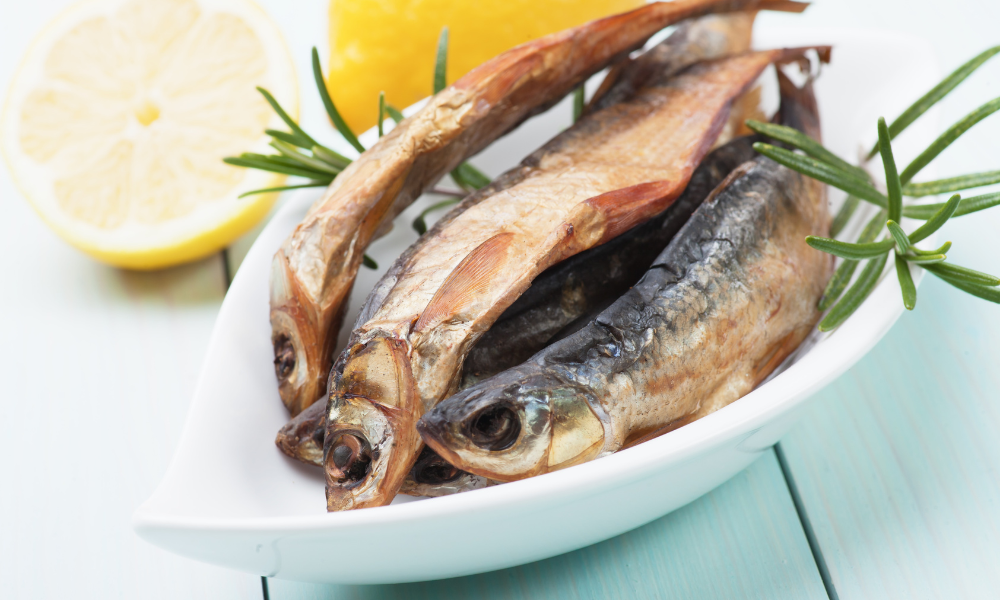 Including smoked or dried fish, like in the Ghanaian version, adds a layer of smokiness and umami that complements the other flavors in Jollof rice.
Scotch Bonnet Peppers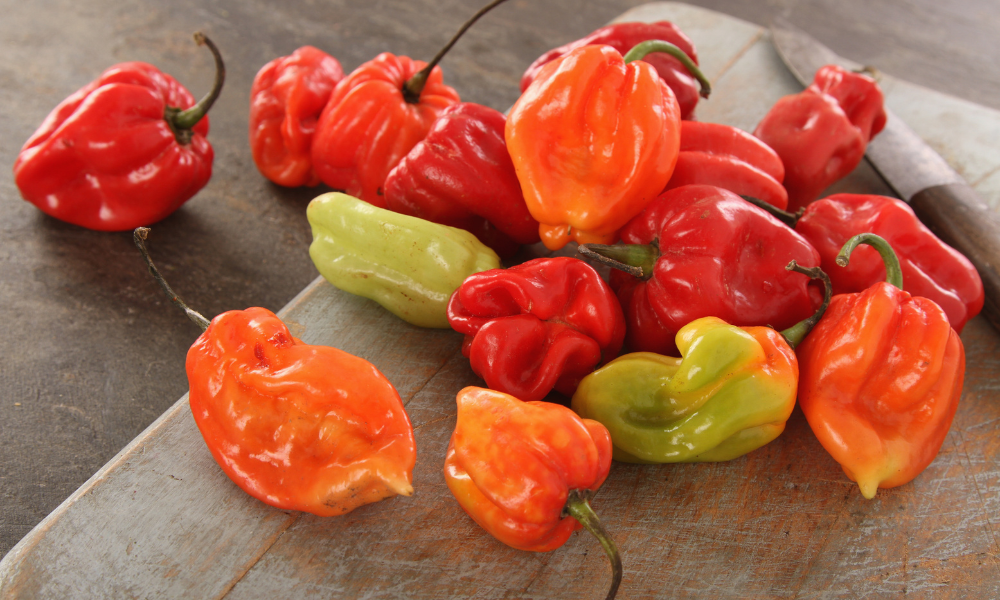 These peppers are known for their fruity, spicy heat and can make a significant difference in the taste profile of famous Jollof rice. You can adjust the amount according to your heat preference.
ALSO READ: 15 Delicious African Recipes You Should Try This Easter
Stock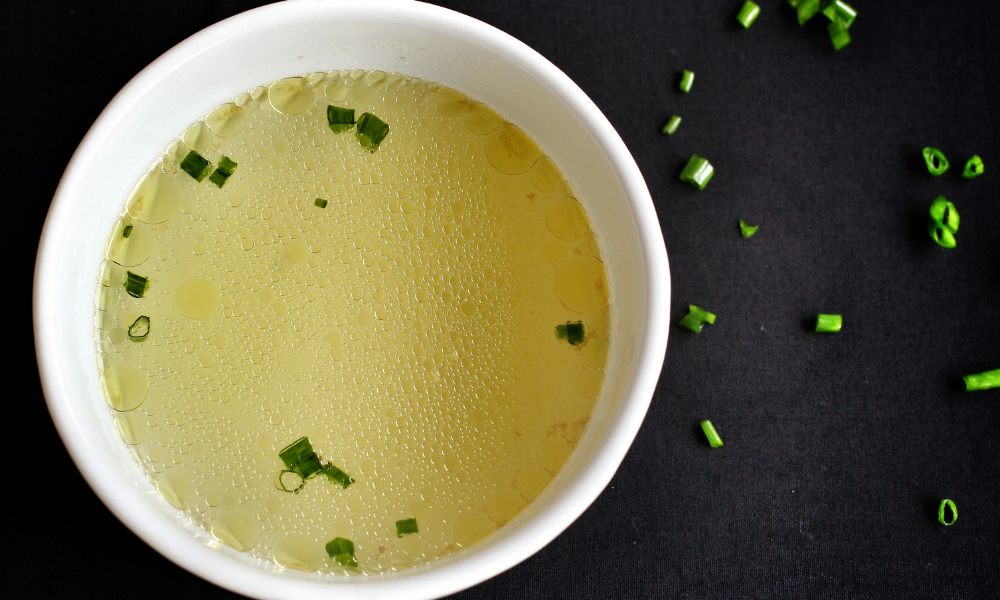 Instead of using plain water, cooking the rice in well-seasoned chicken, fish, or vegetable stock can enhance the overall flavor of the dish.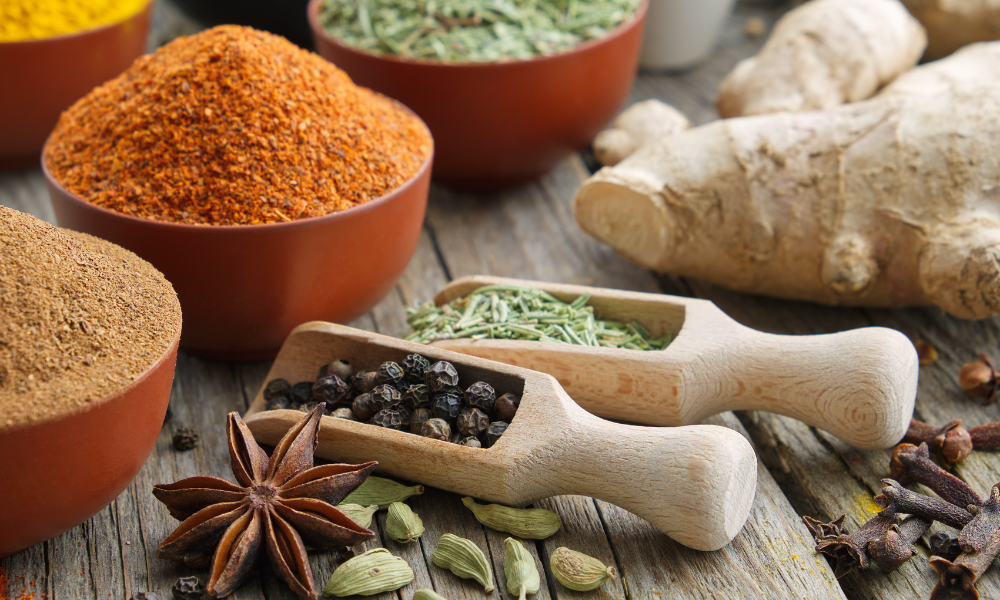 A blend of herbs and spices, such as thyme, bay leaves, curry powder, and white or black pepper, can add depth and complexity to Jollof rice. The specific combination may vary depending on regional preferences.
The "Party Rice" Effect: In Nigeria, Jollof rice made for parties is often considered the best, thanks to the smoky flavor achieved by cooking it over firewood or charcoal. Some people recreate this effect by slightly burning the rice at the bottom of the pot, which adds a smoky, caramelized layer.
While there may not be a single "secret ingredient" in Jollof rice, it's the combination of high-quality ingredients, regional techniques, and the love and care put into cooking that makes this dish so special. Experiment with these tips to find the perfect balance that delights your taste buds and takes your Jollof rice to the next level.
ALSO READ: Kenyan Matumbo And 6 Other Surprising African Tripe Recipes That Are Finger Licking Delicious
What are the 2 types of Jollof rice?
While there isn't a strict categorization of Jollof rice into just two types, there are indeed many variations and adaptations of this beloved West African dish. However, to address your question, we can look at two general categories that encompass the key elements found in most Jollof rice recipes:
Traditional Jollof Rice
This rendition of Jollof Rice adheres to the quintessential West African recipe, incorporating staple ingredients such as rice, tomatoes, onions, bell peppers, and a diverse array of spices. The dish is customarily prepared using either vegetable oil or palm oil, contingent on the region in question. Traditional Jollof Rice may also feature protein sources like chicken, fish, or smoked meats, as well as an assortment of vegetables, including carrots, peas, and green beans. Each nation and region within West Africa imparts its distinct touch to traditional Jollof Rice, with variations in spice levels, rice selection, and specific ingredients.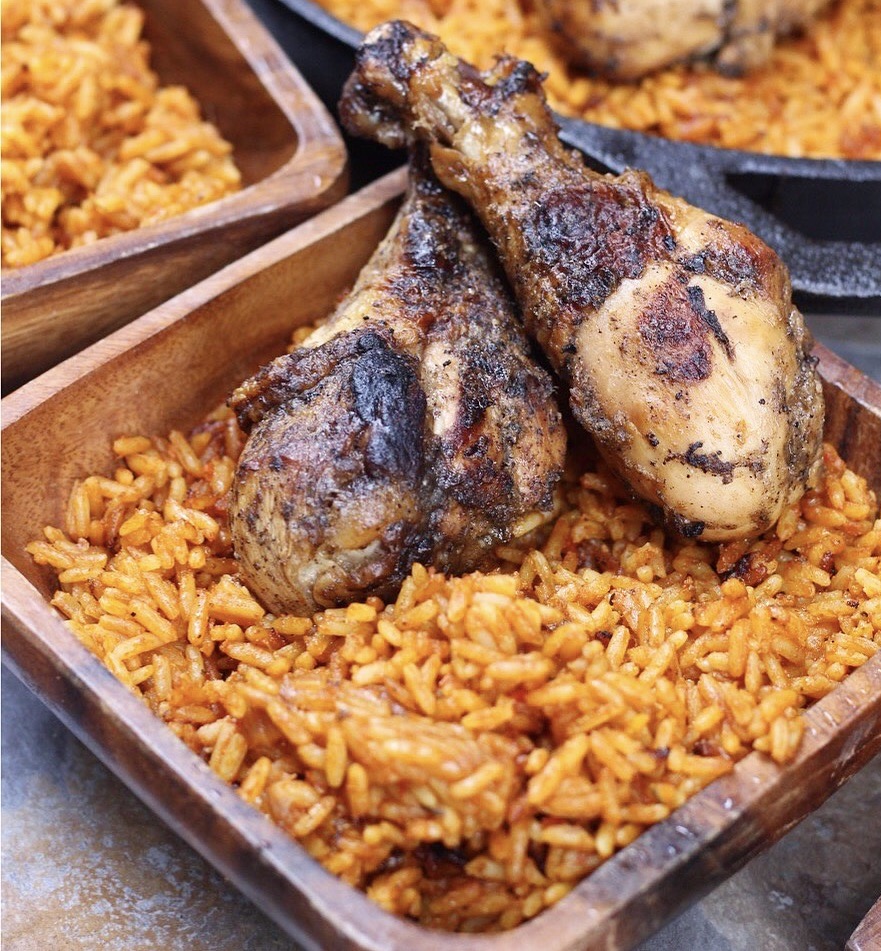 Fusion or Modern Jollof Rice
As Jollof rice has gained popularity around the world, chefs and home cooks have created fusion or modern versions of the dish, incorporating new ingredients and techniques to adapt the recipe to different tastes or dietary preferences. Some examples of fusion Jollof rice include adding unconventional ingredients like coconut milk, using alternative grains like quinoa or brown rice, or incorporating vegan protein options like tofu or tempeh. These adaptations are a testament to the versatility and appeal of Jollof rice. An example recipe is the Curry Style Jollof rice.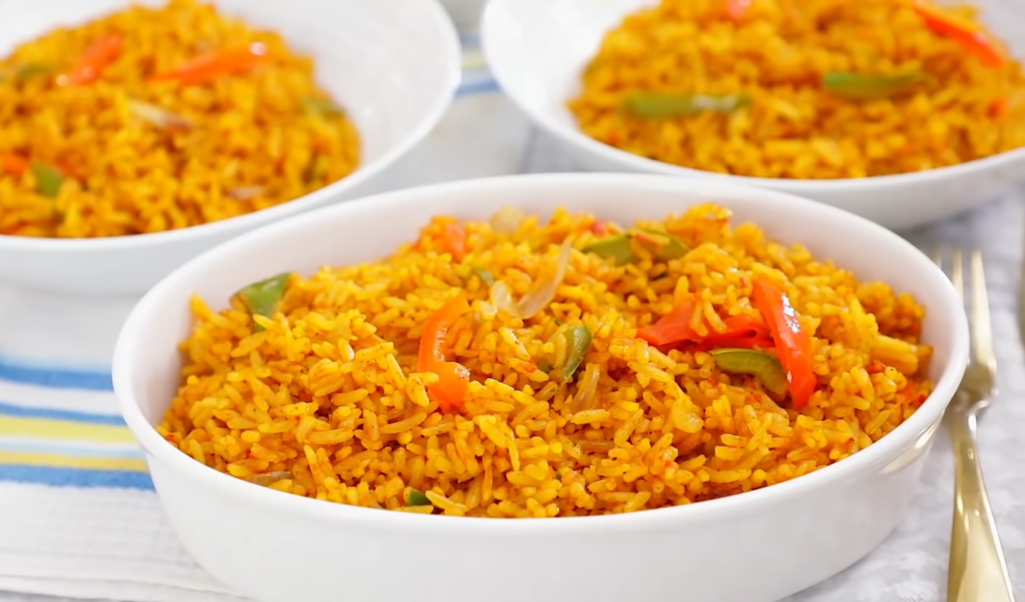 While these two categories provide a basic framework for understanding the different types of Jollof rice, it's essential to appreciate the dish's rich regional diversity and the countless variations that exist. Exploring these different versions can be a delicious adventure that showcases the culinary creativity inspired by this West African classic.

ALSO READ: 13 Afrocentric Wedding Cake Ideas
Which is the best Jollof in the world?
Determining the best Jollof rice in the world is truly a matter of personal preference, as each person's taste buds and cultural experiences shape their opinion on what makes the perfect famous Jollof rice. Some might prefer the spiciness of Nigerian Jollof rice, while others might enjoy the smoky flavor of Ghanaian Jollof rice. Others might lean towards the unique flavors of Senegalese, Sierra Leonean, or Liberian versions.
The beauty of Jollof rice lies in its regional diversity and the shared love for this vibrant, flavorful dish across different cultures. Rather than declaring one version as the ultimate best, why not celebrate and explore the array of flavors and styles that each nation brings to the table? This way, you can appreciate the culinary artistry and heritage behind each version, while discovering your own personal favorite.
What is another name for jollof rice?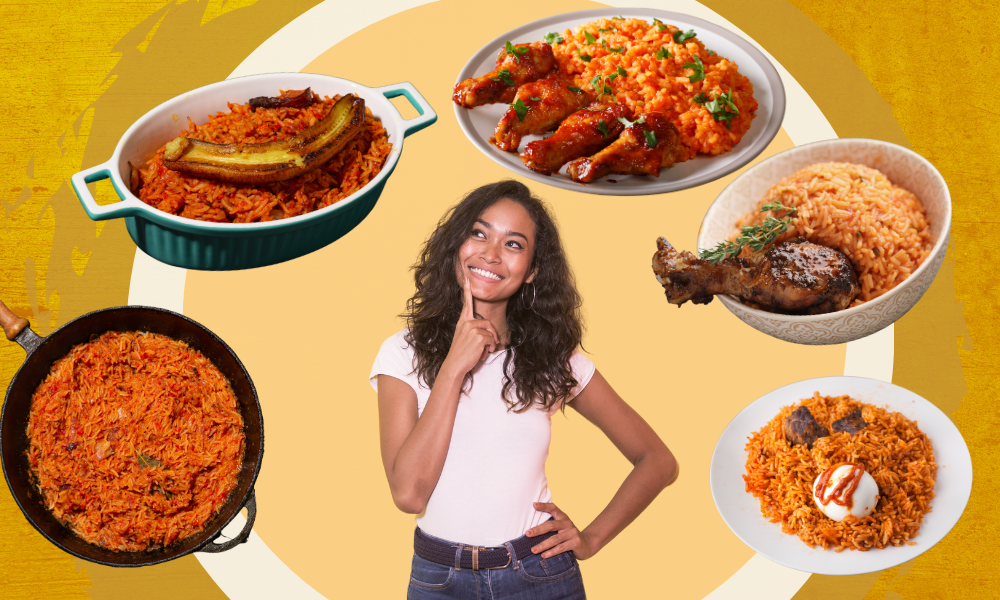 Famous Jollof rice, with its rich flavors and colorful history, is known by a few different names depending on the region and local dialects. In Senegal, a dish that shares similarities with Jollof rice is called "Thieboudienne" or "Ceebu Jën." This name is derived from the Wolof words "thieb" (rice) and "boudienne" (from the expression "bu jën," meaning "of the fish"). Thieboudienne typically includes rice, fish, vegetables, and a rich tomato and tamarind sauce.
While Jollof rice is the most commonly used name in English-speaking countries like Nigeria and Ghana, variations of the name exist in other languages and regions.. For example, in the Hausa language, it is called "Bènéchin," which translates to "one pot" in the Wolof language.
Despite the different names, the essence of Jollof rice remains the same: a vibrant, flavorful, one-pot dish that brings people together and showcases the diverse culinary traditions of West Africa.
ALSO READ: 25 Inspired Vegan African Recipes From All Over The Continent
What country is famous Jollof rice originally from?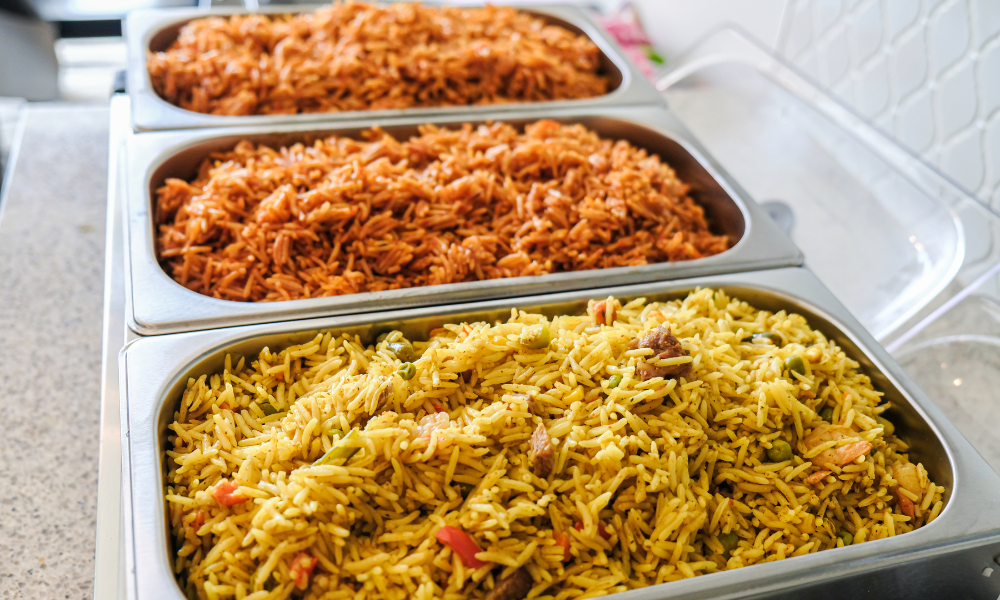 Famous Jollof rice, a culinary gem, hails from the vibrant lands of West Africa, specifically among the Wolof people who predominantly dwell in modern-day Senegal and Gambia. It is thought to have first emerged in the culturally rich Senegambia region, once governed by the illustrious Jolof Empire from the 14th to the 16th century.
Senegal boasts a related dish, known as "Thieboudienne" or "Ceebu Jën," which is widely regarded as the forerunner of Jollof rice. Thieboudienne is a flavorful medley of rice, fish, an array of vegetables, and a sumptuous tomato and tamarind sauce. The moniker of this enticing dish stems from the Wolof language, with "thieb" meaning rice and "boudienne" derived from the phrase "bu jën," signifying "of the fish."
As Jollof rice spread throughout West Africa, each country adapted the dish, incorporating local ingredients and flavors. This has led to the diverse array of Jollof rice variations we enjoy today, such as Nigerian, Ghanaian, Liberian, and Sierra Leonean versions.
So, the origins of Jollof rice can be linked to the Wolof people and the Senegambia region. Today, this dish transcends national borders, uniting people through its delightful flavors and rich cultural significance.
ALSO READ: 24 Easy Meals You Can Make With Goat Meat
In conclusion, Famous Jollof rice is truly a hidden gem of West African cuisine that you need to try today. This mouthwatering dish, with its unique blend of spices, flavors, and ingredients, is a testament to the rich culinary heritage of Liberia. The reddish-orange hue from the use of palm oil, and the inclusion of smoked fish or chicken, and local smoked sausage, all contribute to its distinct and irresistible taste.
While each country in West Africa has its own variation of Jollof rice, Liberian Famous Jollof rice stands out for its delicious combination of flavors, making it a must-try for food enthusiasts and those eager to explore the diverse world of West African cuisine. So, don't hesitate to embark on a culinary adventure and discover the delightful taste of Liberian Jollof rice for yourself.
As you savor this delectable dish, remember that the true essence of Jollof rice lies in its versatility, regional diversity, and the warmth it brings to gatherings with family and friends. By trying Liberian Jollof rice and other regional variations, you can appreciate the rich tapestry of West African culinary traditions and create your own memorable dining experiences. Happy eating!