These 10 Tajine Recipes Will Warm Your Home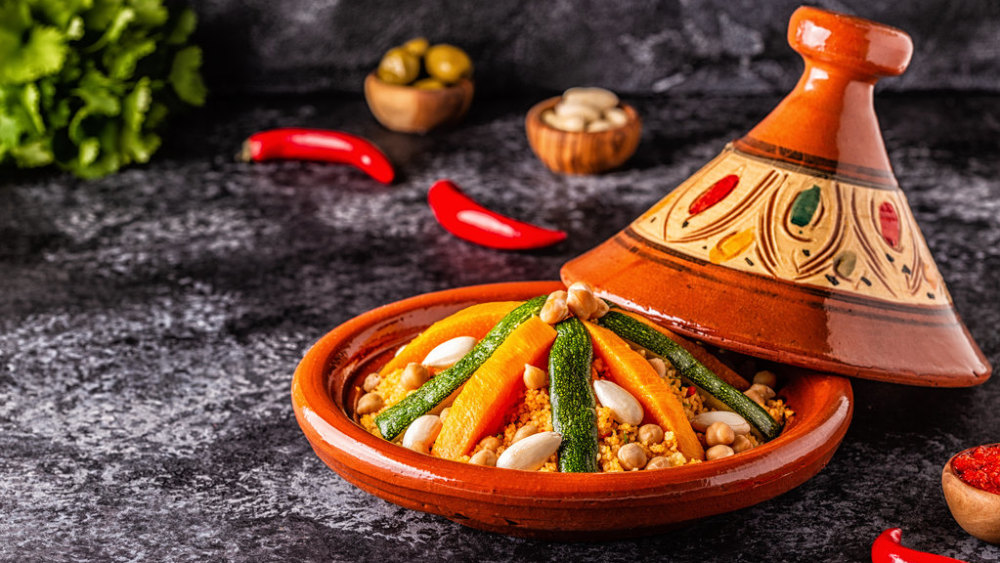 If you love exotic dishes, the tajine recipe (sometimes also called tagine) is one of the African dishes you will find fascinating. Tajine is a significant part of the exotic and delicious Moroccan cuisine and has been for centuries. The word tajine has two meanings. One refers to the dish and the other to the North African cookware traditionally made of ceramic or clay. The bottom of the tagine cookware is broad and circular and doubles as the cooking pot and serving tray. The top of the tajine is a distinctive cone or dome shape.
Tajine, the dish, is a rich stew from North Africa. It consists of succulent poultry, meat, or fish with vegetables and sometimes fruits. The tajine could also be a standalone vegetable dish minus the meats. This dish is wildly popular as a delicacy and for its highly nutritious value.
ALSO READ: 5 Ways To Enjoy Nshima
The origin of the Tajine dates back to the rule of Harun al Rashad in the 18th century. The use of ceramic is thought to be the influence of Romans who might have brought their traditions during their reign in Africa. The first mention of the tajine recipes appeared in the 9th century in the famous book, A Thousand and One Nights.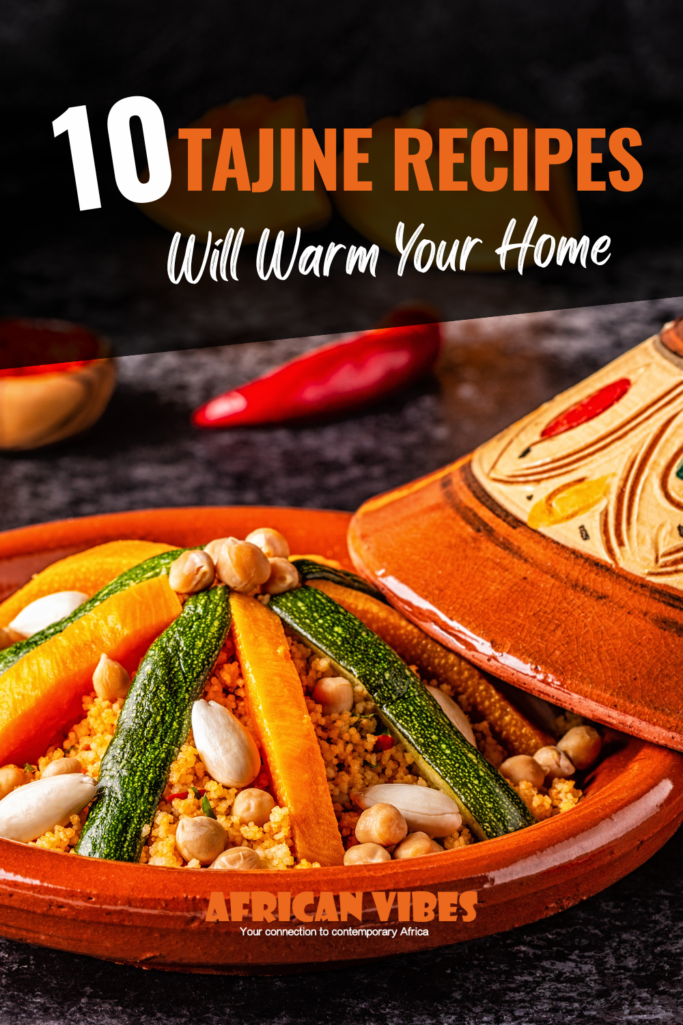 What is Tajine Served with?
Traditionally, tajine is served to be eaten communally by several people, and it is served direct from the tajine, with no need for plates. Tajine is served with Moroccan bread, which is used to scoop up the meats and vegetables. Traditionally, you do not use a knife or fork to eat tagine, rather, your hands.
Tajine is equally delicious when served over couscous, wedges of lime, and Greek yogurt. However, there is a heated debate on whether you should serve the tajine with anything else. However, it mostly boils down to preference. The Moroccans eat it with bread or khobz, which has a thick crust. Khobz is made using different types of flour. For instance, khobz dyal zraa has wheat flour while khobz dyal smida contains semolina flour.
What is the Benefit of Cooking in a Tajine?
The benefit of cooking tajine in a tajine is that it seals all the flavors from the different ingredients. During cooking, moisture from the meats and vegetables goes up the sides of the conical lid. Instead of evaporating, it goes back into the pot, enhancing the flavors.
ALSO READ: 10 Couscous Recipe Variations To Spice Up Your Menu
Tajine is cooked with tough cuts of meat, which are more flavorful, especially when cooked over a long time in the tajine. The equivalent of a tajine in the western world is the slow cooker, which cooks equally well but lacks the earthy taste of a clay tajine.
Which is Better, a Glazed or Unglazed Tajine?
The best tajines are made of raw clay while glazed tajines are easier to clean and ready for cooking. To use an unglazed tajine, you need to season it before cooking to strengthen the clay and remove the raw taste of clay.
Once you properly season your unglazed tajine, your tajine stew will have a delicious earthy taste. The tajine is seasoned by soaking it in water for two hours or overnight. After removing it from the water, coat the bottom part and where the conical lid sits with olive oil.
Put warm water inside the tagine and leave it for another 24 hours. Empty the water and air dry it, then fill the bottom part with salty water. Place the tajine in a cool oven, then heat it to 250 degrees Fahrenheit. Leave it there for an hour, then turn off the oven and let it cool inside the oven. Once cool, coat it again with olive oil. Your tajine is now ready to use.
ALSO READ: 6 Abacha (African Salad) Variations You Should Try
What Vegetables Go into a Tajine?
Some of the vegetables that go into a tajine recipe include:
– Potatoes
– Tomatoes
– Onions
– String beans
– Artichokes
– Cucumber
– Peas
– Spinach
– Carrots
– Squash, etc.
You may not find some vegetables that are unique to Morocco, such as:
– Slaouia, which is from the gourd family. Use zucchini or yellow crookneck squash as an alternative.
– Mallow leaves (Bakula or khoubiza) are edible leaves from wild plants and substituted with spinach, kales, or turnip greens.
– Aubergine is a berry but used in tajine as a vegetable and is also known as an eggplant.
How Many Varieties of Tajin are there?
There are different types of tajines, although the traditional Moroccan tajine is made from clay. Here are some of the tagine cookware variations.
#1. Aluminum
These aluminum tajines are primarily used in Morocco by people who carry packed lunches to work. They are light and portable but are not suitable for slow-cooking large and tougher chunks of meat. The aluminum tajines are best for meatballs or fish that cook fast.
ALSO READ: The 10 Best Nigerian Puff Puff Recipes According To Google
#2. Cast Iron
A cast-iron tajine is an excellent alternative as they do not carry the risk of cracking or breaking like clay tajines. They cook exceptionally well on high heat and can be used in the oven as well. While cast iron is durable and more versatile, it is also costlier than the other options.
10 Game-Changing Tajine Recipes
#1. Easy Moroccan Vegetable Tagine Recipe By The Mediterranean Dish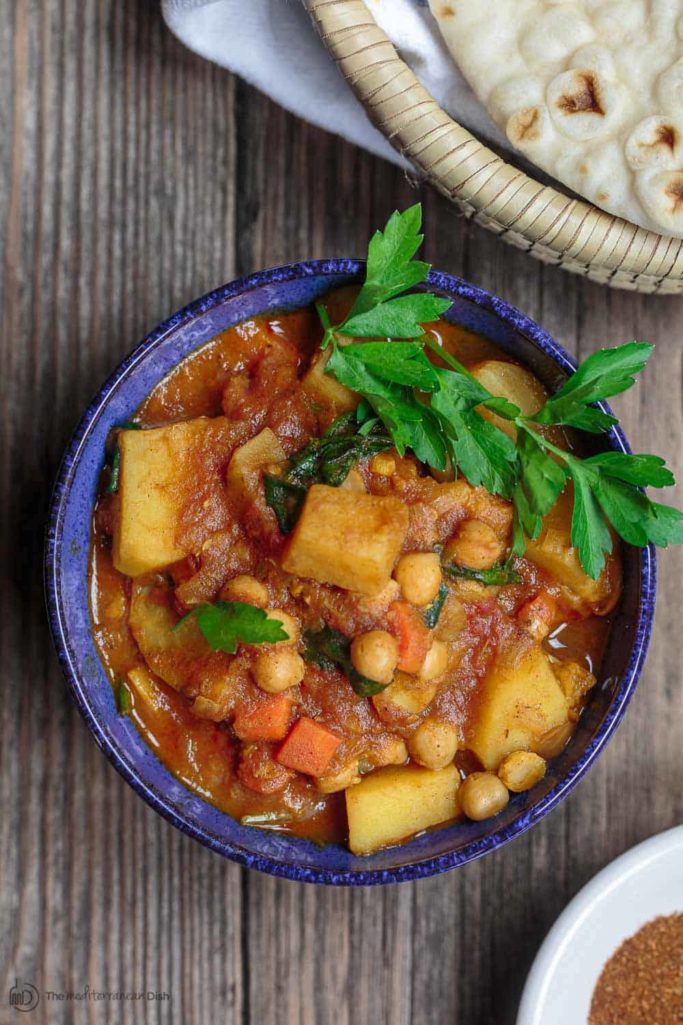 This easy Moroccan vegetable tagine begins with a few humble ingredients, you probably already have potatoes, carrots, onions, and garlic. Get Recipe Here >>
#2. Moroccan Beef Tajine By From The Grape Vine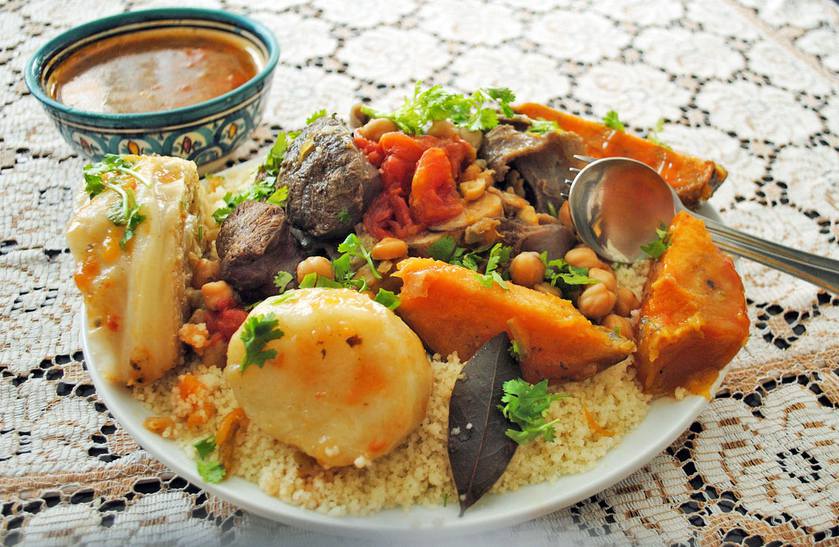 A comforting stew to help you warm up on those cold days. A spicy Mediterranean stew is the sort of warming, comforting dish that you want when you look out the window and it's all snow whirling out there. Tajine is welcome in any weather. Get Recipe Here >>
ALSO READ: 15 Recipes That Will Have Your Kids Fall In Love With African Cuisine
#3. Moroccan Chicken Tagine With Potatoes and Carrots By The Spruce Eats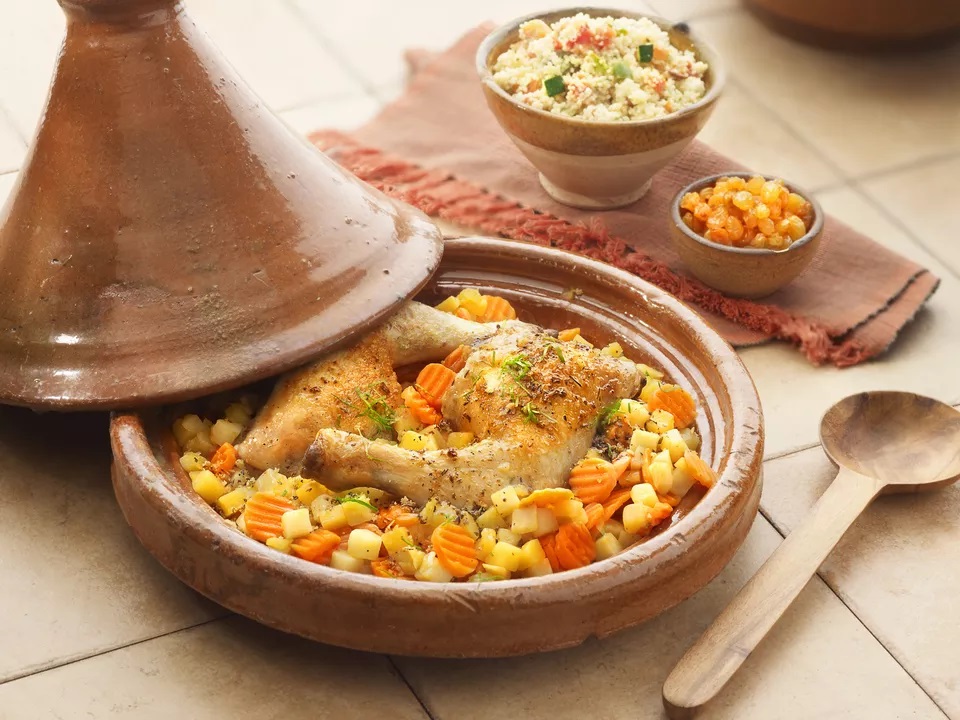 Try this basic recipe for Moroccan chicken tagine with potatoes and carrots when you need a delicious family meal or an impressive presentation in a tagine (clay or glazed) for guests. Get Recipe Here >>
#4. Traditional Moroccan Tagine Recipe By Travel Food Atlas
We know that you are eager to know about how this delicious cuisine is prepared. This is the reason why we have come up with the traditional Moroccan Tagine recipe. Get Recipe Here >>
#5. Moroccan Lamb Tagine with Apricots By Ethnic Spoon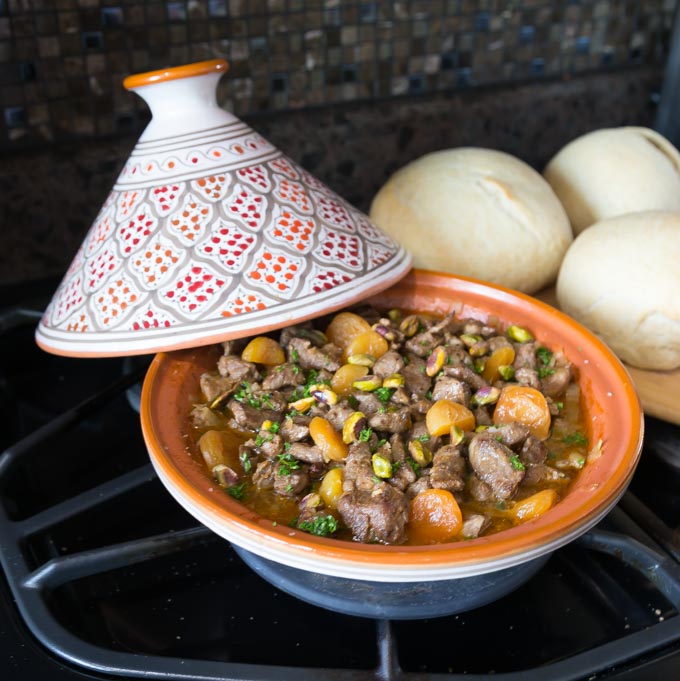 A delightful flavor and aroma in my kitchen, and very tender meat. Try this traditional lamb tagine with apricots. Get Recipe Here >>
ALSO READ: 7 Heart Warming African Breakfast Ideas For Mother's Day
#6. Lamb Tagine with Mushrooms and Olives By The Delicious Crescent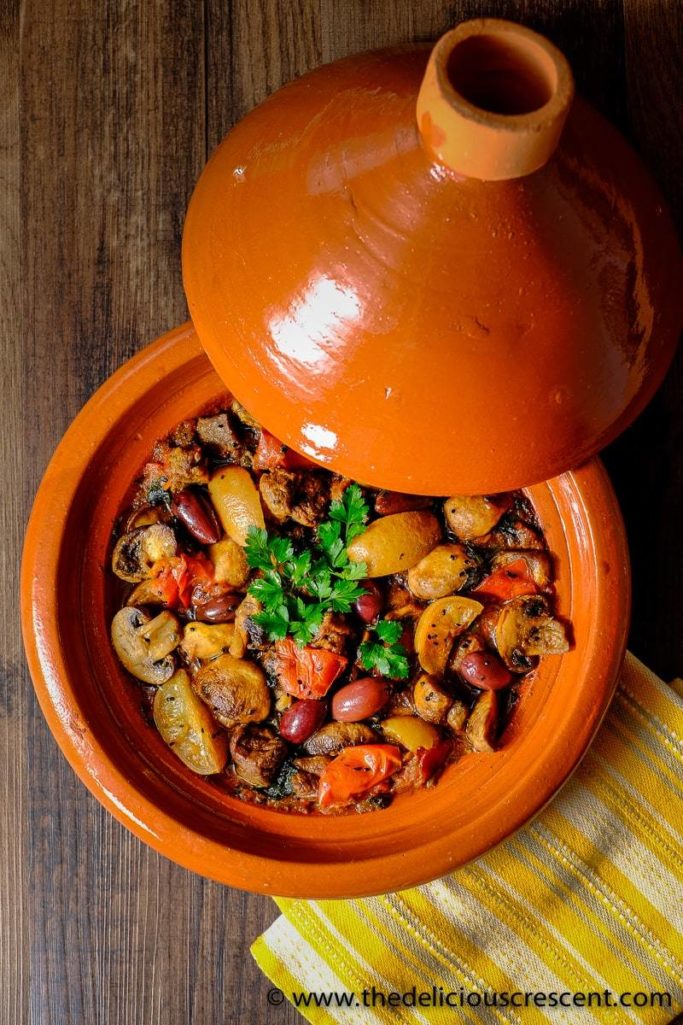 Lamb Tagine with Mushrooms and Olives is a delicious Moroccan style recipe with succulent lamb stewed in earthenware. It is rich in flavor, high protein and potassium, low carb and calories, healthy fats, good fiber!! Get Recipe Here >>
#7. Gorgeous Chickpea Tagine Recipe with Moroccan Spices By Uno Casa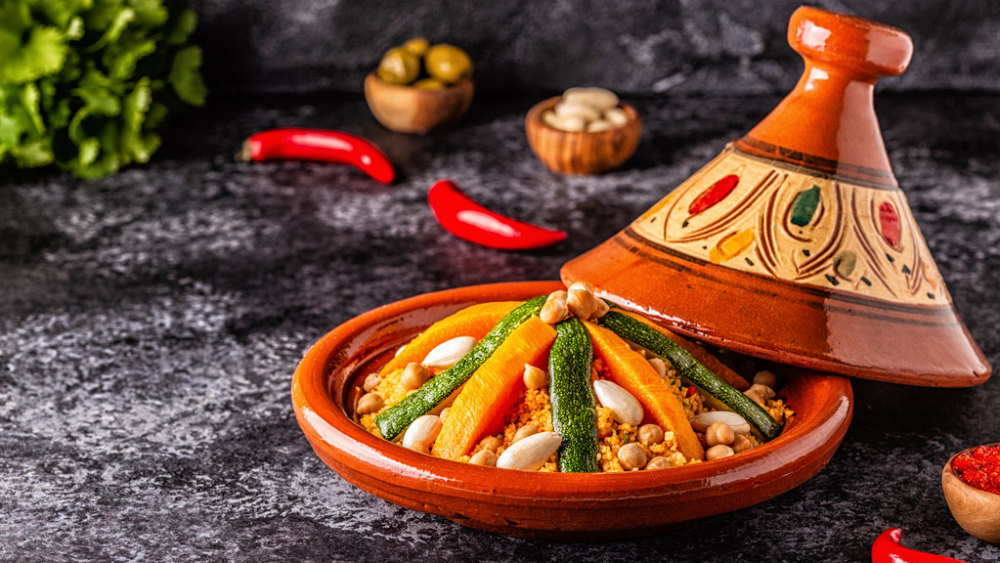 Don't be afraid of the tagine – it's quite easy once you know the basics of cooking in this classic dish. We hope you enjoy trying out this flavorful North African recipe full of spice and veggies! Get Recipe Here >>
ALSO READ: 6 Jollof Rice Variants From 6 West African Nations
#8. Moroccan Fish Tagine Recipe with Chermoula and Vegetables By Taste Of Maroc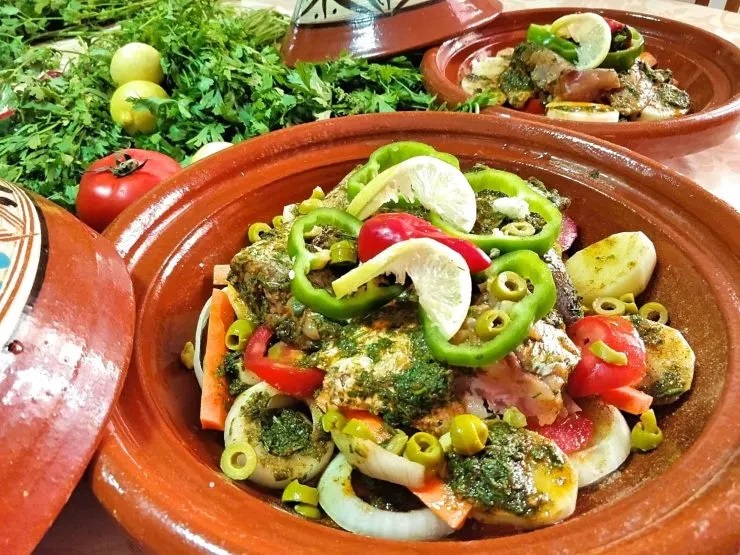 This recipe for Moroccan Fish Tagine with Chermoula and Vegetables is one of the most popular ways to prepare fresh fish in Morocco. First the fish is marinated in a zesty herb and spice mixture called chermoula, then it's layered with potatoes, carrots, tomatoes, and green peppers in a tagine for slow braising. Get Recipe Here >>
#9. Eggplant Tagine: A Moroccan-inspired Recipe By Uno Casa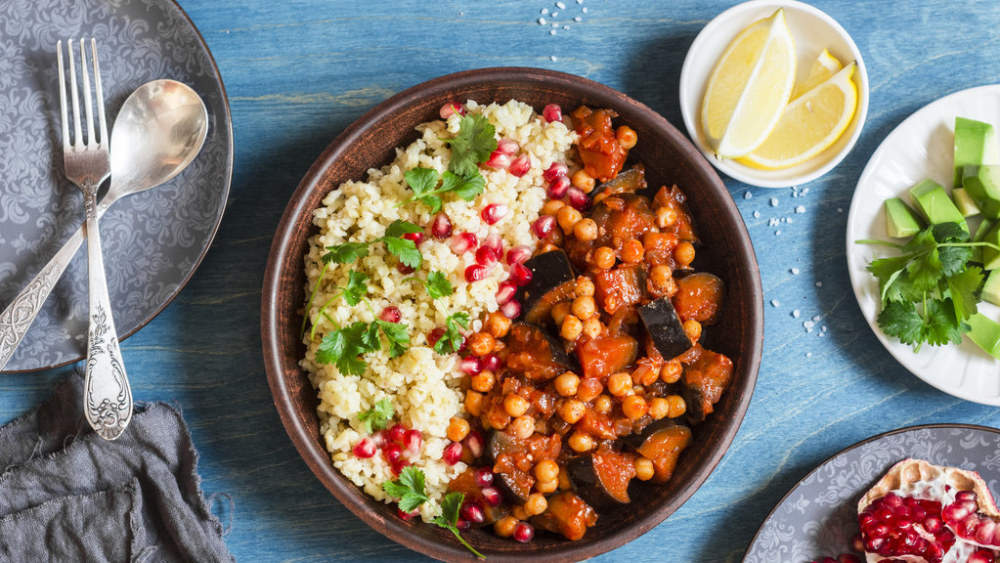 Eggplants, chickpeas, onions, tomatoes, and apricots (and a few Moroccan-style spices) are all you need for our hearty and filling, vegetarian tagine. Serve with couscous and yogurt for added authenticity! Get Recipe Here >>
#10. Lamb and Chickpea Tagine By JoCooks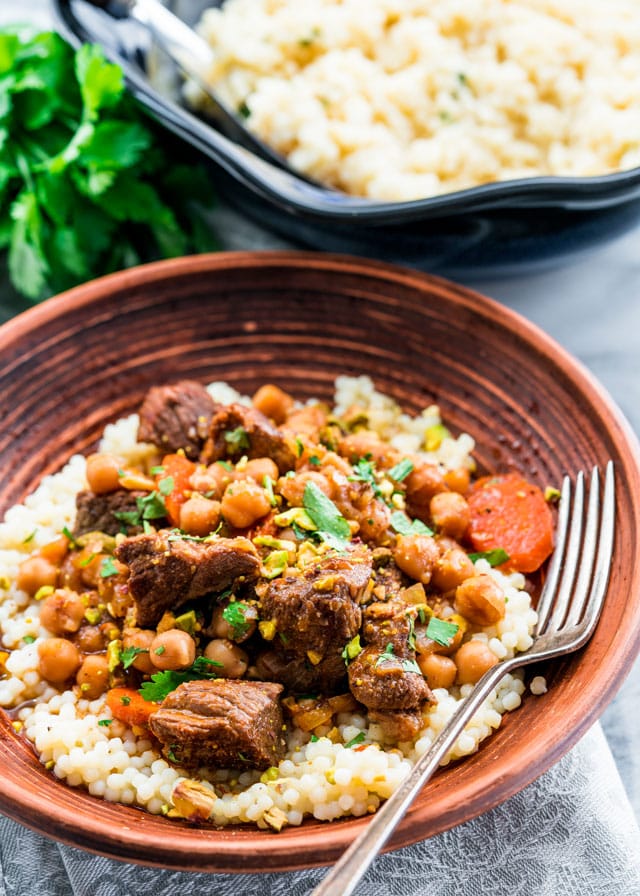 This Moroccan inspired Lamb and Chickpea Tagine is a delight. It's the perfect one pot dinner for a comforting and delicious meal with melt-in-your-mouth lamb, chickpeas and golden raisins. Get Recipe Here >>
Conclusion
This North African delicacy is a well-loved recipe dating back hundreds of years. The original recipe has been passed down to families in Morocco, Tunisia, Libya, and other North African countries. Since some indigenous vegetables are not readily available, you can substitute them with what is locally available to get an equally succulent dish.
The recipe is best cooked with clay tajine cookware which brings out the flavors of the different vegetables and meats, coupled with the earthy taste of the clay pot. Remember to season your tajine cookware to make it last longer and remove the raw clay taste. You can substitute the clay tajine with a cast-iron one, but be prepared to pay more, and, the taste is frankly not the same. Bon Appetit!