17 Innovative African Recipes To Honor Black History Month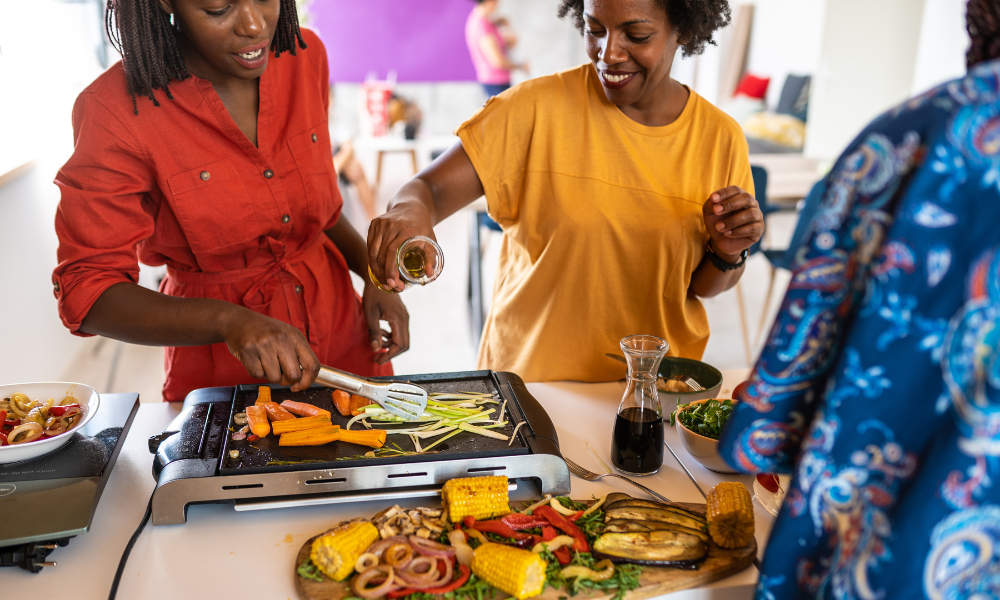 Discover 17 innovative African recipes to celebrate Black History Month! From flavorful stews and soups to delectable desserts, these dishes showcase the rich and diverse culinary heritage of the African continent. Get ready to embark on a culinary adventure with these unique and delicious recipes.
This Black History Month, treat yourself to the incredible flavors of traditional African cuisine – and 17 recipes made with flair! From seasonings that will tantalize your senses to timeless dishes passed down through generations, explore these exciting recipes guaranteed to add a festive sparkle to any meal. Get ready for taste buds to take flight as you celebrate this momentous month in style!
Exploring the Rich Cuisine of the African Diaspora
During Black History Month, revel in the extraordinary tastes and aromas of African gastronomy! From flavorful jollof rice to exotic sambusak pastries- we're highlighting 17 delectable recipes from across Africa. Embark on a virtual journey through centuries of culinary history and immerse yourself in unique flavors that simply can't be found anywhere else!
Celebrating Black History Month with Delicious Food 
Join us this Black History Month for a flavorful journey through African diaspora cuisine! From delectable Moin-Moin to the much-loved Jollof Rice, we'll be exploring innovative recipes from across the continent and discovering new ways to honor one of the world's most vibrant culinary cultures. Let your taste buds join in on this exciting celebration – you won't want to miss it!
17 Innovative African Recipes to Honor Black History Month
#1. Nigerian Jollof Rice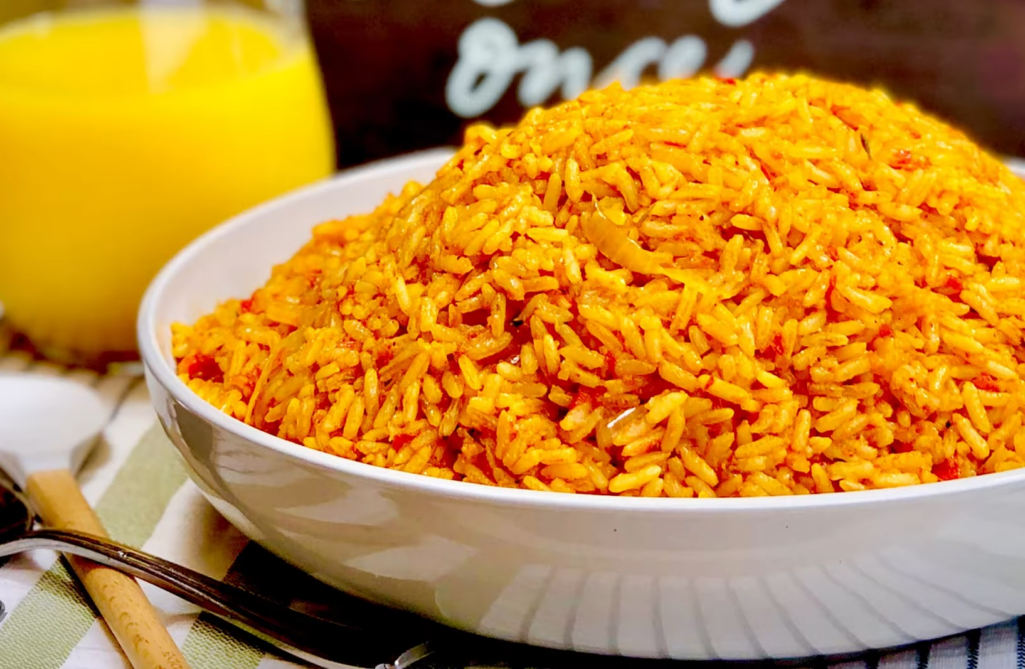 Nigerian Jollof Rice has attained global prominence and is now relished by individuals from a diverse array of cultures and origins. With its delectable taste and adaptability, it is easy to comprehend why this dish has established itself as a staple in West African gastronomy and why it is widely cherished by numerous individuals worldwide. Get the recipe here.
ALSO READ: 13 Popular African Foods You Cannot Miss In Each Region
#2. Somali Sambuus With BizBaz Sauce By My Vintage Cooking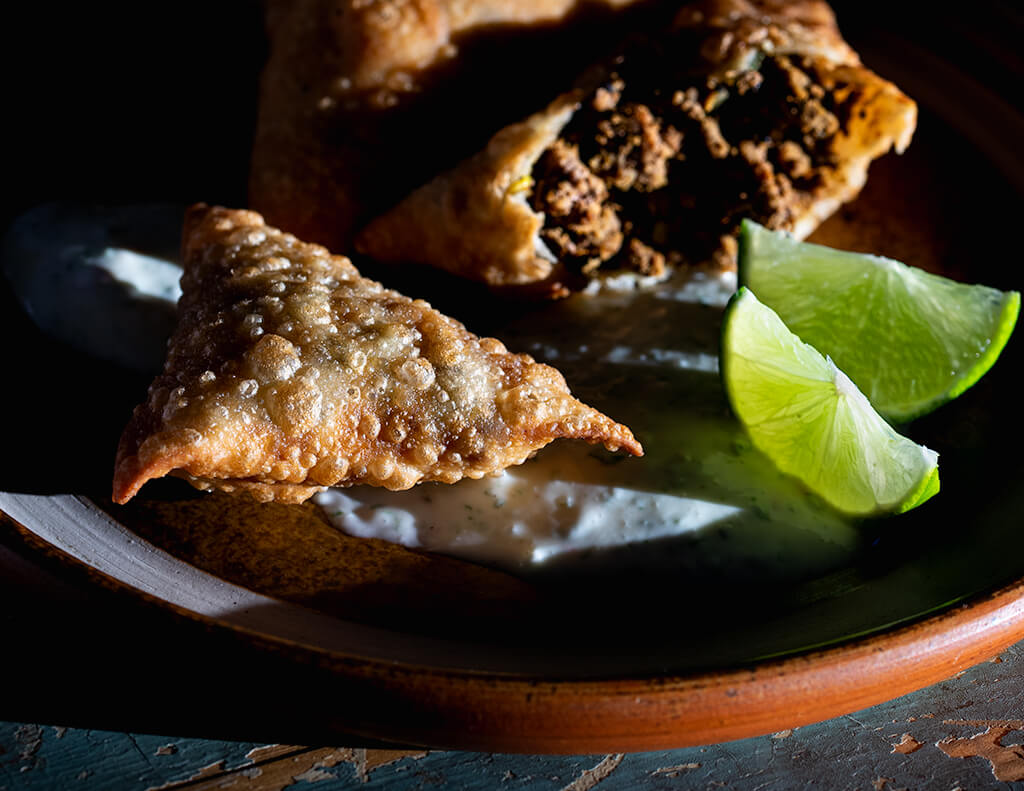 The Somali Sambuus, paired with the deliciously tangy BizBaz sauce, is a harmonious blend of taste and texture that has become a beloved snack or appetizer not just in Somalia, but also among the Somali diaspora worldwide. This dish is a staple of street food culture and is often savored during festive events and shared among loved ones. Get the recipe here.
#3. Moroccan Beef Stew By From A Chef's Kitchen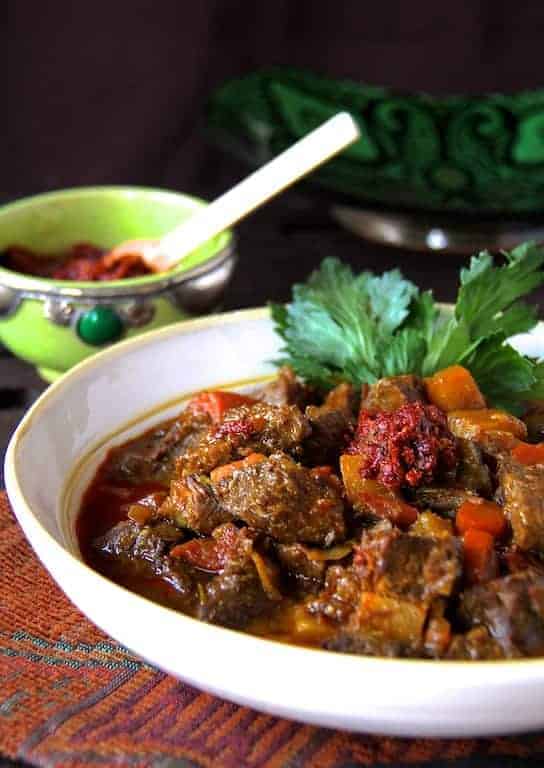 Moroccan beef stew, a delicacy steeped in the cultural richness of Morocco, is a succulent and robust meal that embodies the essence of traditional Moroccan cuisine. This delectable dish is created by simmering chunks of tender beef in a medley of spices, vegetables, and dried fruit. The prolonged cooking process imbues the flavors, resulting in a savory stew brimming with richness and fragrance. Whether you're a connoisseur of bold and spicy flavors or have a penchant for sweeter notes, Moroccan beef stew is guaranteed to tantalize your taste buds. It's a magnificent choice for a comfortable evening at home or a festive gathering, and is sure to become a cherished dish for those who appreciate gourmet cuisine. Get the recipe here.
ALSO READ:Kenyan Matumbo And 6 Other Surprising African Tripe Recipes That Are Finger Licking Delicious
#4. Ethiopian Beef Tibs By Palatable Pastime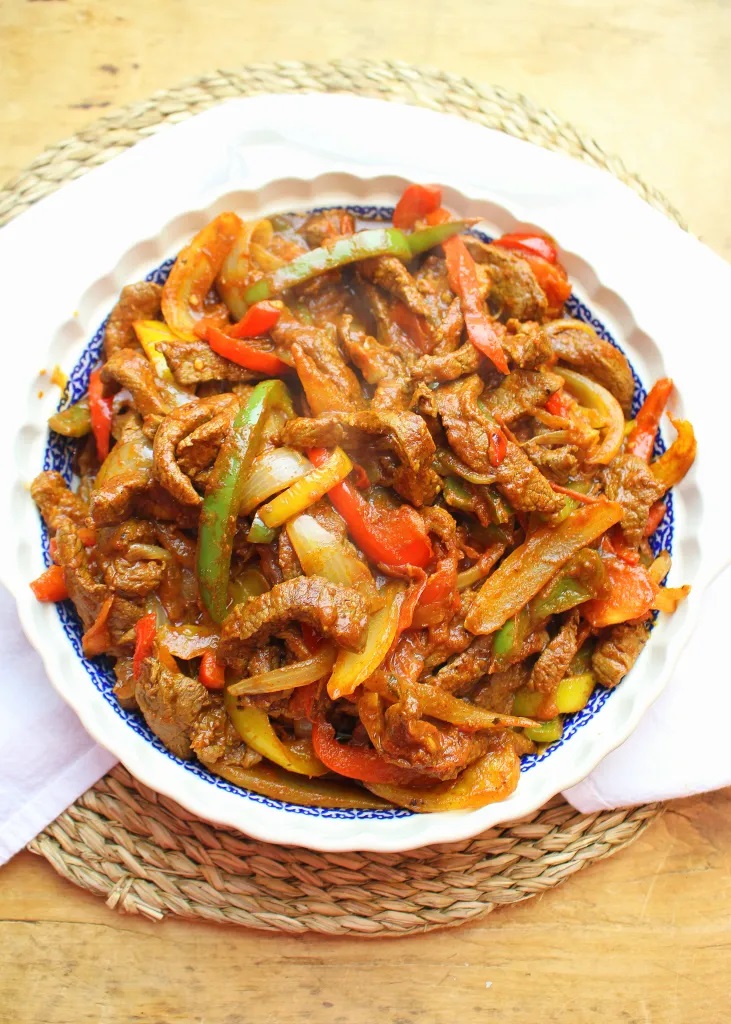 Ethiopian Beef Tibs, a delectable offering from Ethiopia, is a dish that has garnered accolades from both its native populace and visiting food enthusiasts. Composed of luscious cuts of beef, Tibs is a culinary masterpiece that tantalizes the senses and satiates the appetite as a main course for lunch or dinner. The dish's inimitable and succulent essence is a result of the harmonious blend of aromatic spices and seasonings, including garlic, ginger, paprika, and turmeric. Tibs is commonly served alongside injera, a traditional Ethiopian sourdough flatbread, making it a staple in the country's gastronomy. Whether one's palate craves the heat of spices or the succulence of juicy beef, Ethiopian Beef Tibs is a gastronomic experience not to be missed, guaranteed to tantalize one's taste buds. Get the recipe here.
#5. Vegan Efo Riro (Nigerian Spinach Stew) By Urban Farmie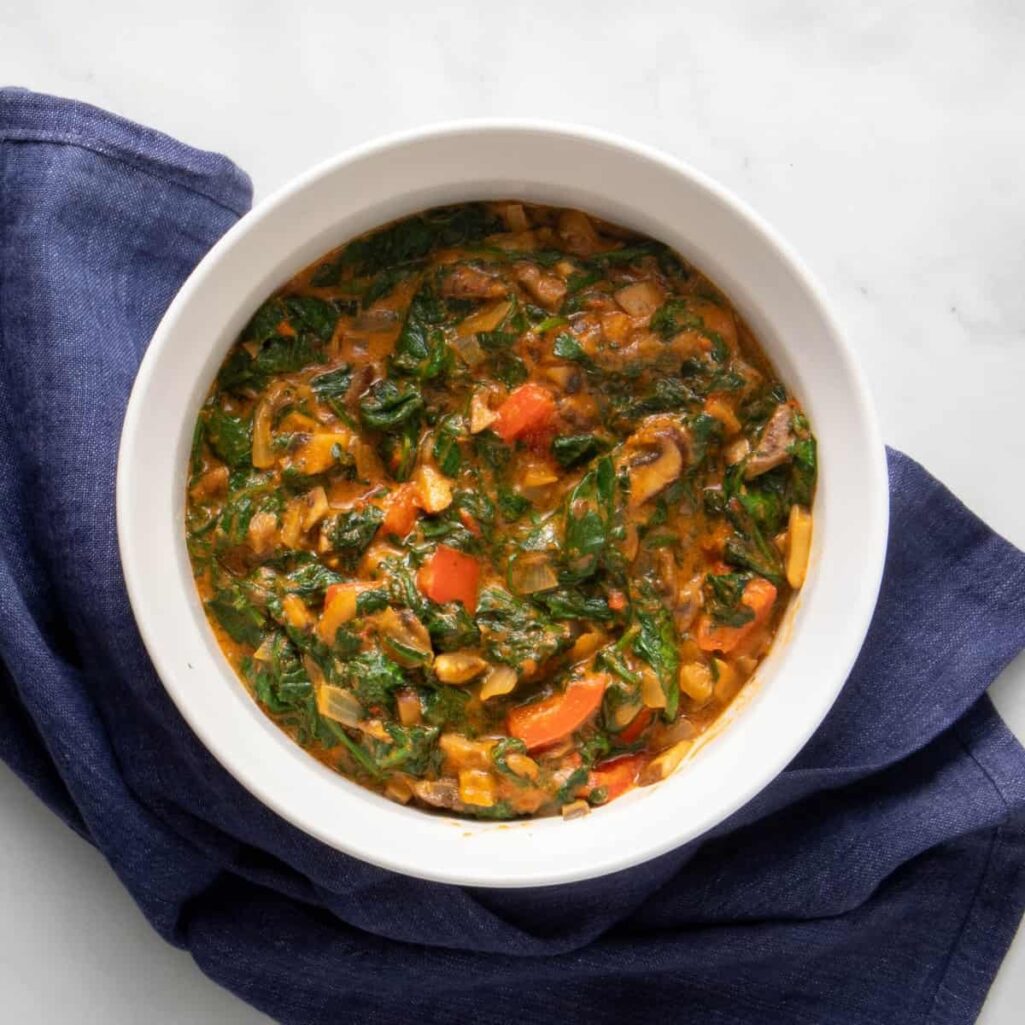 "Delectable" and "Savory" are two adjectives that truly describe the exquisite dish known as Vegan Efo Riro, hailing from Nigeria. Composed of spinach and a medley of spices and vegetables, this stew not only proffers an abundance of nutrients but also boasts a singular taste that has garnered a widespread following. The utilization of palm oil imparts a rich, fragrant flavor, while the judicious blend of spices and herbs elevates the taste profile even further. Vegan Efo Riro is commonly paired with staple foods such as rice, rendering it a wholesome and satiating meal. Whether a seasoned cook or a culinary novice, the preparation of this dish is a straightforward endeavor that is bound to leave a lasting impression on your guests with its unparalleled taste and aroma. So why not indulge in this nutriment-rich and delectable dish today! Get the recipe here.
ALSO READ: These 10 African Spices Will Change How You Cook
#6. Nigerian Banga Soup (Niger-Delta way) By My Active Kitchen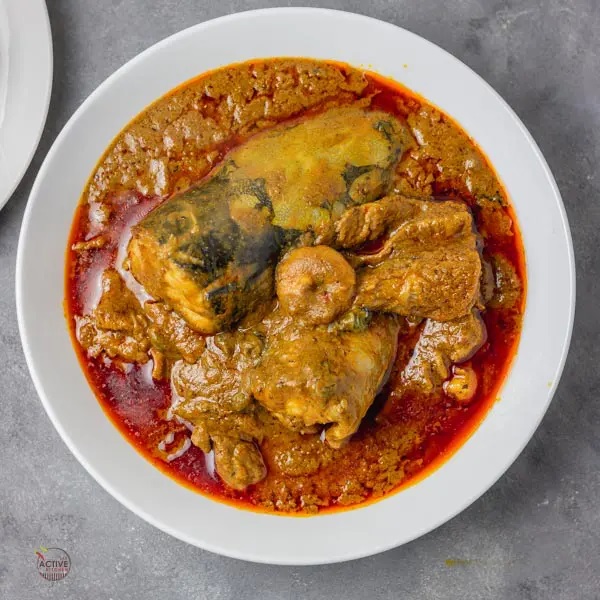 The indigenous cuisine of the Niger Delta region in Nigeria boasts of the magnificent Banga Soup. This substantial, aromatic, and flavorful broth is a staple that is comprised of palm fruit extract known as "banga," smoked fish, crayfish, spices, and leafy greens. The concoction, which is commonly served with a staple carbohydrate like fufu or rice, is both comforting and satiating. The harmonious blend of ingredients and the meticulous preparation technique results in a rich, delectable flavor that is treasured by many households in the region. Whether consumed as a main course or a side dish, the nutritious and scrumptious Nigerian Banga Soup is bound to be relished. Get the recipe here.
#7. Simple Tripe(Mogodu Umgxabiso Usu Recipe) By Mzansi Recipes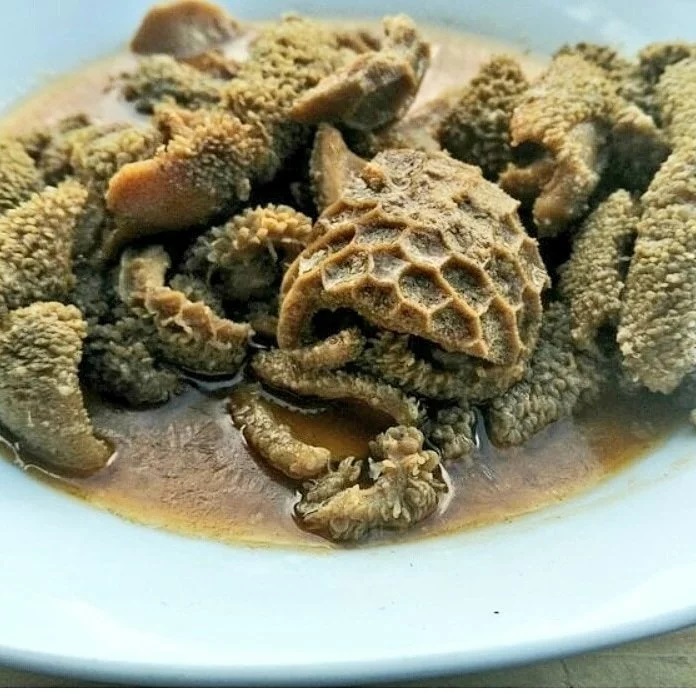 Simple tripe, also known as Mogodu Umgxabiso Usu, is a traditional South African dish that has been enjoyed for generations. This dish is made from cow tripe, which is slow-cooked to perfection with a blend of spices and seasonings that infuse the meat with bold, savory flavors. The result is a tender and juicy dish that is both filling and satisfying. Despite its rich and hearty taste, Simple Tripe is surprisingly easy to make and can be prepared in just a few simple steps. Whether you're looking for a comforting family meal or a tasty and filling dish to feed a crowd, Simple Tripe is the perfect choice. So why not gather the ingredients, fire up the stove, and try your hand at this delicious South African staple today! Get the recipe here.
ALSO READ: 24 Easy Meals You Can Make With Goat Meat
#8. Ultimate Matumbo Fry By All Recipes Update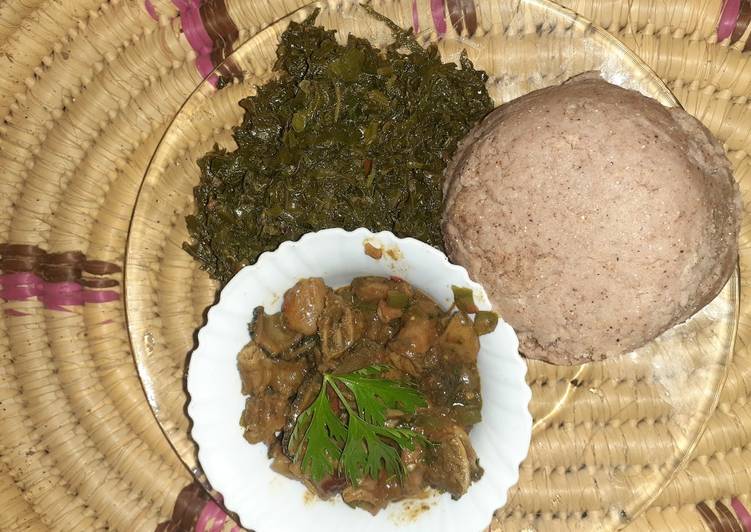 The Ultimate Matumbo Fry is a delectable delicacy hailing from the African lands. It is a palatable feast that has captivated the taste buds of many across the globe. The paramount ingredient, Matumbo, also referred to as tripe, is combined with an assortment of spices and seasonings, lending to its one-of-a-kind and scrumptious flavor. Typically served as the main course, this dish can be paired with rice, mashed potatoes, or even a medley of vegetables. Its rich, full-bodied taste makes the Ultimate Matumbo Fry a must-try for anyone seeking a novel and thrilling gastronomic adventure. Be you an aficionado of conventional African cuisine or simply an explorer of new flavors, this dish promises to gratify your senses and leave you sated. Get the recipe here.
#9. Lamb And Mint Meatball Tagine with Chermoula By Delicious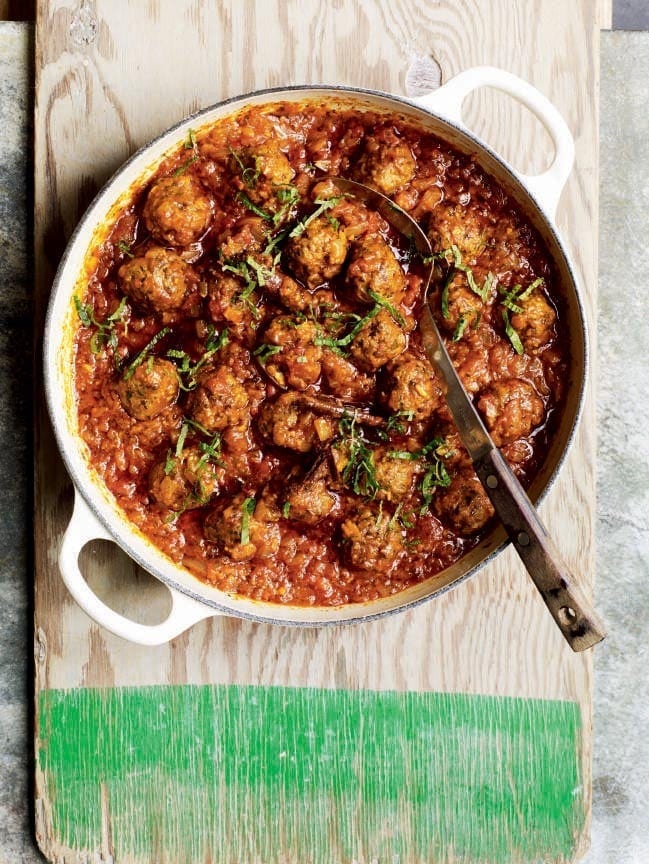 The Lamb and Mint Meatball Tagine with Chermoula is a delectable, unorthodox delicacy hailing from North Africa. This dish boasts a distinctive medley of spices, including mint, cumin, coriander, and paprika, that impart a singular taste. The juicy lamb meatballs are stewed in a luxurious tomato broth, and the platter is completed with a bed of airy couscous. The Chermoula, an aromatic sauce made of lemon, garlic, and cilantro, elevates the dish with its tangy and flavorful essence, making it a standout in the realm of gastronomy. Whether you relish bold and spicy flavors or simply enjoy comfort food, this dish is sure to tantalize your taste buds. Get the recipe here.
ALSO READ: 25 African Recipes to Try This Holiday Season
#10. Yummy Viazi Karai with a Sweet and Sour Ukwaju Sauce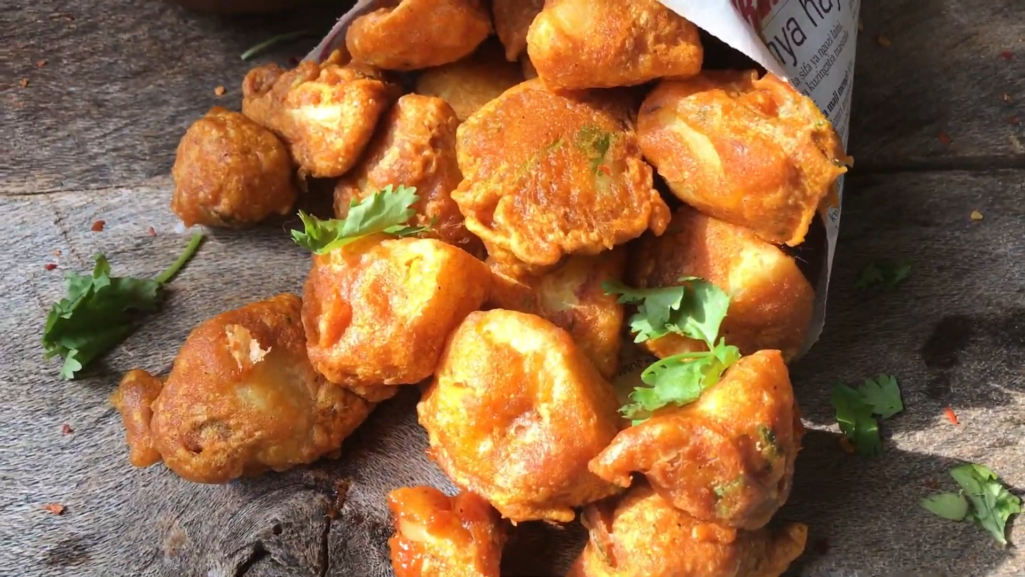 The delectable Viazi Karai is a culinary delight that seamlessly blends the delightful sugary flavors of caramelized potatoes with the sharp tang of a sour tamarind sauce. This dish is a staple in East African cuisine and has garnered a loyal following among food enthusiasts. Traditionally, small potatoes are seasoned with a special spice blend and roasted to crispy perfection, with a tender interior. These golden spuds are then paired with a tart tamarind sauce, crafted by simmering the paste with sugar, spices, and seasonings until it reaches a thick consistency and the flavors have melded together in harmony. The result is a dish that tantalizes the taste buds, leaving a lasting impression of sweet and sour bliss. Get the recipe here.
#11. Sukuma Wiki By African Bites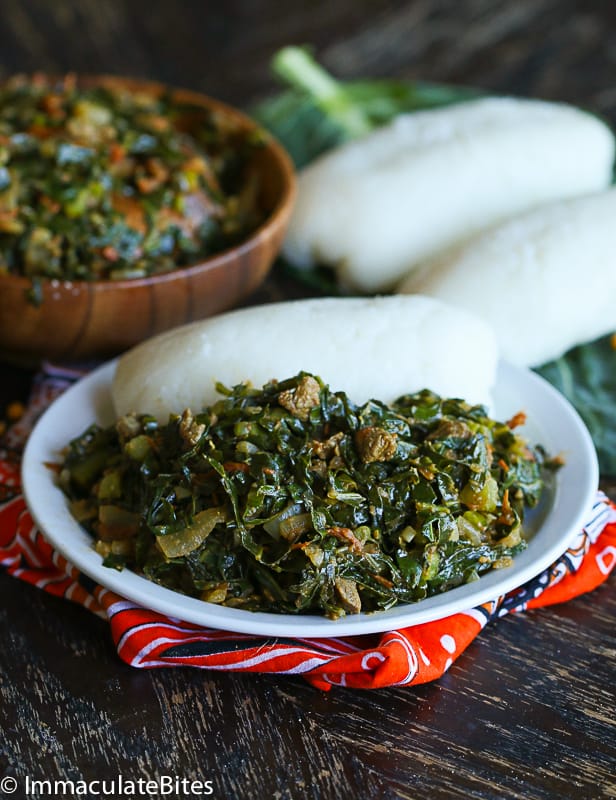 Sukuma Wiki, a classic dish in East African gastronomy, particularly in Kenya, is a dish renowned for its simplicity and flavor. The name, which translates to "push the week," embodies its heritage as a means to make scarce ingredients last through the week. This dish consists of collard greens, simmered with onions, tomatoes, and an aromatic blend of spices, producing a savory, delectable delight. Traditionally served with a staple food such as maize or potatoes, Sukuma Wiki offers a complete and satisfying meal that has been enjoyed for generations. Beyond its taste, this dish is renowned for its nutritional value as collard greens are an abundant source of vitamins and minerals. If you seek to add diversity to your weekly menu or experience the richness of African cuisine, Sukuma Wiki is a must-try.

ALSO READ: 13 Afrocentric Wedding Cake Ideas
#12. Bejus: Nigerian Coconut Cookie By One Green Planet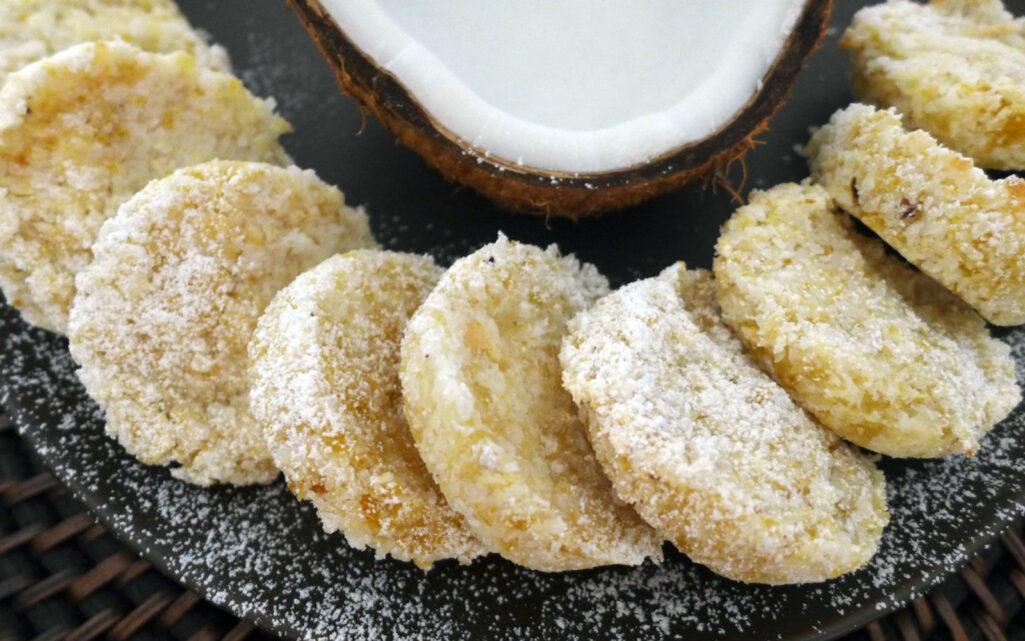 Bijus, also referred to as Bejus or Tapioquinhas, are a widely acclaimed variety of coconut-based confectioneries that have gained massive recognition in Nigeria and the northeastern part of Brazil. These sweet treats are often filled with delectable ingredients such as Dulce de Leche, jam, compote, or butter in Brazil, providing a range of flavors to choose from. On the other hand, the Nigerian version of these cookies is made with a simpler approach, incorporating only three crucial ingredients – Cassava root, coconut, and sugar. This dessert is ideal for individuals with specific dietary requirements as it lacks wheat flour, making it a suitable option for those with gluten or grain intolerance. Get the recipe here.
#13.Bunny chow (chicken curry rolls)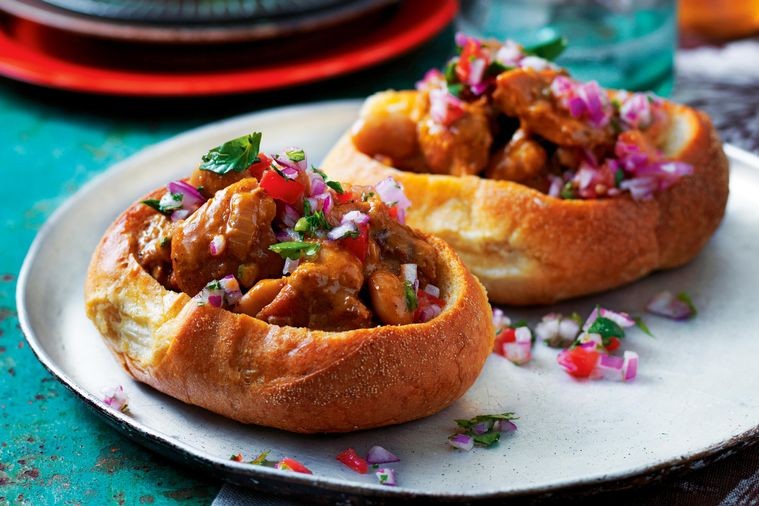 Bunny chow, also known as chicken curry rolls, is a popular street food dish originating from Durban, South Africa. It consists of a hollowed-out bread loaf filled with a spicy chicken curry, making it a convenient and delicious meal-on-the-go. The dish has a unique history, with roots tracing back to the Indian immigrants who brought the recipe to South Africa during the colonial era. Today, bunny chow continues to be a beloved staple in South African cuisine, enjoyed by people of all ages and cultural backgrounds. Whether as a quick snack or a hearty lunch, bunny chow is sure to satisfy with its bold flavors and comforting warmth. Get the recipe here.
ALSO READ: 11 African Food Bloggers Every Foodie Must Follow
#14. Edikaikong (Edikang Ikong Soup)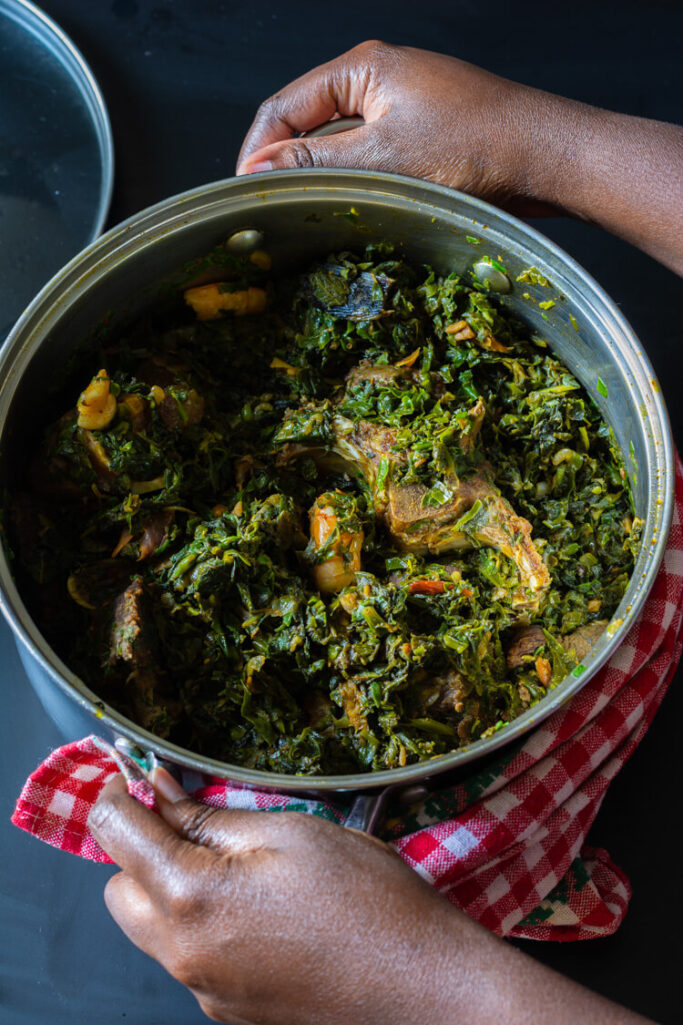 Edikang Ikong Soup is a delectable, nutritious, and flavorful vegetable soup hailing from the coastal regions of Nigeria. This dish is made using fluted pumpkin leaves, known as "ugwu," and Malabar spinach, also known as "water leaf." The soup is elevated with the addition of various seafood delicacies, with periwinkles being a common staple, and an abundance of assorted meats, referred to as "obstacles" in Nigerian slang. This combination transforms the soup into a culinary journey, showcasing the rich and nutritious flavors of Cross River culture.
#16. Seafood Beniseed Soup – Nigerian Sesame Seed Stew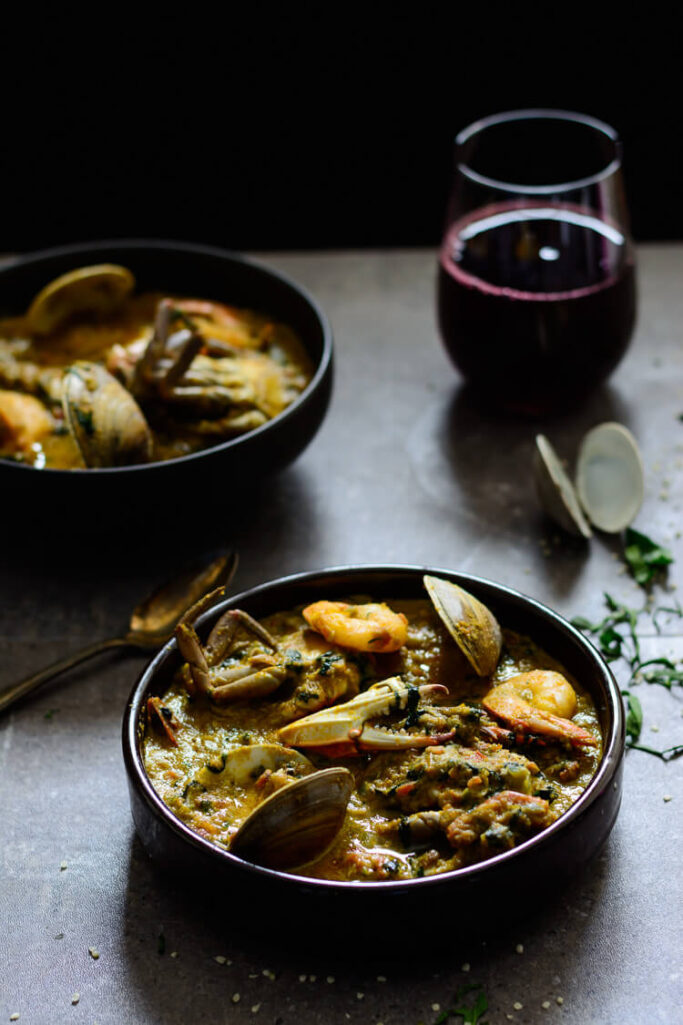 Beniseed, also recognized as sesame seed, serves as the paramount component in a celebrated delicacy of Nigerian gastronomy – Beniseed Soup. This full-bodied broth garners prominence for its deep, nutty essence and robust texture, making it an indispensable option for those who relish flavorful and sustaining stews. Whether you are an aficionado of classic African cookery or simply in search of a novel and delectable dish, Beniseed Soup is a superlative pick. Get the recipe here.
ALSO READ: 9 Shakshuka Recipe Finger-Licking Variations For Summer Holiday
#17. Popular Kenyan Githeri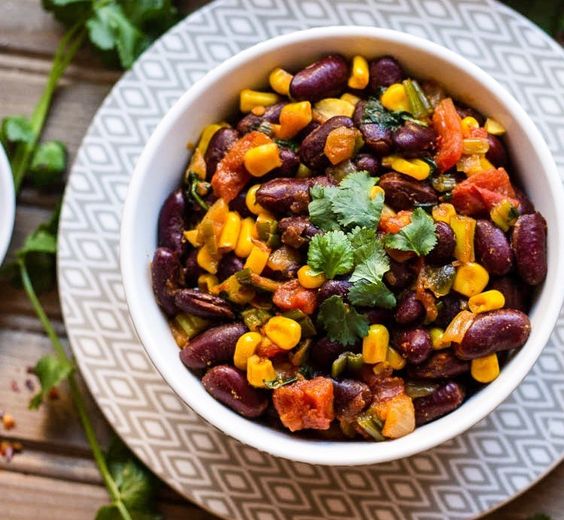 Githeri, a coveted dish in Kenya, is renowned for its succulent essence and gratifying ingredients. The preparation entails a harmonious blend of maize and legumes, paired with a medley of vegetables such as ripe tomatoes, sliced onions, and verdant green peppers. These elements are simmered in a brew of aromatic spices and herbs, resulting in a rich and flavorful stew. Typically served with staple foods such as ugali, rice, or chapati, Githeri makes for a satiating and nutritious repast. As a cornerstone of traditional Kenyan cuisine, this dish is a must-try for anyone seeking to savor the diverse and delectable gastronomy of Kenya. Get the recipe here.
As we celebrate Black History Month, these recipes serve as a tribute to the rich history and cultural heritage of African Americans and their profound impact on the culinary world. These dishes showcase the unique fusion of traditional spices and herbs with modern cooking techniques, reflecting the diverse and flavorful culinary traditions of Africa and its diaspora. A taste of these recipes is a tantalizing reminder of the rich cultural heritage and culinary expertise of African Americans..