Moroccan Forbidden Rice Salad By Liz Healthy Table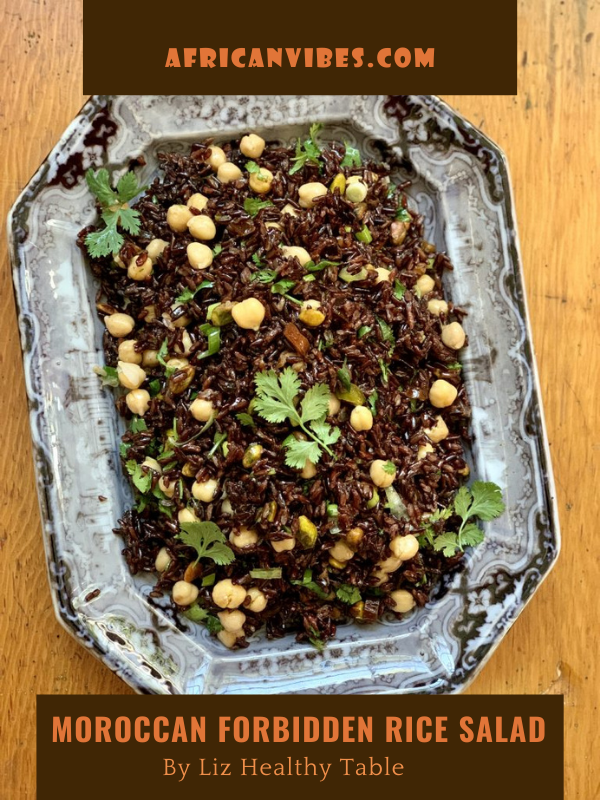 Antioxidant-rich black rice, also known as forbidden rice, forms the foundation for this vegan Moroccan Forbidden Rice Salad. If you're craving something lemony and delicious, this forbidden rice salad has you covered.
Besides the black rice — which, has a nice chewy texture — it's made with chickpeas, dates, pistachios, green onion, and cilantro, and cinnamon, and it's dressed with lemon juice and olive oil.
Forbidden rice stars in this easy whole grain salad, a satisfying Moroccan-spiced dish spiced with lemon and cardamom.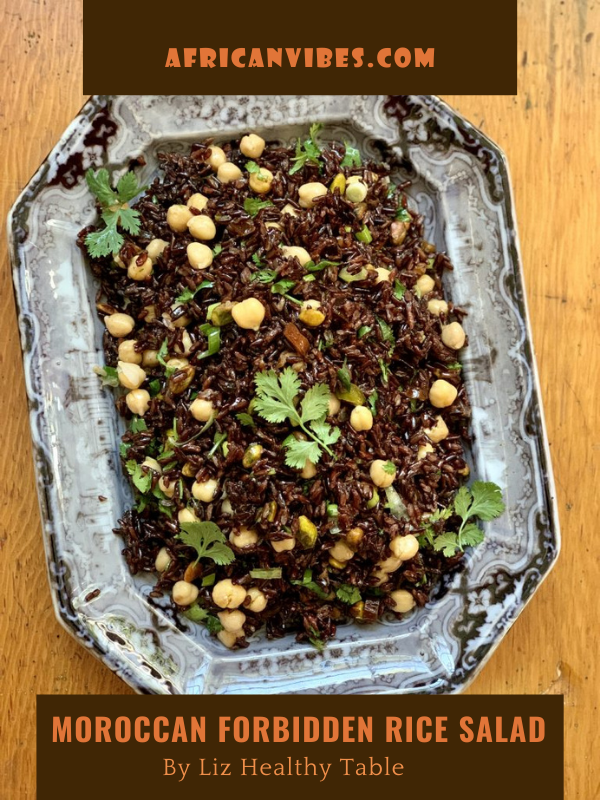 Prep Time20 mins
Cook Time45 mins
Total Time1 hr 5 mins
Forbidden rice has a mild, nutty flavor. It's a whole grain (hooray!), and the grains are purple-black in color.
Like blueberries and blackberries, black or forbidden rice contains a family of antioxidants known as, anthocyanins,  shown to reduce the risk of heart disease and cancer while boosting brain health. Black rice also contains lutein and zeaxanthin, antioxidants important for eye health.
You can hear more about anthocyanins on the podcast.
3
cups
cooked black rice (AKA forbidden rice)
One 15-ounce can chickpeas, drained and rinsed (about 1¾ cups)
1
green onion, thinly sliced
(white to green tops)
⅓
cup
pitted dates, chopped
⅓
cup
shelled and unsalted pistachios, toasted
⅓
cup
roughly chopped fresh cilantro, plus sprigs for garnish
½
large lemon, zested and juiced
(to yield 2 tablespoons juice)