Top 10 African Restaurants In Los Angeles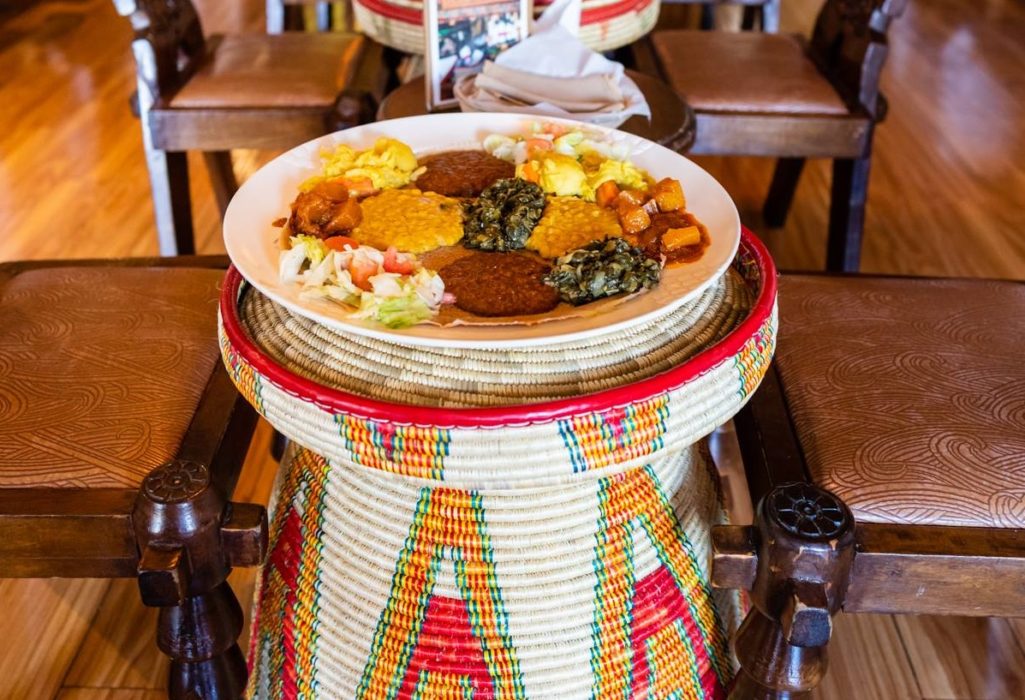 As Hans Christian Anderson once said, "to travel is to live". Visiting new places and trying out different things, especially food, makes life all the more enjoyable. Many Africans are living their American dreams in different parts of the United States including Los Angeles also known as the City of Angels. Interestingly, living far away from home makes one appreciate the way of life they were once used to. Here, we have prepared a list of 10 African restaurants in Los Angels that will bring back the memories of home in a nostalgic way.
By 2018, eighty-one percent of all sub-Saharan Africans residing in the United States were from Western and Eastern Africa. The majority come from Nigeria, Somalia, Ethiopia, Kenya, and Ghana. According to the Migration Policy Institute 2018 report, Los Angeles alone had an African population of 47,400 which accounts for 0.4 percent of the total African population. Bearing this in mind, African restaurants especially those owned by Ethiopians are quite popular. Read on and be sure to try some of these African restaurants during this holiday.
ALSO READ: 13 Popular African Foods You Cannot Miss In Each Region
#1. Meals By Genet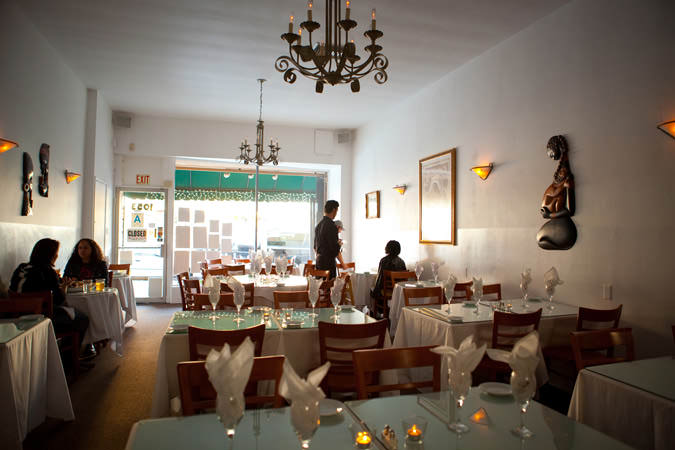 Did you know that there is a place called Little Ethiopia located in the heart of Los Angeles? Now you know. This means that you can sample lots of Ethiopian delicious cuisines in one place. Meals by Genet is an ideal restaurant where you will get professionally prepared vegetarian and vegan dishes. You will also sample chicken and beef stews prepared the Ethiopian way.
The dining area is cozy and welcoming. What should be a simple interior has African sculptures hanging on the wall to give it a sense of home. This is one of the African restaurants in Los Angeles that needs more than one visit to adequately explore the long menu.
Location
1053 S Fairfax Ave Los Angeles, CA 90019
#2. Azla
From a family tradition of gathering and sharing a meal together every Sunday, a highly-rated African restaurant was born. Azla Vegan is the place where you will find sumptuous traditional Ethiopian stews and beverages. The dining area exhibits a balance between modern and traditional interior designs that will give you that homely feel.
Foods from different parts of the continent are served in a rustic interior that further enhances the appeal. Their menu is broad but vegan African food has remarkable dominance.
Location
4309 Leimert Blvd Los Angeles, CA 90008
#3. Moun of Tunis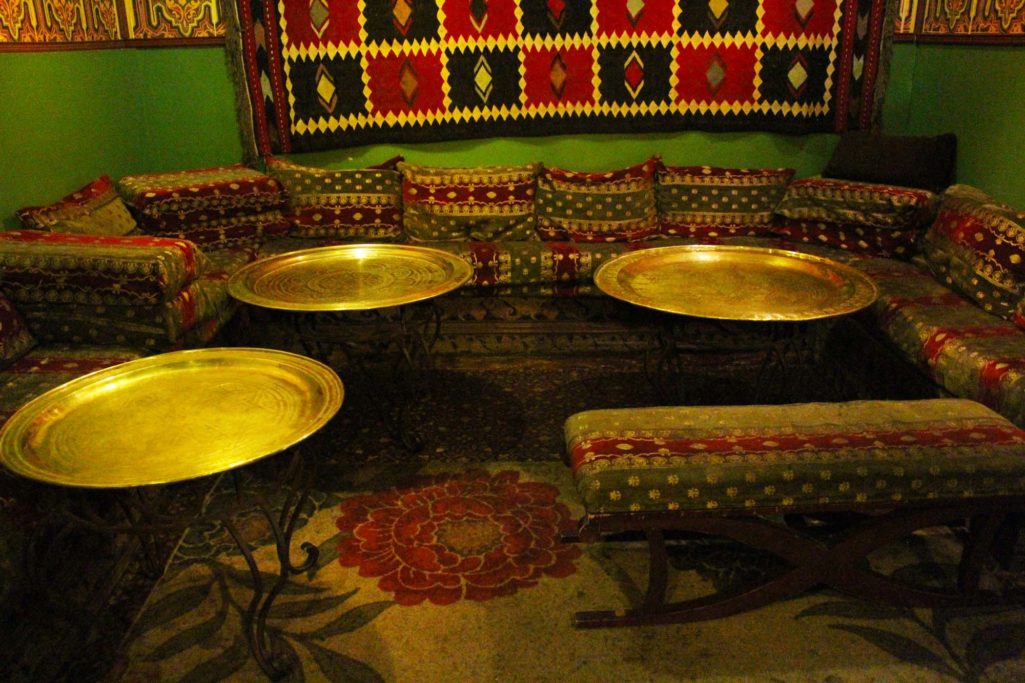 At Moun of Tunis, you will get a Moroccan and Tunisian experience like you have never had before. The interaction of the two countries with other cultures for a long time has brought about a unique blend of traditions and interesting cuisines. Enjoy intricately made meat dishes like chicken, lamb, rabbit, beef, camel, and a variety of seafood, fruits, and beverages.
The most remarkable feature of this African restaurant is the interior decor. From the walls to the floor, and the furniture, everything screams Africa. You will also have a feel of a relaxing ambiance which many Africans in the diaspora long for.
Location
7445 1/2 W Sunset Blvd Los Angeles, CA 90046
#4. Merkato Ethiopian Restaurant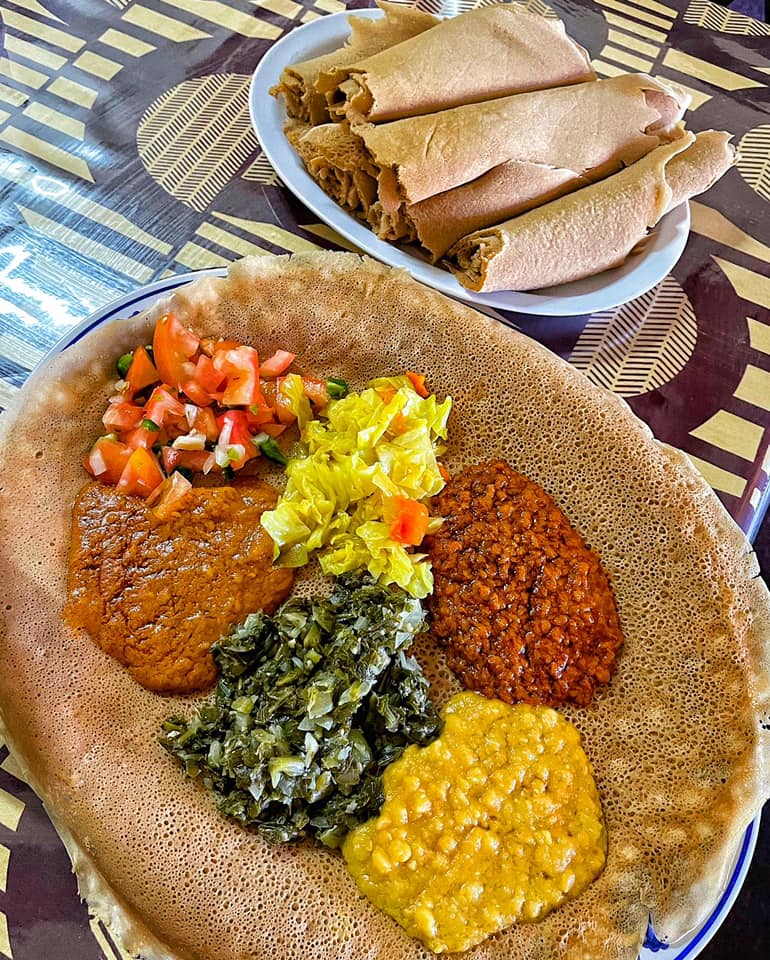 A nutritious breakfast is a superb way of starting your day. With that in mind, a traditional Ethiopian breakfast rich in vitamins, proteins, and fiber is the real deal. Alternatively, if you are a vegetable lover, you can choose to enjoy their vegan or vegetarian delicious cuisines served with gluten-free Teff Injera bread.
The African-themed indoor and outdoor dining areas will add sweet memories to your experience at this African restaurant. One thing that is perfectly displayed here is that interiors don't have to be complex to be beautiful.
Location
1036 S Fairfax Ave Los Angeles, CA 90019
ALSO READ: What Do You Know About Vetkoek Recipe? See The Yummy Variants Of The Dish For Thanksgiving
#5. Mama D's African Cuisine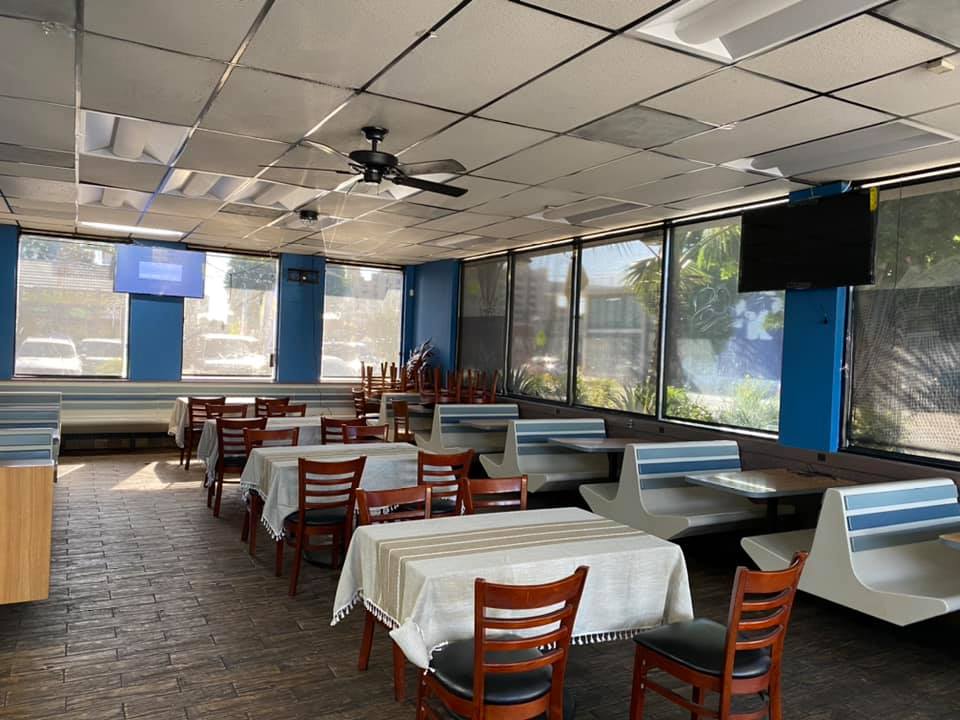 West Africa is home to some of the intricately made delicacies. To get a feel of these dishes this holiday season, kindly visit Mama D's African Cuisine. Here, you will be served traditional meals and pastries from Cameroon. After a serving of sour yam fufu, plain white rice, or tuberous gari among other dishes, you will always want to stop by.
The interior is simple, neat, and communal, just like in most African societies. The location makes it a perfect getaway from the annoying buzz of the city.
Location
1240 S Soto St Los Angeles, CA 90023
#6. Awash Ethiopian Restaurant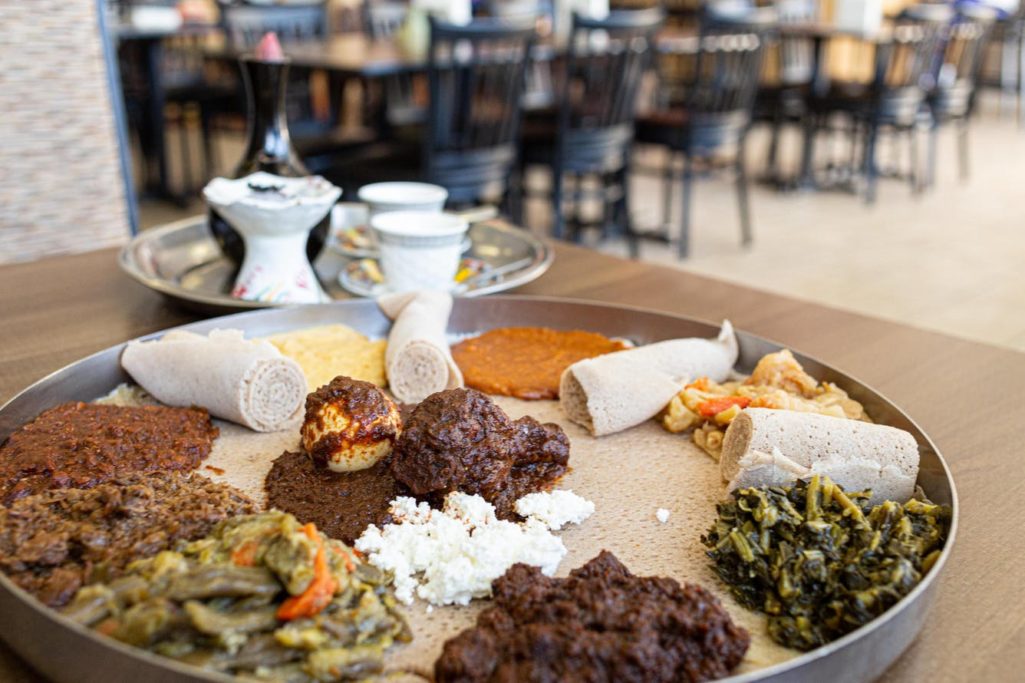 If meat dishes excite your palates, Awash Ethiopian Restaurant is the place to dine. You will be served with mouth-watering traditionally made chicken cutlets, rice with steak, or a special steak tartare with jalapenos, garlic, and onions. The interior is professionally decorated to give you that luxurious and yet homely feel.
Location
5990 1/2 W Pico Blvd Los Angeles, CA 90035
#7. Alta Adams Restaurant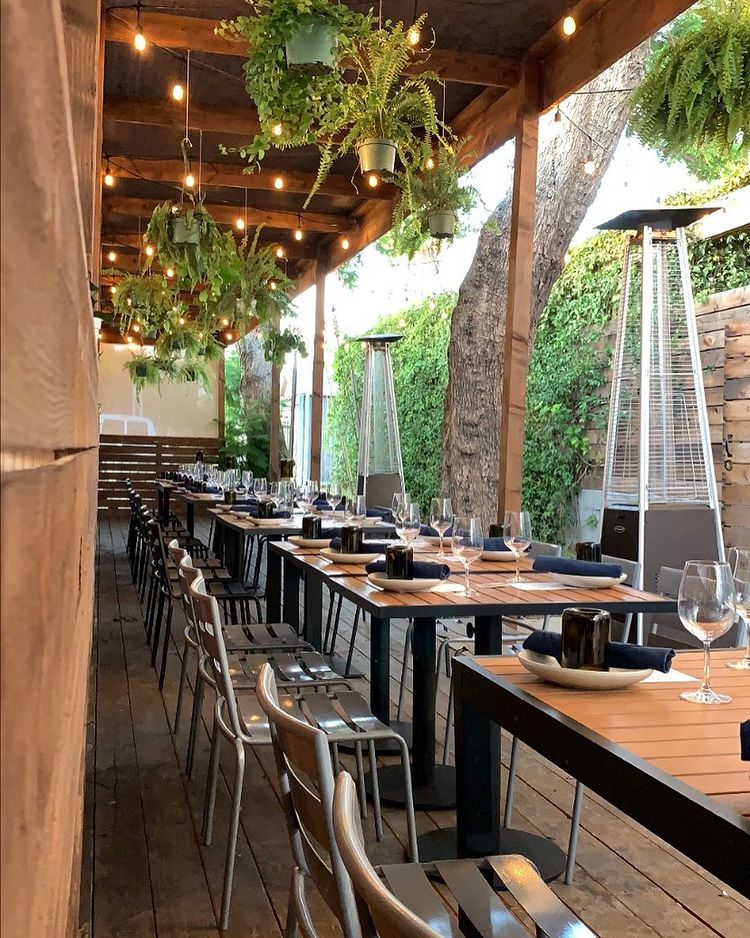 The intricately decorated interior and exterior dining areas exude such a charming ambiance that you will want to stay longer after devouring your meal. The delicacies at Alta Adams are a fusion of California and West Africa cuisines. When at this African restaurant, make sure you try candied yams, braised oxtails, black eye pea fritters, and spiced yams just to name a few.
Location
5359 West Adams Blvd Los Angeles, CA 90016
#8. Rosalind's Ethiopian Restaurant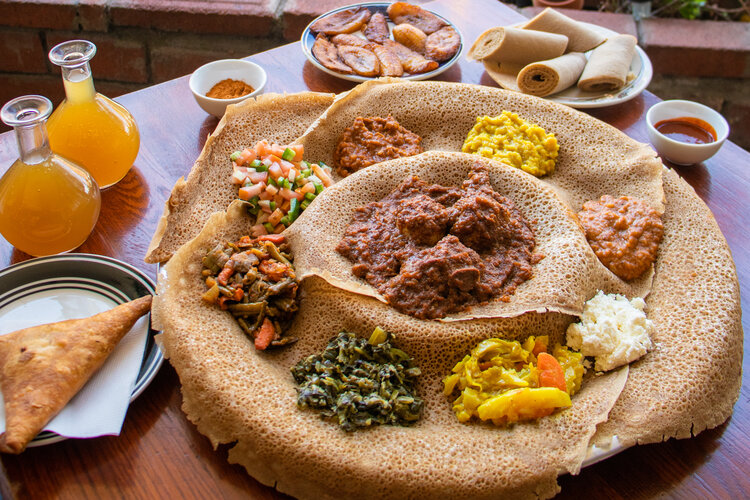 When nothing Ethiopian was in Los Angeles, Rosalind's began it all. Today, you can enjoy the most delicious Ethiopian cuisines just because they dared to do what they could do best. From 1988 they have served numerous delicacies and they are still offering mouth-watering traditional Ethiopian flavors that you will find irresistible.
The dining area is artistically done to give you a real African experience. This is one of the African restaurants in Los Angeles that will keep you hooked from the very first visit.
Location
1044 S Fairfax Ave Los Angeles, CA 90019
#9. African Chops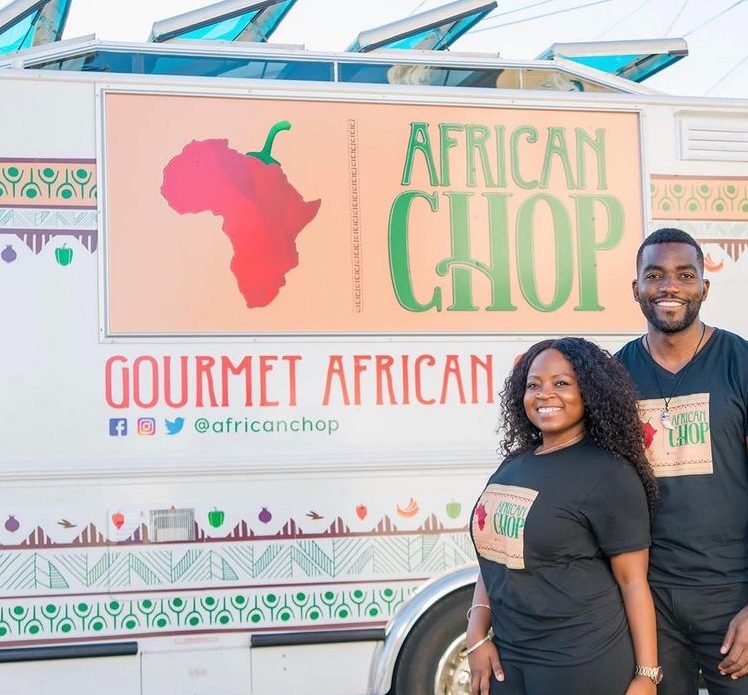 African Chop is a unique African restaurant that has been serving its customers from a truck. However, due to the COVID-19 pandemic, they had to stop selling from the truck. Nevertheless, all is not lost since you can make an online order as instructed by their personnel. They mainly serve West-African dishes from Cameroon and surrounding countries. The delicacies include puff-puff, fried plantains, jollof rice, vegan and gluten-free dishes.
Location
Los Angeles, CA 90001 Florence-Firestone, Serving Los Angeles, CA Area
Contact
(408) 429-5458
ALSO READ: 10 Spectacular African Cuisine Side Dishes That Get Our Thanksgiving Stamp of Approval
#10. Messob Restaurant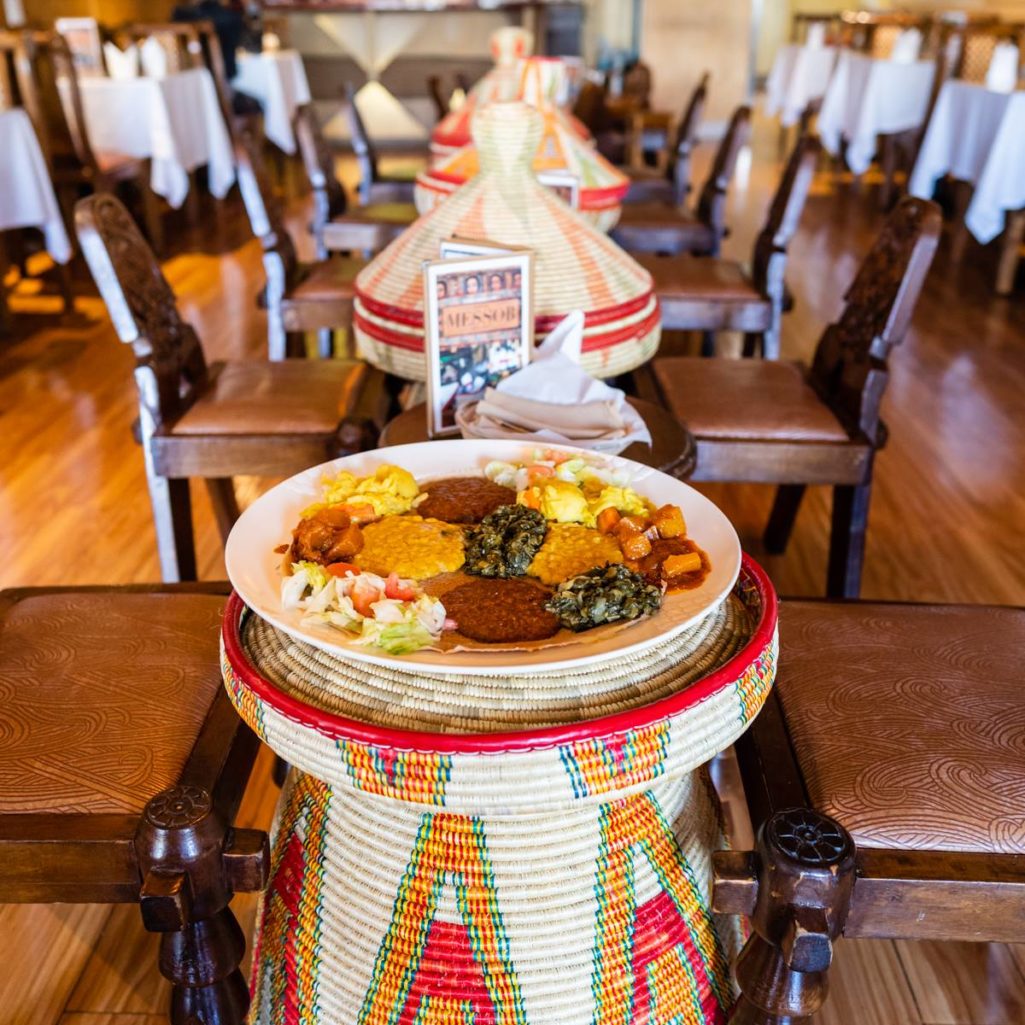 Did you know that a messob is an Ethiopian traditional woven breadbasket used to store injera utensils as well as a dining table? So, the next time you visit Messob Ethiopian Restaurant do not be dismayed by the uniquely shaped dining tables adorning the nicely designed dining area. Of course, apart from a large piece or roll of injera bread, you will have a chance to sample other finger-licking Ethiopian cuisines.
The interior is designed to have that traditional setting replica of elders communing and sharing ideas. If you have been looking for inspiration, here is where you will find it.
Location
1041 S Fairfax Ave Los Angeles, CA 90019
Conclusion
Armed with a list of 10 African restaurants in Los Angeles, you can give your family and friends a treat and sweet memories that will last a lifetime. Also, get to discover new dishes that you can incorporate into your daily menu or better still make them at home whenever you like. Browse through our African recipe catalog to discover a trove of African delicacies.